| Recipes |
Pretzel Chicken Strips with Jalapeño Honey
| July 20, 2021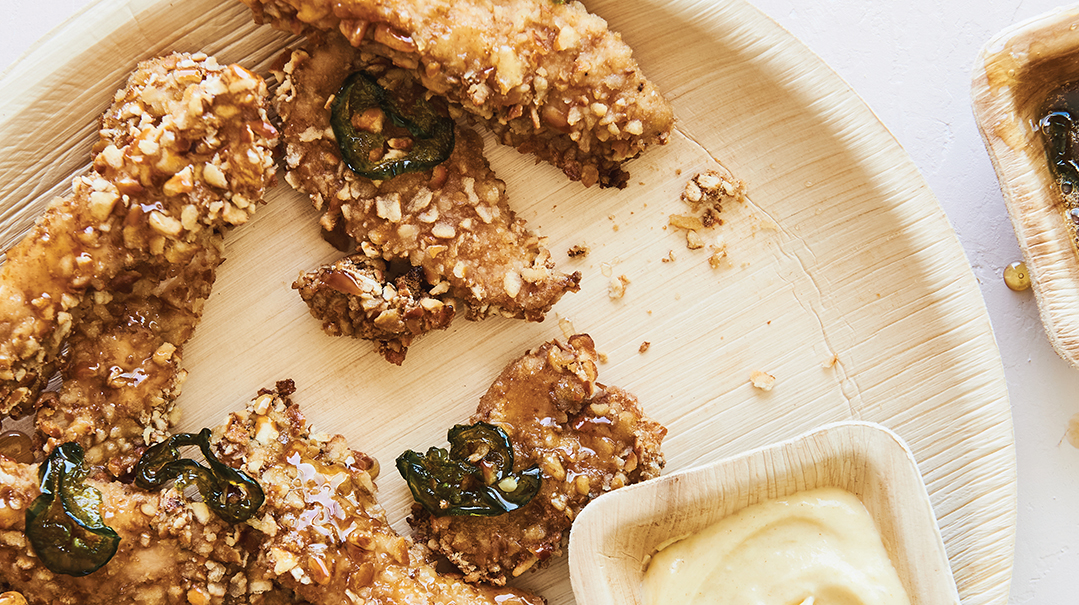 Recipes and photography from Good Food, by Sina Mizrahi
Courtesy of ArtScroll/Mesorah Publications
I felt quite ingenious when, ten years ago, I ran out of bread crumbs and crushed the pretzels my toddler left over from his lunch to coat chicken strips. It made for a delicious coating and I patted myself on the shoulder for that clever move. I did not know it was already a thing; regardless, in my nest it was revolutionary. I upgraded it with a stroke of hot jalapeño honey (it's barely spicy) and a dipping sauce. It is now complete. And my kids (and I) love it.
SERVES 4–6
Chicken
2 cups salted pretzels
1 egg, beaten
½ tsp granulated garlic
½ tsp granulated onion
¼ tsp sea salt
¼ tsp black pepper
1¼ lb chicken breast, cut into ½-inch strips
Jalapeño Honey
⅓ cup honey
½ jalapeño pepper, sliced
Dijon Dip
½ cup mayonnaise
2 Tbsp Dijon mustard
1 Tbsp Jalapeño Honey
Preheat oven to 450°F. Place a wire rack over a rimmed baking sheet.
In the bowl of a food processor, pulse pretzels until coarsely crushed, but some larger pieces remain; transfer to a shallow dish. In a large bowl, combine egg, granulated garlic, granulated onion, salt, and pepper. Add chicken; stir to coat.
Dredge chicken in pretzel crumbs; transfer to wire rack. Generously coat with cooking spray; bake until golden and the edges are crisp, 12 minutes. Flip, spray with more oil, and bake for another 10–12 minutes.
Prepare the Jalapeño Honey: In a saucepan, heat honey and jalapeño over medium-low heat until it reaches a light simmer. Remove from heat; steep for 5–7 minutes. Optional: Strain through a sieve to remove jalapeño and seeds.
Prepare the Dijon Dip: Combine mayonnaise, mustard, and Jalapeño Honey in a small bowl.
To serve: Transfer chicken to a serving platter; brush Jalapeño Honey on both sides. Serve with Dijon Dip.
Tip: Line the baking sheet with foil for easier cleanup.
(Originally featured in Family Table, Issue 752)
Oops! We could not locate your form.
>