| This Way That Way |
Pears
| September 9, 2021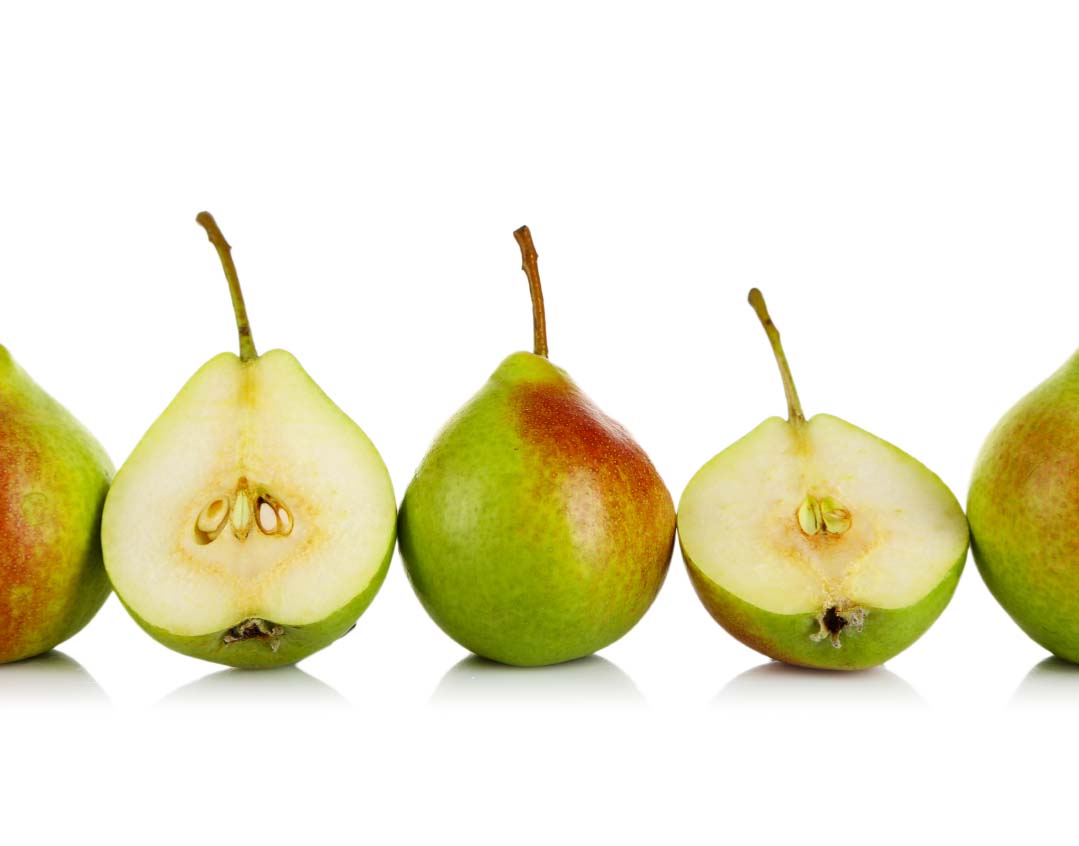 Pears are common, produced and consumed around the world, and are generally a household staple. But how can this humble fruit, with its mild flavor and diverse colors, be elevated through baking or cooking? These recipes show you the way.
Pear Pairings
Popularity Ratings
There are 3,000 varieties of pears, with Bartlett being the most popular.
Allergen Free
Pears are considered to be hypoallergenic because pear allergies are so rare.
Melt in Your Mouth
Pears used to be called "butter fruit," for their soft, butter-like texture.
Pear and Cranberry Crumble with a Chocolate Surprise
Recipe by Estee Kafra
I developed this recipe many, many years ago for my first cookbook, Spice It Right. Since then, I've gotten hundreds of regards from it. It's a bit of a twist on a classic, and everybody loves it.
SERVES 8
Crumb Mixture
1 cup + 2 Tbsp flour
½ cup margarine or butter
½ cup firmly packed brown sugar
½ cup white sugar
Pears
8 Bartlett pears, peeled and cubed
¼ cup sugar
2 Tbsp fresh lemon juice
3 Tbsp flour
ground cinnamon
cut pieces of candied ginger (optional)
2 cups frozen cranberries
1 3½-oz (100-g) bar 72% chocolate
Preheat oven to 350°F (175°C).
Using your fingers, combine the ingredients for the crumb mixture until it's the texture of coarse crumbs. Place on a lined baking sheet and bake uncovered for 20 minutes.
Meanwhile, place cubed pears in a large mixing bowl with sugar and lemon juice. Let sit for half an hour. Add flour and a generous amount of cinnamon and ginger (if desired). Mix well and add cranberries. Mix again. Divide among 8 individual ramekins or place into a deep, round baking dish.
Break the chocolate into squares. Stick one square into the center of each ramekin, pressing gently to get it into the center of the pear mixture. If you're using one large round baking dish, evenly distribute the squares all around the dish. Sprinkle baked crumbs evenly over the fruit.
Return to oven and bake for 25 minutes on the lower rack. Serve warm.
Butternut Squash Pear Kugelettes
Recipe by Chaia Frishman
Full disclosure: I am not a kugel kinda gal. That is, except for butternut squash kugel. I decided to add another element of flavor here, and I think you'll agree — even a non-kugel gal can be converted.
YIELDS 12 KUGELETTES
2 cups butternut squash, cooked and pureed (see note)
1 cup pears, cooked and mashed (see note)
3 eggs
¼–⅓ cup brown sugar, according to your taste
1 Tbsp flour (or potato starch)
1 tsp cinnamon
1 tsp vanilla sugar
1 Tbsp oil or margarine
candied nuts, crushed
Preheat oven to 375°F (190°C).
In a medium bowl, mix all the ingredients except the nuts. Divide mixture into 12 muffin tins. Sprinkle liberally with crushed candied nuts. Bake for 30 minutes.
Note: To get the right amounts here, I sliced a small- to medium-sized butternut squash down the middle and removed the seeds. Then I peeled two pears, sliced them down the middle, and cored them. I placed both in a pan with a shallow amount of water, covered the pan, and baked at 350°F (175°C) for one hour. You can cook them using whatever method works best for you, just be sure the total yield is 3 cups.
Poached Pears with Strawberry Sauce
Recipe by Esti Vago
Almost everyone who has ever had the privilege of being hosted by my Babi Kasten has been served these delicious poached pears in strawberry sauce.
SERVES 6
6 Bosc pears, stems attached
4 cups water
¾ cup sugar
2 Tbsp vanilla sugar
Strawberry Sauce
1 16-oz (450-g) bag frozen strawberries
confectioners' sugar, to taste
Chocolate Garnish (optional)
6 oz (170 g) semi-sweet chocolate
3 oz (85 g) margarine
¼ cup hot water
1½ tsp corn syrup
1½ tsp vanilla extract
mint leaves (optional)
Peel and then core your pears from the bottom. Combine water, sugar, and vanilla sugar in a saucepan and bring to a boil. Add the pears and cook for 20–30 minutes.
To make the strawberry sauce: Puree frozen strawberries, adding confectioners' sugar to taste.
For the chocolate garnish, melt the chocolate and margarine together in a double boiler or microwave. Pour the hot water in and stir well. Add the corn syrup and vanilla and mix. Holding a pear by its stem, spoon chocolate over the top of the pear, letting it drip down the sides. Garnish by adding a mint leaf or two to the base of the stem. Serve over strawberry sauce.
(Originally featured in Family Table, Issue 759)
Oops! We could not locate your form.
>