| This Way That Way |
Pargiot
| August 9, 2022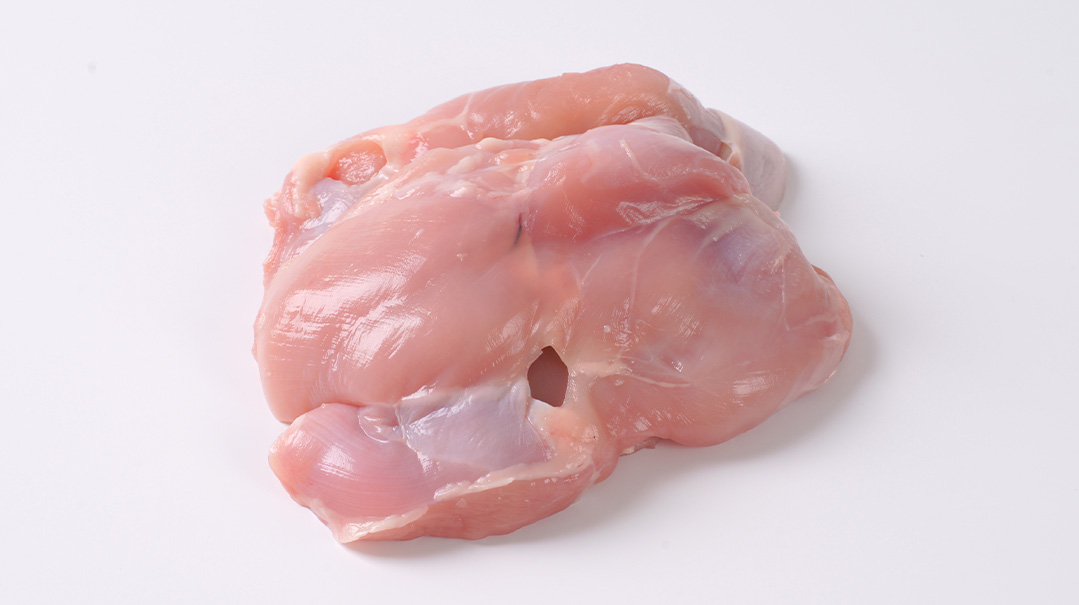 While pedants and purists might insist on calling it boneless skinless chicken thighs, they'll still know what you're talking about when you say pargiot. Beloved by kitchen beginners and chefs alike, this cut can be depended on to be flavorful and juicy even if you cook it a little longer than necessary.
A Chicken in Every Pot
Fat Facts
Most of the fat in chicken thigh meat is monounsaturated fat, which is good for you.
Double Trouble
A double yolk will almost never hatch into two chicks.
Fly the Coop
Chickens can't fly more than a few feet, but they can run up to nine miles per hour.
Grilled Dark Chicken Pargiot
Recipe by Sarah Faygie Berkowitz
There are some products out there that simply change your life, and pargiot are high on my list. Let's face it: making chicken is a messy business. But with these boneless thighs — known as pargiot in Israel — preparing a delicious chicken dinner is a snap. And because the darker pieces tend to be higher in fat, grilling is the way to go — you get all the flavor and juiciness with none of the heaviness.
This is my new go-to recipe — it literally takes 10 minutes start to finish. On your mark, get set, go!
SERVES 4
1 2-lb (1-kg) pkg boneless skinless dark chicken chunks
6–8 pearl onions
grilling spice (see note)
Preheat countertop or backyard grill (I used a George Foreman and it worked great). Sprinkle chicken chunks generously with grilling spice on both sides.
Drop pearl onions into hot water and allow to sit for a few minutes to soften the skin. Slice off the tops and bottoms and remove skins. Slice thinly.
Place chicken chunks and onion slices onto the grill and cook for approximately 5 minutes. (If you have a small countertop grill, you'll need to run about three batches.) Slice chicken in half at the thickest part to check for doneness.
Serve with a tossed salad, toasted pita wedges, and hummus.
Note: Use the grilling spice of your choice, but choose one that has a finer consistency rather than a coarser one.
Simple and Easy Shawarma
Recipe by Rivki Rabinowitz
My mother taught me that the best way to prepare pargiot is simply by seasoning with salt and roasting until the juices are flowing and it's slightly crisped. Absolutely delicious. When I'm feeling one degree less than lazy, I smother the chicken in shawarma spice and I have instant shawarma. I serve it with Israeli salad, techina, and mini pitas (and pickled turnips if I have them in my fridge), and it's minimal effort for max results.
SERVES 6–8
about 3–4 lb (1½–2 kg) pargiot
shawarma spice, to taste (I use Pereg)
3 onions, thinly sliced
Preheat oven to 400°F (200°C).
Shake shawarma spice over each piece of chicken until it feels well-coated. Spread chicken and onions on a parchment-lined baking sheet.
Bake for about 45 minutes. Shred chicken with a fork when done.
Note: This can also be sautéed. Sauté onions first until translucent, then add in the chicken until cooked through.
Moist 'n Perfect Pargiot Marinade
Recipe by Faigy Grossman
Since my kids gave me a Betty Crocker Pizza Maker for fleishigs, I've been using it to prepare pargiot for dinner. It's easy to have a delicious and juicy supper in minutes! My family's favorite marinade is quite similar to the Scrumptious Grilled Chicken Marinade in Dining In Again. This makes quite a bit of marinade — I freeze half for another time.
YIELDS A 1-LB (½-KG) CONTAINER
1 cup oil (I never use a whole cup)
4 Tbsp lemon juice
4 cloves garlic, minced (I use 3 sometimes)
1½ Tbsp salt
½ tsp black pepper
6 tsp yellow mustard
4 cubes frozen parsley (or 1 pkg fresh pre-checked parsley, chopped)
Mix all marinade ingredients and marinate chicken. (To cook, place chicken on a piece of parchment paper in a pizza maker, and cook until done.)
(Originally featured in Family Table, Issue 805)
Oops! We could not locate your form.
>