| Recipes |
Orange-Infused Corn Muffins | September 4, 2019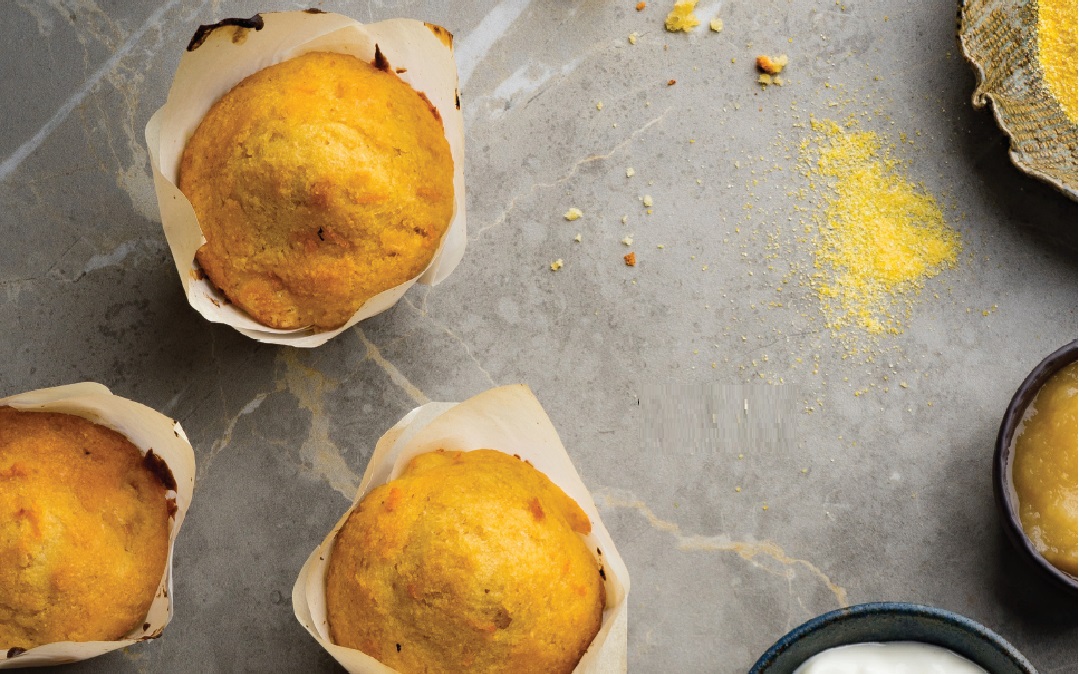 Food And Prop Styling By Renee Muller | Photography By Chavie Feldman
ORANGE-INFUSED CORN MUFFINS
Being that healthful muffins are a big part of my business, I'm always experimenting with new flavors. After I created these, I handed them out to friends and family, and everyone loved the texture, taste, and the unexpected surprise of the apricots inside. These muffins have yogurt, milk, and calcium-enriched orange juice. Triple whammy!
YIELDS 15 MUFFINS
2 cups whole wheat pastry flour

1 cup yellow cornmeal

1½  tsp baking powder

1 tsp baking soda

½  tsp salt

½  cup white sugar, plus about 3 Tbsp for topping

¼ cup brown sugar

scant ½ cup dried apricots, chopped finely (about 7 pieces)

⅓ cup calcium-fortified orange juice

2 eggs

¼ cup oil

¼ cup applesauce

⅔ cup yogurt (see note)

¼ cup milk

zest of 1 orange, divided

3 endives (I like to use both green and purple)
Preheat oven to 400°F (200°C). Line muffin tins with greased liners. In a large bowl, whisk together flour, cornmeal, baking powder, baking soda, salt, and sugars.
Place apricots in a small microwaveable bowl and add orange juice. Microwave for 1½ minutes. Remove from microwave,

cover, and let sit for 5 minutes. Drain, reserving the orange juice.
To the dry ingredients, add eggs, oil, applesauce, yogurt, milk, softened apricots, orange juice, and ½ teaspoon orange zest. Mix minimally.
Pour a heaping third of a cup of the mixture into each muffin liner. Mix the remaining orange zest and 3 tablespoons sugar and sprinkle over tops.
Bake for 17 minutes, rotating muffin tins midway. Do not overbake. The key to corn muffins is their moist texture, and these are made with whole wheat flour and very little fat, so you have to be extra-careful.
Note: You can sub the regular yogurt with Greek yogurt, but regular yogurt has twice the bone-strengthening calcium.
(Originally featured in FamilyTable, Issue 658)
>