| Communities |
No Man Is an Island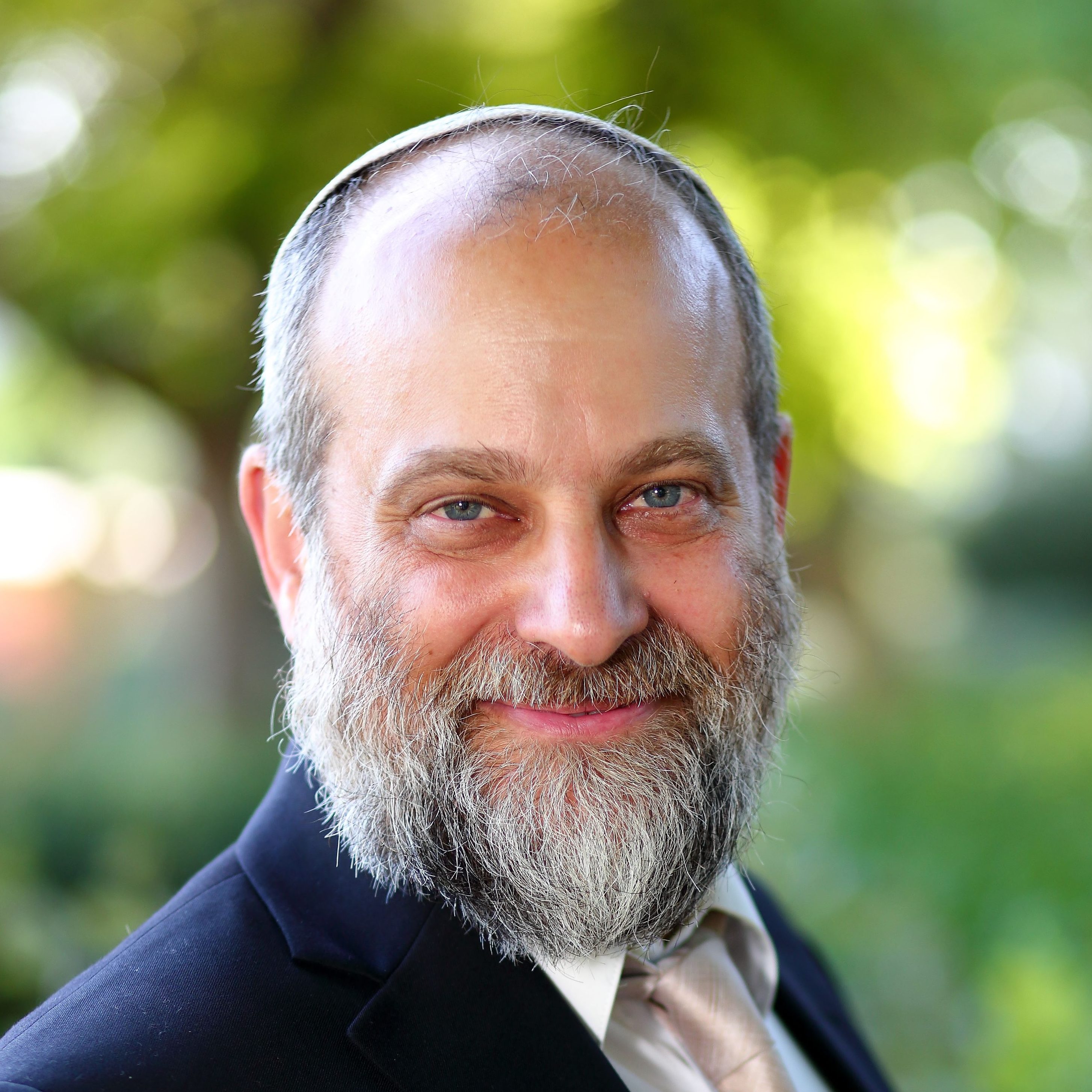 | June 27, 2018
And then Michael returned to his truck, pulled out a huge machete, and like a samurai, sliced open a pineapple and gave us the fresh, sweet fruit to enjoy.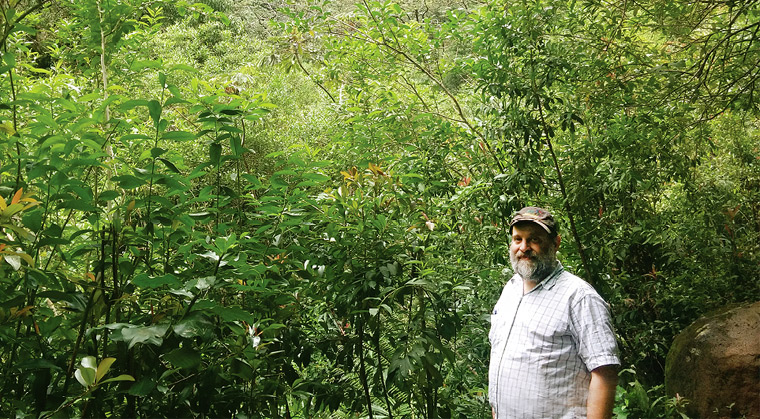 The daily Shacharis minyan at Honolulu's Chabad House, where we met Massachusetts expat Ira Pollak (below), who took us to his home in a rain forest — a two-hour walk from shul, which is just fine for this avid hiker (Photos by Ari Z. Zivotofsky)
Y
ou can find Jews in just about every place in the United States, but you might not think that Hawaii — a series of islands in the middle of the Pacific Ocean over 2,200 miles southwest of the US mainland — is among them. Yet even in that remote location, Jewish footprints abound. In fact, there are an estimated 8,000 Jews living in Hawaii — the last state to join the US (in 1959), although fewer than 1,000 are affiliated with any Jewish organization. Most of Hawaii's Jews are in the Honolulu area on the island of Oahu, and on the island of Maui — so that's where we set off to, making sure to get some sun and waves in as well.
The most obvious way to trace Jewish origins anywhere is through local artifacts, but an old sefer Torah was one of the last things we expected to find. While we wouldn't think of Jewish historical remnants in Hawaii, there is actually a unique item, a "royal Sefer Torah" known as the King Kalakaua Torah scroll, which sheds some light on a Jewish community whose story began in the mid-19th century, as Jewish traders made their way to Hawaii.
The first Jewish business was opened by A.S. Grinbaum in 1856, and his company eventually became one of the most successful trading firms on the islands. He also owned sugar plantations and mills. Grinbaum's nephew, Polish-born Morris Louisson, together with his wife and two kids, joined him in 1866. And although Grinbaum himself returned to the US, Louisson became part of the Hawaiian elite and was close to King Kalakaua.
Another high-profile character, the eccentric Russian-born Elias Rosenberg, had been all over the world before traveling from San Francisco to Hawaii in 1887, sporting a long white beard. He taught Bible and Hebrew to King David Kalakaua and became the official royal astrologer. He was actually on target in that respect, having predicted trouble for the king — indeed, a few months after his arrival, the king was forced to sign into law a new constitution that essentially relegated him to little more than a figurehead position. Sensing the impending turmoil, Rosenberg was on a boat back to San Francisco, but not before leaving the king with a sefer Torah and a yad. According to legend, the king's widow had the Torah draped around the inside of her tent. After her passing, the scroll was passed to her nephew, who would regularly lend it to the local Jews to use. That means, of course, that there were local Jews interested in a Torah. But the scroll, which we saw on display, was recently inspected by a sofer, who discovered that it had never even been completed!
Aloha, Brothers
While the Hawaiian adventures of modern-era businessmen are well-documented, some researchers suggest that Jews actually came to the archipelago many centuries earlier. A 19th-century native Hawaiian historian named David Malo, who was also a Christian minister, postulated that the many similarities between Hawaiian culture and Jewish tradition might be an indication that the first wave of Hawaiian settlers were in fact descended from the Ten Lost Tribes.
Indeed, there are certain cultural and ritual similarities: For example, in biblical times Jews used the shofar in order to convey various messages such as war, celebration, or a call to gather, and ancient Hawaiians used a conch shell with a hole for the same things. Just like the Hebrew "shalom" means more than "hello" but also peace and completeness, so too, "aloha" is hello, goodbye, and fullness. Ancient Hawaiians performed circumcision, and their calendar was based on the moon. The religious leader, as well as a healer, was known as a "kahuna," just as in ancient Israelite society the Kohein was the teacher, religious functionary, and the "doctor" who examined tzaraas. One of the most intriguing similarities, and one not found in many other societies, is the ancient "Pu'uhonua o H?naunau," a city of refuge similar to an ir miklat.
To hear more about his theory, we traveled to the island of Maui, where we met Rabbi David Glickman, head of the non-denominational Jewish Congregation of Maui. Glickman was born in Los Angeles, where he attended Orthodox schools until he went to Israel at 16. He had originally come to Hawaii in the 1990s to research humpback whales and study psychology, yet with his strong background and knowledge, he quickly became a lay leader of the assorted Jews, conducting services for Shabbos, holidays, and life-cycle events. He was later ordained and then returned to Maui as the local rabbi.
David Glickman has been so intrigued by the Jewish-Hawaiian similarities that in 2006 he initiated a DNA study. That preliminary study found no distinct Hawaiian DNA profile, although he suspects it may be because today it's difficult to find pure native Hawaiians who trace themselves back to the first immigration so many centuries ago. With the arrival of Europeans in the last 200 years, new diseases decimated the original population and the culture became irrevocably diluted. After the overthrow of the monarchy in 1896, even teaching the Hawaiian language was banned. The rebuilding of the traditions only began in earnest in the 1970s, so tracing origins is daunting, if not impossible.
Surf's Up
Hawaii conjures up images of gorgeous beaches, scintillating sunsets, sharp cliffs, tropical breezes, palm trees, and lush greenery. And indeed all of that exists, yet Hawaii also has another side. Honolulu is a modern city with tall buildings and a large degree of commercialization. It also has a very high cost of living due to its location — the so-called "sunshine" or "paradise" tax and the Merchant Marine Act of 1920, which significantly raises the cost of imported items.
There are many homeless that have come from both mainland US and US Pacific territories, some of whom probably said to themselves, "Heck, if I'm going to be homeless, might as well get out of freezing Chicago and live on the streets of Hawaii." The cost of living is so high that some of those homeless are even gainfully employed, but prices have driven them to the streets. The problem has become so acute that the municipalities have added "no shopping carts" to some of the signs on beaches, in order to discourage the homeless from parking themselves on the beaches with their meager possessions.
Those beaches, though, are filled with surfers, and many of the boards used by Hawaiian surfers are handcrafted by master surfboard-maker Steve (Yosef) Morgan, a mainstay of the only regular Orthodox minyan in Hawaii. Often at daybreak he paddles out a quarter mile to a well-known South Shore "break" known as "Pops," a break he first surfed as a ten-year-old with his dad.
Yosef, with a cap on his head and tzitzis proudly dangling out of his shirt, invited us to his factory where — surrounded by hundreds of surfboards — showed us the stages of crafting the boards in a labor of love. While there are many employees who do the later stages, every single board is first personally hand-shaped by him. In the 1970s he was one of California's youngest professional surf board shapers, opening his first shop in 1977. He's been in the business for 43 years now, producing Hawaiian Island Creations surfboards and an exclusive high-end line of surfboards under the name of Brewer Morgan.
He shared with us the long journey that he and his wife took to becoming fully Torah observant Jews. They began their life together as Seventh-Day Adventists, with a serious consciousness of the Sabbath. They were clearly on a spiritual search, and wound up at the Oahu Conservative congregation where Yosef converted (his wife didn't). They remained there for three years, but after deciding they wanted to join the Jewish people through halachic conversion, they began to study with Rabbi Itchel and Perel Krasnjansky of Chabad of Honolulu. Five years and many flights later, they converted through an Orthodox beis din in California. He and his wife are an integral part of the Honolulu Jewish community, continuing their own path of learning and growth, and supporting other Jews who embrace Judaism in Honolulu.
Hiker's Heyday
The Orthodox community in Honolulu is based around the Chabad House, established in 1987 by the Krasnjanskys. Today, it's located next to the Ala Moana Hotel in the resort area of Waikiki. There is a minyan on Shabbos as well as a Shacharis minyan during the week, sometimes dependent on tourist participation. The Shabbos meals are an eclectic mix of old-timers, recent arrivals, post-army Israelis, and tourists of many types and nationalities, all mixed with the warmth and words of inspiration from both the rabbi and rebbetzin — and it seems that everyone has a story. Over the years the Krasnjanskys have been involved with many people finding their connection to Judaism, and then more often than not, moving off the islands to more normative communities.
At Shabbos morning davening, the leining was impressive. After my aliyah, the baal korei asked my name. When I responded "Ari Zivotofsky," he proceeded to remind me where I grew up and which article he'd read recently. Turns out that Dr. Ira Pollack is friends with my old neighbors. A neurologist and sleep specialist, he and his wife moved from Massachusetts to Honolulu a little over a year ago, where he now works for the military. After davening, he invited us to come see his house, which he described as being in a rain forest — and he wasn't kidding.
On Sunday afternoon he picked us up, showed us some of the magnificent views as we drove up a winding, densely lush road through the forest and eventually reached the house they're renting. Having heard his leining, I wasn't surprised to see a tikkun open on his table — and there was also a Gemara marked to that day's daf, as well as several other seforim. Ira told us that the walk to shul and back is about two hours each way, through mountains and hiking paths, but he doesn't mind. His passion is hiking and Hawaii is full of hiking trails — he'd done a seven-hour trek that morning, before picking us up.
The views and the unusual huge trees along these paths are a majestic reminder of the grandeur of G-d's creation (we only hiked the relatively easy Manoa Falls and Diamond Head, the volcano crater into which the military built an observation perch), but like any adventure, there are risks involved. In fact, one of the sifrei Torah and many siddurim in the shul were donated in memory of a young man, a very experienced hiker, who fell to his death while hiking. And those are not the only risks the nature lover faces in Hawaii: There are also the shark bites that occasionally make the news, and the 400 annual emergency room visits due to centipede bites that are below the radar. On the other hand, there are few mosquitoes, no snakes, and no malaria to contend with.
What Day Is It?
Visiting the island paradise brings with it some interesting halachic issues. The first question that came up for us is which direction to face while davening. Daniel (Daniel 6:11) faced Jerusalem when he davened in Bavel, and the Shulchan Aruch (OC 94:1) rules that when a person is in chutz l'Aretz he should daven facing the Land of Israel. Jews in North America and Europe are accustomed to facing east, and this was the time-honored tradition in Eastern Europe (which is really northwest of Israel). But looking at a map, it's clear that Hawaii is smack on the other side of the planet from Eretz Yisrael and it is actually slightly closer if one travels west rather than east.
In general, we consider the shortest distance between two points to be a straight line. However, a straight line on a two-dimensional map is not the same as a straight line on a three-dimensional globe. Anyone who has followed a flight path from New York to Israel has noticed that it actually heads northeast. Heading due east, using a rhumb line, Israel is 6,100 miles from New York; but flight paths take an arc route along what is known as the Great Circle, and at an angle of 54 degrees northeast, the distance is only 5,670 miles. Two hundred years ago, Rav Shneur Zalman of Liadi ruled that one should daven based on the Great Circle direction, while the Levush and others held that the rhumb line was correct. The difference between the two methods is particularly dramatic from Hawaii — the great circle method is NNW at an angle of 347 degrees — almost straight north with a distance of 14,170 kilometers, while the rhumb line is 274 degrees — almost due west, and a much greater distance of 16,690 kilometers. So, do we face due east (tradition), due west (rhumb line), or due north (the Great Circle)? We davened facing east.
Another question revolves around the idea of a halachic dateline and where it's located, which determines when to keep Shabbos. Why must there be a dateline in the first place? Because if you pick a place and time, let's say Wednesday, 3 p.m. in Jerusalem, and proceed westward from there, the time of day at the exact same moment will be earlier and earlier. At the opposite side of the earth, it will be 12 hours earlier, i.e. 3 a.m. on Wednesday. Now start again from Jerusalem and travel eastward. It gets later and later. When you reach that same spot on the opposite side of the earth, it will be 3 a.m. Thursday. Uh oh. Obviously this can't be, and therefore there needs to be a convention that recognizes some discontinuity.
By international convention, this north-south line runs through the Pacific Ocean 180 degrees from Greenwich, England. Where does halachah place this discontinuity? The Chazon Ish said that it should be 90 degrees east of Jerusalem (cutting through the eastern part of China), meaning that unlike in the standard convention, Japan would be the same day as North America, as opposed to being the same day as China. In the Chazon Ish's view, Hawaii is the same day as North America, just as in the standard convention. However, many other poskim follow the opinion of Rav Yechiel Michel Tucazinsky, which places the halachic date line 180 degrees from Jerusalem, in which case Hawaii would be the same day as Asia (a day ahead of North America), and thus Shabbos in Hawaii would be on Hawaii's conventional Friday. When we asked a rav, he said that he prefers Rav Yosef Eliyahu Henkin's approach, which is to follow local custom (i.e. when Hawaiians mark Saturday). And indeed, we kept Shabbos on the Hawaiian Saturday, just as all the shomer Shabbos Jews in Hawaii do. (Some people are stringent not to perfrom melachah d'Oraisa on Friday as well.)
Crowned Fruit (or Veggie?)
Once we sorted out our calendar and prayers, we thought we were off the hook —  until we sat down to snack on Hawaii's most famous fruit (or is it a vegetable?): the pineapple. The generally accepted practice is to make the brachah of ha'adamah on pineapple, but every once in a while the question resurfaces about whether the plant the pineapple grows on is actually a tree — and thus the brachah should be ha'eitz. Although most pineapples aren't even grown in Hawaii (the big growers are Costa Rica, Brazil, Philippines, India, and Thailand), Hawaii seemed like a great place to research pineapple production.
Rav Benzion Halberstam of Lakewood had been in Hawaii looking into this very question shortly before we were there, and he put us in touch with Michael Conway, manager of agricultural operations at Dole Food Company, one of the largest pineapple growers in the world. Michael, ever affable, has been involved in pineapple growing for decades, and he generously shared his vast knowledge about pineapples.
Driving in his pickup truck through the muddy fields, we passed acre upon acre of pineapple plants in various stages of growth, as well as many empty plots. He explained to us that — ? la shemittah — Dole leaves plots to lie fallow every few years for one year, allowing the depleted nutrients to replenish and parasites that damage pineapple roots to die off. We first came to a field that was in the process of being planted. The crowns or swirls on top of small discarded pineapples that were used for juicing are taken to the new planting field where workers plant each one by hand in neat rows, with each worker planting up to 8,000 per day. The roots start to grow out of the stem over the next few months, while the growers use growth regulators to manipulate flowering and ensure a steady flow of fruit to the market all year round.
We wanted to check the root system, which is at its peak at around six months; by the time the pineapple is fully grown at eighteen months, the root system loses much of its absorptive capacity, shrinks, and functions primarily to anchor the plant in the ground. Water and nutrients are then absorbed primarily through the leaves via overhead foliar fertilization. Michael promptly grabbed a six-month-old plant with two hands and uprooted it. We indeed saw the mesh of young roots, including several long spidery ones. Further down the field, we got to some mature pineapples — lo and behold, the root system was much smaller, with none of the long branching roots remaining.
And then Michael returned to his truck, pulled out a huge machete, and like a samurai, sliced open a pineapple and gave us the fresh, sweet fruit to enjoy.
A pineapple plant produces its first pineapple in its second year of growth, and then continues to produce one every subsequent year. But each succeeding year, the fruit becomes smaller and less marketable, and thus the plants are generally uprooted after the second harvest. The subsequent fruit, called a ratoon, grows from a new sucker that emerges alongside the original point where the previous fruit had grown, which is why it's generally defined as a ha'adamah plant and not a tree in the halachic sense (even though there are roots that remain from year to year). Therefore, Rabbi Halberstam has ruled, for these and other reasons, that the pineapple is not subject to the laws of orlah, which unlike most agricultural halachos, also applies outside Eretz Yisrael.
Jewish on Base
How can we talk about Hawaii without mentioning Pearl Harbor? "The day that has lived in infamy," December 7, 1941, when the Japanese carried out the devastating surprise attack on the US fleet in Pearl Harbor, is still much in the local consciousness. The memorial to those killed is the leading tourist site in Hawaii, which is still home to a large US military presence and has many bases scattered throughout its islands with much personnel.
The Aloha Jewish Chapel is an example of how the US Armed Forces is concerned for the welfare of all its military personnel. Back in 1923, the National Jewish Welfare Board (JWB) established the Aloha Center for Jewish Military Personnel, and in 1975, the Aloha Jewish Chapel was built in Pearl Harbor — the first chapel built entirely by the US government as an exclusively Jewish place of worship. Because of its location inside the naval base, visitors can only enter accompanied by someone with military ID. The current resident chaplain, Lieutenant Emily Rosenzweig, was kind enough to take us on base and show us the chapel, as well as to some of the memorials. In addition to the few active duty Jewish servicemen and women, the chapel mostly serves retired military personnel and their families.
The chapel has a Jewish library that has been built up over the years, and we were surprised to see that right off of the main sanctuary is a mikveh. While currently dry, the pipe that brought the rainwater straight from the roof is clearly visible, and by reports and appearances, it seems to have at one time been a kosher mikveh. Most of the island's observant Jews have simply used the Pacific Ocean over the years, although there is a now a kosher mikveh run by Chabad in Honolulu.
One site on the base, not usually accessible to tourists, is a memorial to the USS Utah, one of the battleships sunk on December 7th. Engraved on one of the ship's memorial plaques is the pasuk from Birkas Kohanim, "Ya'er Hashem panav eilechah…" — after all, isn't peace the point of an army in the first place?
Food for Thought
Like we said, everyone here has a story, and Chabad chassid and London native Yudi Weinbaum's path to Hawaii was via his wife Estee. She actually grew up in Honolulu, and while her family wasn't yet observant, once when they were visiting the kosher restaurant that used to be open in Waikiki, they saw a sign for a Jewish summer camp. Estee's mother signed her two kids up, and that eventually led to a new path for the family. Estee became close with some of the Krasnjansky daughters and joined the small school that Rebbetzin Perel had for her kids and some others. The Krasnjansky children eventually left home for chinuch and Estee followed them, studying in Jewish schools in California, Massachusetts, and Cape Town. She ended up in New York, met and married Yudi, and the young couple planned to settle in London, where Yudi had worked as a chef for a catering company. But on a visit to Estee's family in Hawaii, they saw the potential of opening a food business aimed at Jewish tourists. That was 13 years ago and they're still here. For several years they had a restaurant, and now they run Oahu Kosher, which provides kosher meals and caters events. Yudi says they can go through 700 –1500 lbs of meat and kosher groceries every three to four weeks, but he has to be organized because there is a five-week lag time due to shipping. He estimates that in all of Honolulu there are about 50 people who eat only kosher meat and chicken, and that includes some of the young Israelis.
That's his parnassah. But Yudi says daily life on the island actually gives him a push in his own Yiddishkeit. "In other places, it doesn't matter if you show up or not," he says. "But in Hawaii, if you show up, chances are you'll make the minyan." Many people come to Hawaii to "get away," and most of them aren't coming to find Judaism — but, says Yudi, "it often finds them."
(Originally featured in Mishpacha, Issue 716)
Oops! We could not locate your form.
>