| This Way That Way |
Mushrooms
| December 27, 2022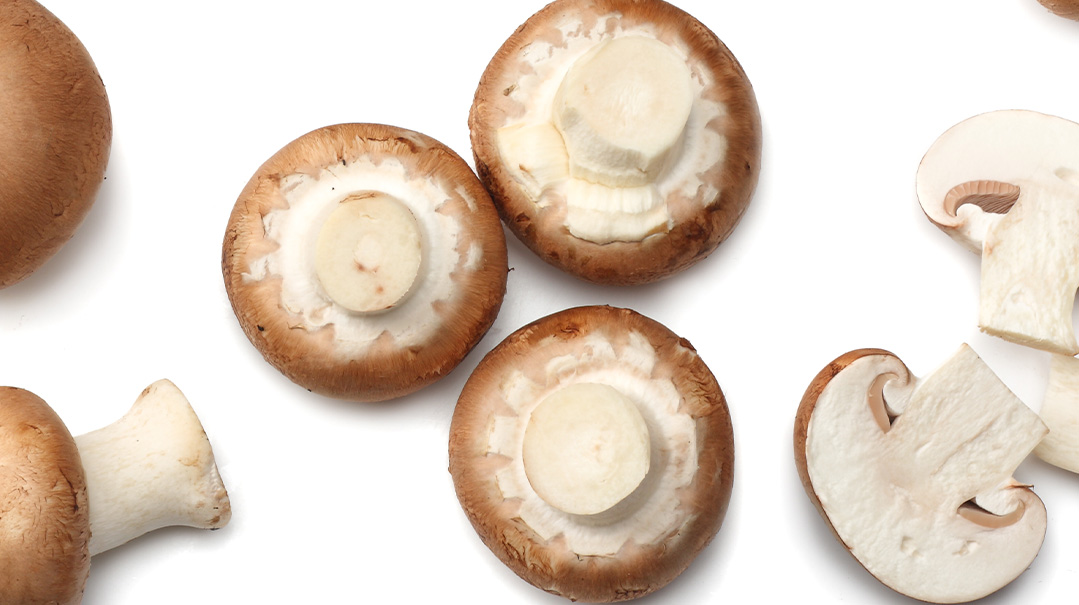 While the scientific fact that mushrooms are actually a fungus might sound gross, this unappealing tidbit hasn't affected the worldview on their succulence. Mushrooms of every variety are widely featured in many cuisines across the globe. Their rich flavor and meaty consistency makes them unique in their ability to add distinctive, earthy tones to a dish, as well as to replicate the denser texture of a hearty protein.
The sheer number of species available to us in a local supermarket allows everyone to pick their poison (not literally — stay away from those!). They're the perfect ingredient to feature in sauces, stews, pastas, and even as the main itself. The possibilities are endless.
Much Ado About Mushrooms
Vitamin D Source
Mushrooms are the only item in the fresh produce section that have their own rich source of vitamin D.
Shitake Strikes Again
Researchers have found that indirect lightning strikes are extremely helpful in the development of most mushrooms. Shitake crops in particular double their yield after a lightning exposure.
Luminous 'Shrooms
There are 80 species of mushrooms that actually glow in the dark.
Shallot and Wine Mushroom Medley
Recipe by Rorie Weisberg
Reproduced from Food You Love:
That Loves You Back by Rorie Weisberg with permission of the copyright holders, ArtScroll / Mesorah Publications, Ltd.
I use mushrooms anywhere I can: in salads, as toppers to many different veggie dishes, as mix-ins to countless starchy sides, and in meats, chickens, and soups. Here, I let them shine on their own.
SERVES 7–8
2 lbs (910 g) mixed mushrooms of choice; adjust to preferences and seasonal availability (see note)
2 Tbsp olive oil, divided
2 shallots, sliced thin
¼ cup dry white wine
2 tsp Dijon mustard
2 tsp fresh or 1 tsp dry thyme or rosemary
1 tsp sea salt
¼ tsp coarse black pepper
Heat oil in a large, deep frying pan or wok over medium heat. Add sliced shallots; sauté until soft and golden, 8–10 minutes. Add mushrooms; increase heat to high, stirring with a wooden spoon to combine. Continue cooking; after about 10 minutes, mushrooms will begin to release moisture.
When most of the liquid has evaporated and the mushrooms start to brown, add the wine, mustard, spices, and herbs. Stir gently to allow the mushrooms to absorb the flavor.
Reduce heat to medium. Cook for an additional 5 minutes. Add salt and pepper to taste.
Note: When available, I use 7–8 oz shitake mushrooms, 8–10 oz baby bella mushrooms, 8–10 oz white button mushrooms, 3–4 oz maitake or oyster mushrooms, and 3 oz brown beech mushrooms.
Roasted Vegetable Salad with Cranberry Vinaigrette
Recipe by Rivky Kleiman
Maple-roasted vegetables (yum) tossed with crispy romaine lettuce, then dressed to perfection… I think I need a serving right about now.
SERVES 6
1 8-oz (225-g) bag romaine lettuce, shredded
1 red onion, diced
1 red pepper, diced
1 yellow pepper, diced
3 portobello mushrooms, sliced
1 zucchini (unpeeled), sliced
½ cup dried cranberries (optional)
Maple Glaze
1 Tbsp maple syrup
1 Tbsp olive oil
1 Tbsp lemon juice
2 Tbsp brown sugar
1 tsp kosher salt
½ tsp pepper
Cranberry Vinaigrette
¼ cup fresh or frozen cranberries
2 Tbsp canola oil
2 Tbsp red wine vinegar
2 Tbsp honey
½ tsp dried mustard
Preheat oven to 425°F (220°C).
Combine onions, peppers, mushrooms, and zucchini in a 9×13-inch (23×33-cm) baking pan. Toss with glaze. Roast for 35–40 minutes, mixing once halfway through the cooking time. Allow vegetables to cool.
To assemble: Combine roasted vegetables with lettuce and dried cranberries. Combine vinaigrette ingredients in a small bowl or cruet and blend with an immersion blender. Add to salad and toss to coat evenly.
Vegan-Sausage Stuffed Mushrooms
Recipe by Sarah Faygie Berkowitz
The beauty of this dish, aside from the adorable and super-tasty little stuffed caps, is the awesome nutrition factor. Baby bella mushrooms have a host of vitamins and nutrients, including phytonutrients, protein, and fiber. And while they're naturally low in fat, they still give you that satisfying meat-like flavor when roasted. It's a culinary win-win.
SERVES 6
24 large baby bella mushrooms
2 Italian vegan sausages (I use Tofurky)
1 cup bread crumbs
4 cubes frozen basil
1 cup marinara sauce
Preheat oven to 375°F (190°C). Line a 9×13-inch (23×33-cm) baking pan with parchment paper.
Remove stems and white ring from mushrooms and rinse caps. Set upside down on parchment paper.
Slice sausages in quarters lengthwise, then slice into small pieces.
Mix sausage, bread crumbs, basil cubes, and marinara. Place a heaping spoonful of the mixture into each mushroom center. Bake for 20 minutes.
Serve warm.
(Originally featured in Family Table, Issue 824)
Oops! We could not locate your form.
>