| Family Room |
Mouth of Babes
| October 26, 2021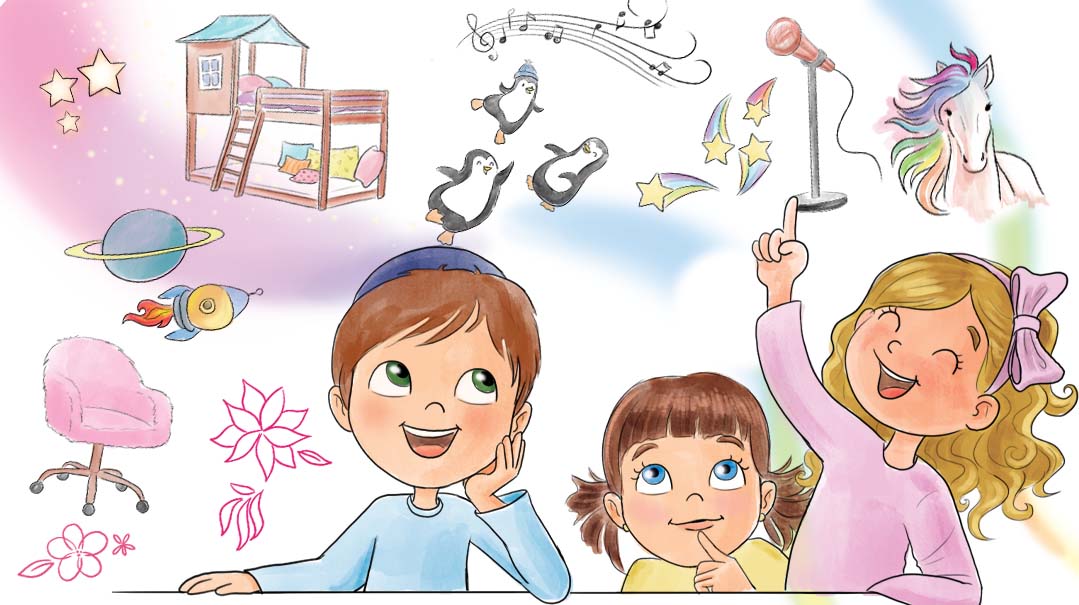 What do your children really want their rooms to look like? We posed this question to a diverse group of young ones: "If you could decorate your room, what would it look like?" Here are their responses.
"A multi-story dollhouse with tunnels and elevators so that a train carrying all my favorite Beanie Babies can drive them around."
Miri Kaufman, 4
"Insect wallpaper, insect-shaped rug, bed is insect shaped. Lamp is a flashlight, and there's a net to catch some bugs with."
Yosef Horovitz, 4
"Horses!"
Kiki Tyrnauer, 6
"Light purple with musical notes all over, and my collection of bobbleheads on the shelves. The ceiling would be a video of the solar system, with a window seat and a display shelf of stuffed animals. Also, a life-sized cut out of me!"
Perri Berkovits, 10
"Pink wallpaper with hot pink floral designs. The floors would be a light-colored wood, covered by a shaggy white carpet under my bed. Facing my window would be a white desk and pink furry desk chair where I can do my homework, draw, or write. If this room would be mine, I would never leave it."
Rikki Smolarcik, 10
"Volcano theme: fire lava flooring, bed in shape of a rock, and a bridge because of lava."
Zissy Weinberger, 8
"Sapphire floors, emojis on the wall, shooting stars, and hearts. I would add a dresser made out of diamonds with crystal knobs and a desk with crystals. I would enjoy all the materials you'll need for a gymnast — like bars and mats and balance beams. I also would add a stage in my room with spotlights and a rose gold microphone. And that's it!"
Aliza Fox, 9
"The walls built out of LEGO with hidden LEGO cities behind them. Balance beams to a rainbow bunk bed and a chair hanging from the ceiling."
Maya Minsky, 5
"A loft bed that looks like a tree house and a reading nook underneath! The chandelier looks like the sun."
Chaim Bentzion Feldman, 5
"Climbing walls and
ninja course!"
Sammy Farber, 4
"It would be a red wall with penguins with a fire window to jump out of and a cool bed."
Avraham Scheller, 5
"A hammock bed held up with palm trees and a sandy floor! A bunk bed with slides and a secret compartment for candy! Pink walls with pink glittery linen and rainbow accessories!"
Avigail Rich, 8
A Designer's Take
Add decorative touches, rather than trying to incorporate emojis, ninjas, rainbows, and fire into fixed design elements. Pillows, bedding, and desk accessories are great places to add in cozy touches of what your child loves. They'll appreciate them so much more than they will a cool wallpaper.
If you're having trouble nailing down one common theme from your kids (my daughter's birthday party this year was a unicorn/rainbow/outer space hybrid, so I feel you), you can never go wrong by starting with a favorite color. Pink? So easy. Paint, drapery, rugs, bedding, you name it. Flood your child's room with happy colors they love, and they'll definitely be satisfied with the results. Plus, few things are more chic than a monochromatic space. Win/win.
Focus on one specific area they get a say in. I usually offer the bed, since it's the central feature of the space. You can always preview the selections and show them a couple of options that resonate with their interests but are still "on brand" with the design aesthetic. I love Wayfair, Crate & Kids, and Pottery Barn Kids for really fun (but cool) themed kids' bed frames.
-Leia Whitman Karoly
(Originally featured in Family Room, Issue 21)
Oops! We could not locate your form.
>