| Map the Starlight |
Map the Starlight: Chapter 60 | July 25, 2018
Who is he? A man who seeks goodness and truth, or a man who burns books and people? Is he heir to his great-grandfather's legacy?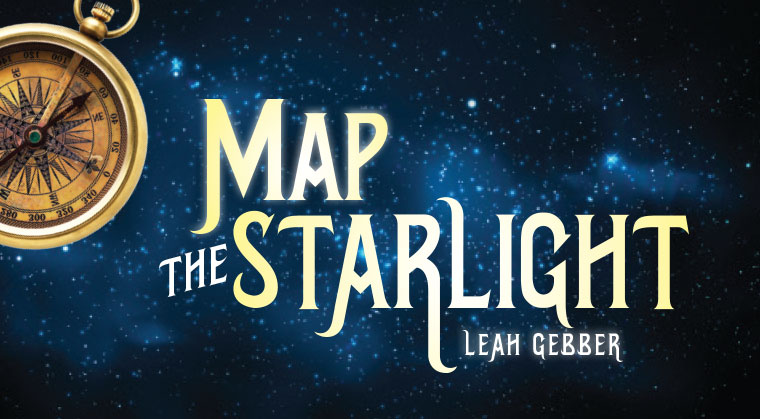 The smell of smoke stings the back of Ramon's throat. The crowd sweats in the sun. Behind him on the wooden dais sit the bishop, Brother Tomaso, church dignitaries, his scribe.
Ramon stands and watches. The girl and her father, both tied to wooden stakes. Beneath them, a pile of wood — carefully dried and stored to prevent mishap. The girl will be first. Not because he wants to torture the old man further, but custom dictates that the younger be killed before the elder.
Flames.
The scarlet is only creeping at the bottom of the woodpile. Ramon stares into the glowing tongues. The last conflagration he saw was in the priory. A fire of his own doing.
The thought wrenches inside him.
Yesterday, Jocef came again to plead for the prisoners.
"What will you give me?" Ramon had asked.
"I have… I have access to wealth."
Ramon laughed. "You know that this is not what I seek."
Jocef stood up and leaned in close to him. "What, then?" He lowered his voice. "Over the time I have known you, I know that what you seek is your past, and this is something I cannot give you."
Ramon threw his head back in a laugh. "My past. I know my past. There are no more secrets. Only a pathway set out for me from before I was born. The cruelty of the stars."
Jocef passed his hand over his forehead. "Your words are a mystery. But there is indeed something I can give you."
"What is that?"
Jocef sat down. "I will teach you a Mishnah."
And he began to chant: "If there is a fire on the Sabbath, although one may not one carry an item from one domain to the other, one may rescue the sacred writings. This is true whether they are read in public or whether they are not read in public."
He looked up. "That means both the Five Books of Moses and Prophets, which are read in the synagogue on the Sabbath and Festivals, and also the rest of the Writings, which are not read."
He looked at Ramon. "This also applies if they were written in a foreign language."
Ramon became agitated. "Why do you teach me this?"
Jocef shrugged. "It is a gift. Of friendship."
Ramon was unable to sit; he pushed back his chair and stood with his eyes closed and his fists clenched.
Jocef continued. "But, you may ask, what is a book? The Talmud discusses this. The definition of a book is a parchment that contains 85 letters." He stepped closer to Ramon. "And what is the significance of 85 letters?
"For this is the number of letters that are contained in the section of the Bible that states, 'When the Ark traveled.' The section that deals with the journeys of the Jews in the desert — wandering then, as they do now."
Ramon shook his head; something in him was choking, rising, choking, a rope was around his chest, tightening slowly.
Jocef continued. "This is the definition of a book, Ramon. Something that takes you on a journey. This is what must be saved from the flames, even if doing so means that we desecrate the Sabbath, the holiest day of all."
He had turned to leave. The door was already open when Ramon whispered. "Stop."
"Yes, Ramon?"
"There is another reason why the sacred day is desecrated, is there not?"
Jocef had stared at him for a long time. "The sacred day is desecrated in order to save a human life."
As the kindling catches alight, the crowd cheers. The monks behind him stamp their feet and the wooden floor beneath him shakes.
What will be left of him, when it is over? When the fire has eaten flesh, when the black plumes have ceased, when the lingering smell is replaced by the salty tang of the sea wind?
What was left when the room filled with tomes of the Talmud went up in flames?
What was left when 24 cartloads of the Talmud were incinerated? A conflagration of words. But the future of the Jews remained unsinged. They wandered on.
There were scholars. Mapmakers. Talmudists. Doctors.
There was Jocef. Aster. Her father.
The wood above the kindling is beginning to catch. Any moment, a spark will fall on the woman's cloak. That will be the end of them.
On the sacred Sabbath, a book is saved from the flames.
And what will be left?
Ash, soft and gray.
He is choking inside, everything is rising and roiling, until every breath is liquid fire. If he could, he would jump into the flames, destroy himself, and with it, the legacy of his ancestors.
Do flames purify? Or do they destroy?
A sudden wind runs through the square. It whips up the flames.
He looks up at the woman. Aster. Her face is contorted, tortured. She opens her mouth to scream but clamps it closed.
He has seen that face before. The face of Jocef, tortured, as he thought himself responsible for deaths he never caused.
The flames begin to climb.
Who is he? A man who seeks goodness and truth, or a man who burns books and people? Is he heir to his great-grandfather's legacy?
Friar Pere's kindly face appears only to fade as his eyes swim with tears and smoke.
The sacred day is desecrated in order to save a human life.
He throws his arms up over his head. Opens his mouth. And he begins to run towards the pyre. "Dowse the flames!"
The crowd, until then quiet in respect of the people, erupts in noise. Shouts and boos, a woman's yell, children calling to each other.
"Stop! In the name of all that is holy," Ramon yells again. "Dowse the flames!"
He tries to make his way down from the dais, but the place is filled; Dominicans in their black robes block his way. He is trapped on the wooden stage.
He watches as a thin figure sprints across the square. Who? He blinks, stares, yells again, and then he sees. Jocef.
As Jocef draws close to Aster and her father, he pulls out a short dagger. Holding it in both hands, he slashes at the ropes and stamps at the fire. His cloak catches alight and there is a desperate hiss from the crowds.
Another hack at the rope, another, and then they are freed.
The girl, clothes aflame, stumbles forward and falls to the ground.
A surge of people. Water is thrown over the girl, and then Jocef is kneeling beside her, coaxing her to drink, but she lies there, shaking, sobbing quietly.
Jocef turns to her father — he is still standing, tied up, his eyes are closed and he shakes gently. No flames were lit under him, and he is whole and unscathed.
Finally, Ramon frees himself from the dais. He cuts through the crowd and runs to the pyre. He climbs up, head spinning.
Words.
All those words that were burned. Now he prays for them to come to him, to join together to form an explanation. A reason for his command, a safeguard for Aster and Jocef, for Scholar Samuel, for the future.
He holds his arms out wide and begins.
"Brothers," he calls, and his skin crawls, but he must use these words to save lives, it is the only way out.
"Brothers, today our holy fire, the fire of the inquisition, was about to be tainted. There is fire that will destroy, and there is fire that will cleanse. And there is fire that is purloined for other purposes."
A hiss and a roar. Behind him, the fire still smolders. Put it out, put it out, put it out. The girl lies on the floor. Guards are everywhere.
"For when this woman and her father," he points, "were tied to the stake, they made a declaration."
"They said, 'We are prepared to accept G-d's judgement with love, and to follow in the footsteps of Rabbi Akiva, who gave up his life for Your sake.'
"Heed their words. In their quest to become Jewish martyrs, they were purloining Christian fire! They were taking our fire — fire intended to cleanse — and using it to sanctify the name of their own G-d. Traitors! Let no one dare taint our ceremonies! Let none dare use our fire for his own purpose! Let none use Christian fire in an effort to draw close to his own G-d."
"And thus I ordered that the fire be extinguished." Ramon turns. "Guards! Return them to the Black House."
******
Aster opens her eyes. The light is dim, but in the corner, she sees the glow of a candle. Where is she? Is she in the Next World? She blinks. No, it does not seem so. A soft warmth by her hand — she opens her eyes again. Clara. Clara bending over her, large blue eyes shimmering with tears.
"She is awake," Clara calls out.
And then she opens her eyes and Jocef peers over her. "All is well, Aster," he says soothingly. "All will be well."
She tries to form words, but her mouth feels heavy, it's hard to move her lips. And there is pain, a pain in her legs so sharp that for a moment, it takes her breath away.
"Papa?" she whispers.
"Your father is well. He is praying for your return to health."
Aster turns. The voice that spoke is unfamiliar, but she knows it. She opens her eyes again.
The monk. Jocef's friend. Their interrogator. Their savior.
He walks into the cell. "I hope that your condition has improved," he says.
She tries to speak, but her voice is gone. Fear creeps up and down her skin. What has he in store for them now?
"Your case has been discussed by the tribunal." His black eyes are unreadable. "There were some who advocated for lifelong imprisonment."
She shivers.
"But I persuaded them that exile would be a more fitting punishment. Are you not, after all, wandering Jews? Such a sentence would strengthen the Christian masses, as well. I will appoint Jocef here to ensure that this ruling is followed."
Ramon turned to Jocef. "You will report to me?"
Jocef nods. "Yes."
The monk bends his head, as if he does not want them to see his face.
"Barcelona," he says. "I have heard that Barcelona would be a good place for you to settle. There are mapmakers there, and scholars, and poets. There will be knowledge… and you will find goodness."
Jocef puts his hand on that of the monk. "Thank you."
The monk bows slightly. "Farewell, Jocef. You have taught me well."
Jocef nods. "Farewell, friend."
*******
A man on a tall black horse rides through the village. Reaching the fields, he kicks the horse into a canter, passing the apple orchard and the vineyard. At the top of small rise, he idles for a few moments, gazing at the gray stone building ahead. Then, with a decisive pull on the reigns, he trots forward.
At the priory, Friar Pere flings his arms around him in an embrace. "I do not believe what my eyes behold. After all these years! Ramon."
"Friar Pere."
When Friar Pere releases him, Ramon sees that his mentor is smaller and older than he remembers, though it has been no more than five years since they parted. He looks around the study, breathing in the familiar smell of parchment and books. "The place I grew up," he says fondly.
Friar Pere takes both his hands and clutches them. "And I have wondered and thought and missed you. All those years to go away and not think of the man who brought you up."
"I thought of you often."
"But—"
Ramon hesitates. How much should he open up? How much should be shared? How much would Friar Pere understand?
"The years were not easy to me."
Friar Pere's forehead creases as he looks him up and down. "But you are not wearing the uniform of the church." He gives a small laugh. "Don't tell me that it is as I said, that you have found a comely country girl and made her into your wife, and spend your days teaching Latin. Do you have children?"
"No."
"But you are married? You have a wife?"
"No."
"But you are no longer a man of the church."
He has something to say, and he will say it. "I came to thank you for the letter that you sent."
Friar Pere sinks down into his velvet-covered chair, the burgundy worn now. "It helped? It is always hard to know whether one is helping or harming."
"It helped. It steered my life in a certain direction." Ramon looks Friar Pere in the eyes. "I would like to be part of the Jewish people."
Friar Pere's face creases in perturbation. He threads his fingers together. "But why?"
"I would like to put right what my great-grandfather did wrong."
Friar Pere fingers a book on his desk, and then looks up at him. "Do not live by your history, Ramon. You must live your own life, for what it is."
"This is not what my life has taught me. What are the first words of the Old Testament?"
They say the words together: In the beginning…
"The beginning does not lie with me. I am part of a larger tale. My great-grandfather was part of that tale, part of my beginning. But it did not start with him, either."
He kneels down before the friar. "The Talmud says that if a book is going up in flames, then one may desecrate the holy Sabbath to rescue it. A Jewish scholar explained to me that this is not just because books link you to the past, but because they take you on a journey."
"A Jew? Ramon — that despised nation, wandering the earth. I wager that they will not even have you."
Ramon stands. "This is true. They will not have me. I approached the rabbis in Mainz and Barcelona and Toledo, and they heard my history and turned me away. For fear they be accused of Judaizing."
"So?"
"I am going to the Holy Land." He begins to pace, to speak, unsure of whether Friar Pere will hear or understand, whether he understands himself. "The Holy Land is a place not of fire, but water. The Mediterranean. The Sea of Galilee. It is where I want to be. And I hope that there, I will find a rabbi who will accept me as one of his own."
Friar Pere waves his arms. "But… what happened to our bishop? Our pope? We thought that great things would come of you, Ramon."
"And they may still."
Friar Pere hangs his head in sorrow. "Why did you come?
"To take my leave. To thank you for caring for me as a son."
Friar Pere sighs and heaves himself to his feet. He walks over to the wall of the study. Hanging there is a map of the holy land.
"It is more a work of art than of science," he says, as he reaches up and takes it off the wall.
Friar Pere sets it onto his desk. They both lean over it. "See how the water catches the light? See how each town is drawn with the best ink, the finest pen?
"Neemias was the messenger who delivered this map.
Ramon looks up sharply. "Neemias? How does he fare?"
"I do not know. A few years ago he sent me back a thin book I had given him as a gift. The treatise of Levi son of Gerson."
"Was there a letter?"
"A note. He wrote that the stars may hold the secrets of the future, but it is man who must grasp his life's destiny."
"Where did he go? Where is he now?" He does not know why he should care, but all of a sudden, he does.
"I do not know. People from the past have a habit of slipping through our fingers, do you not think?"
Ramon thinks of Jocef. He has not seen him since that windy morning, five years before, when he boarded a ship, with Samuel and Aster and her sister. "Indeed."
He turns back to the map. "This map was made not by a man, but by a woman. I knew her once," Ramon says.
Friar Pere lifts the map and places it in Ramon's hands. "Here. It is yours."
The waters of the Sea of Galilee glint and sparkle.
"Let it guide you on your life's path."
(Originally featured in Family First, Issue 602)
Oops! We could not locate your form.
>