| Map the Starlight |
Map the Starlight: Chapter 59 | July 18, 2018
How can a human being who loves life so much face death like it is no loss?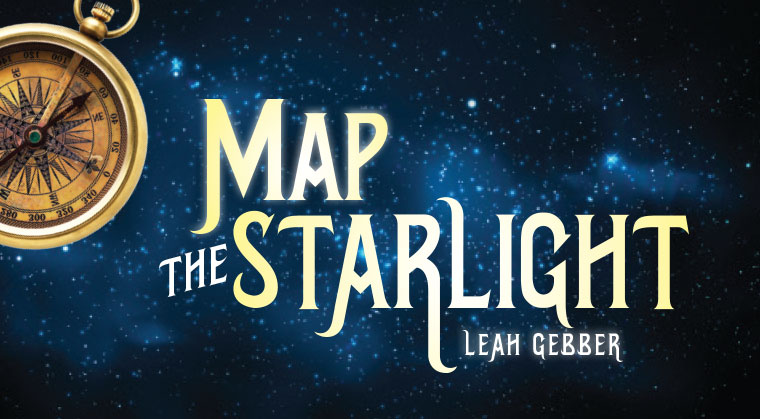 At first, when Aster has removed the brick from the wall of her cell, she does nothing but breathe. The air is damp but warm. It smells of the sea, and of the rain that will soon come, and of the city, and of the clouds in the sky.
She turns around, wanting her Papa to breathe in the fresh air, but he is sleeping, finally, and she does not have the heart to wake him, although it would be good for him to get the good, sweet air into his lungs.
She is filled with a sudden excitement. The air is like wine, and she laughs suddenly, to herself. And there is light! She can see the dappled shadows on the cobblestones: outside, the sun is shining. There is a whole world out there.
She holds the brick in her left hand, and with her right, pushes her hand through the hole, until the surrounding bricks graze her arm. She gropes until she picks up a stone, then she waits until she can see a woman's slipper. When she does, she throws the stone, to attract her attention.
The woman walks past.
No matter. She holds her face to the stone and peers out, waiting to see the colored tassel of the sandals favored by the women of the Call. Seeing one, she calls out.
The foot stops. Aster's heart beats wildly.
"Who is there?" A voice, tremulous and high-pitched.
It is Rivkah, the wife of the Shamash, crouching as if to adjust her sandal.
"Rivkah! It is Aster!"
"Aster!" She breathes.
"Shh."
"But…"
"Rivkah, is all well with Clara?"
"Clara is well. She is being cared for. Aster… Aster… Can I get you food? Water?"
"Rivkah, call Jocef for me."
"Jocef," Rivkah repeats. Then Aster watches as Rivkah's foot disappears.
It seems like forever. She paces the cell. For the first time in days, she looks down at her clothing, she tries to shake the dirt out of the fabric, but it is creased, she has slept in it for days. And her hair: knotted and dirty, her face must be streaked with dirt. None of it matters, none of it matters, only that he come. And that she find in herself the courage that she needs.
Night is deep and chill when Aster hears footsteps and knows that it is him.
Her breath is stuck in her chest, and she is seized by sudden trembling. Though she wraps her arms around herself, she cannot still it.
Then a small whistle, like a birdcall. It is him.
She loosens the brick further.
Jocef. Jocef is kneeling down before her, and she does not know what to say, the words are almost gone, but there is no time, soon enough the guards will return on their circuit around the building and it will be too late, too late.
"Please, Jocef," her voice cracks. She tries to catch the words, before they are lost to the wind. "Jocef."
He leans down, on his hands and knees, she can just see the corner of his face.
"Jocef?"
"Aster. Aster, what can I do for you, Aster? Is Papa with you?" He is choking down a sob, and for a second she feels anger; it is her privilege to cry, not his.
"Papa is…" She takes a breath. "Papa is here."
"Aster…"
She closes her eyes tight, and moves her fingers across the stone wall until they find a ridge. She presses against the sharpness. Shards of eggshell. A nest, somewhere between sky and ground, suspended between life and death.
"Jocef," she whispers. "I want to die a married woman."
***
A letter! Tomaso drops it onto his desk in the morning. Ramon snatches it up, and slips out of the Black House. Seeking a quiet place to be, to read, Ramon walks until he comes to the scriptorium. There, in the cavernous quiet of the room, with only the sound of pen on parchment and the smell of fresh ink, Ramon opens his letter and begins to read.
Allow me to introduce you, Ramon, to your great-grandfather.
When he has finished reading, Ramon cradles his head in his hands. He seizes a quill and begins to write.
I am condemned by my history.
This, then, is the answer. This is the answer to his strange aversion towards the Talmud. It is in his blood. His great-grandfather condemned the Talmud to the flames.
So what, then, explains his fascination with it? He remembers the urgency of his suggestion that Jocef draw a map of the Talmud, perpetuate it in the face of danger.
In the depths of his grave, was his great-grandfather roiling when he said this? Or was it his own suggestion, channeled through him by some unknowable spirit?
He writes:
What is the truth of my life?
Fire.
But what is fire? Does it cleanse and purify, as Brother Tomaso claims? Or is it a mere agent of destruction, scarlet flames that consume and swallow.
He picks up the letter, and crushes it, into his fist.
If only he had not received this letter.
How cruel. All his life he longed to know the secret of his ancestry.
If only his past was a dark brown mystery of the earth, in which he could plant what he willed. But it is not so. His past was conceived in ashes: the ashes of his great-grandfather's body, the ashes of scholarship, of the Divine words. His mind returns to the letters of the Alef bet. The strange letters that were like thorns to his eyes and soul. They drove him well-nigh to insanity, those letters, until he set fire to the storeroom where the scrolls and tomes were stored.
And he regretted it, he has regretted it, every single day.
He writes again:
I am condemned by my history.
***
The next night, Jocef returns. He bends down, so that she may see a part of his cheek, his eye.
"Aster, any day now, you will be led to your death."
Her voice chokes. "I know."
"But know, too, that the salvation of the Almighty comes in the blink of an eye."
"I know," she whispers.
"And if you forfeit your life, know that you are performing an act of kiddush Hashem, the highest act of love. Know that you follow the footsteps of Rabi Akiva and Chana and her seven sons. The footsteps of those who were killed in the First Crusade and after that. There is nothing to fear, for their spirit will cloak you and you shall feel no pain."
She tries to say something, but the words will not come, only the tears.
And then she sees his hand, and between his fingers is a small gold ring.
"There are no witnesses, here, but the Almighty. And there is no kesubah, but the one written on my heart. But Aster, I give you this ring."
There is a tiny clink as he places the ring on the dark cobblestone. Her fingers scrabble towards it, grasp it, and she places it on her finger. Even in the darkness, it glows yellow, like a star in the night sky.
***
Before dawn, the guards come. "Say your prayers. Make your confessions," they order. "Today you will meet your Creator."
"Papa, teach me something."
He takes her hands in his, looks down at the gold ring. "You have already acquired everything you need to know," he said quietly. "There is nothing more to learn, now."
But there is something to learn. She must learn what to think, how to feel, when her arms are bound. Soon, very soon, she will be bound onto a wooden stake and lifted high above the city. First the flames will warm her, then they will lick her feet. How will she withstand it? Her feet will burn, and even as they turn black and the flesh melts away, the fire will be jumping up and covering her legs, arms, hair, face. It is a cruel way to die.
How will she not scream and writhe and faint from the pain?
She presses him. He shakes his head.
"Aster, we have strived all our life for knowledge. But whatever we may acquire, it is like a grain of sand when we compare it to the mysteries of the universe. With all that we do not know. Pain. Exile. Death. All these things we must consign to the Almighty — and we do so with trust."
Trust.
***
They are led out of the Black House, following the guards toward the pyre in the town square.
After weeks of being in darkness, the light blinds her and she must hang her head low to protect her eyes. Her legs are weak. She wants to walk with her head high and her back straight, but her body betrays her.
Is she ready to face her Creator? Is she?
Papa is ready. He is calm, sanguine. But she has fought all her life for Papa, for Clara, for their safety. Yet it seems that the battle was lost from the beginning and maybe she should have fought for something else — their happiness, perhaps. Maybe… so many regrets, so many ways of looking back on her life. She could have married and become a mother. She would leave children behind her. Instead, she is coming to her death in barren emptiness.
No, she closes her hands around the gold wedding ring. She is coming to her death as a woman who is loved.
Silly questions come into her head. How will she be judged?
Who will go first, she or Papa? She hopes that it will be Papa, so he be spared the anguish of seeing her demise. But how will she bear it? Maybe they will be killed together?
Who will take care of Clara? Of Jocef?
Consign them to the Almighty, Aster, she tells herself. He will care for them.
But He has also led me to this moment, this moment of death. For a moment, she looks up and wishes that it was not day but night, and that she could see the stars, mapped out above her, glinting of mystery and wisdom and beauty. But there is no night, only the merciless day and the sun so hot that sweat pours down her, and stings her eyes, or maybe that is the tears that flow unchecked.
She stops for a second, breathless from fear, unable to continue. The guards on both her sides yank her forward. Papa looks back.
She is shocked at his face. It is calm. Serene. How can a human being who loves life so much face death like it is no loss? What about the sensation of turning pages of parchment? The smell of the sea? The sound of the first rain in autumn? The laughter of a child? The thrill of insight? The quiet warmth as Shabbat enters?
How can he let it all go?
A moan escapes her. No, no, no, no.
But Papa looks around again, and she sees his face, and then it comes, the lightning shaft of realization: that maybe all the knowledge and wisdom are all only for one purpose, to teach us to live so that we know how to die. How to face our Creator and step gracefully back into His arms.
She is crying now, tears streaming down her face. Somewhere inside, is the courage to surrender everything she is, everything that she loves, surrender all to the Almighty.
And all of a sudden, Mama's voice, singing. Adon olam asher malach… She opens her mouth and lets her voice join her Mama's, Adon olam asher malach…
She lets them lead her to the great wooden stage set up in the town square.
Adon olam asher malach
A man in black appears beside her. He binds her hands and feet to the wooden stake.
B'terem kol yetzir nivra.
The man in black leans down and touches a burning torch to the pile of timber beneath Aster's feet.
Hashem li v'lo irah.
(Originally featured in Family First, Issue 601)
Oops! We could not locate your form.
>