| Recipes |
Mandarin Chicken | September 19, 2023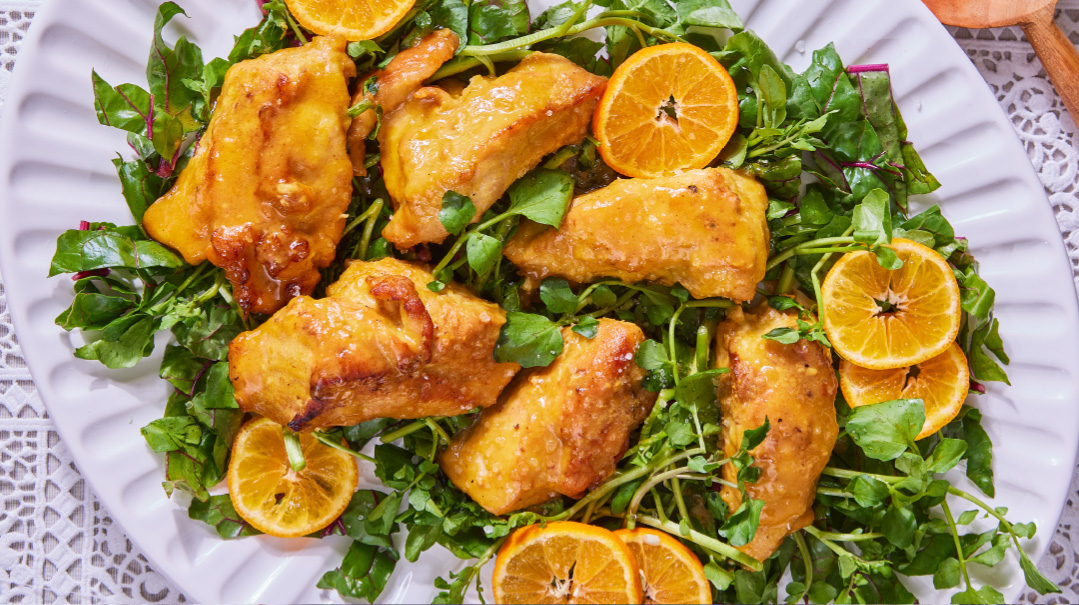 Food and Prop Styling by Shiri Feldman
Food Prep by Chef Suzie Gornish
Photography by Felicia Perretti
The honey-mustard-mandarin combo creates an entrée that absolutely belongs at a succah table! With its subtle orange notes, this piquant and tangy seared chicken is tasty and moist and presents beautifully.
SERVES 6
1½ lb (680 g) chicken cutlets, cleaned and trimmed
¾ cup flour
1 Tbsp paprika
½ tsp salt
oil, for frying
mandarin segments, for garnish
Mandarin Glaze
¼ cup mustard
¼ cup honey
¼ cup oil
2½ Tbsp lemon juice
½ cup juice from an 11-oz (310-g) can mandarin oranges
¼ cup orange juice
½ tsp orange extract
1 heaping tsp cornstarch, mixed with ¼ cup cold water
In a shallow dish, combine flour with paprika and salt. Heat oil in a large frying pan. Working with one piece of chicken at a time, dredge in flour mixture and place into pan. Brown chicken on both sides until golden and transfer from the frying pan to a 9x13-inch (23x33-cm) baking pan.
Place all glaze ingredients except cornstarch and water in a small pot and stir to combine. Bring to a boil and pour in cornstarch-water mixture. Simmer until the liquid begins to thicken.
Pour sauce over chicken and cover tightly.
Garnish with mandarin segments immediately before serving.
(Originally featured in Family Table, Issue 861)
Oops! We could not locate your form.
>