| Family Room |
Kitchen Quandary
| September 29, 2021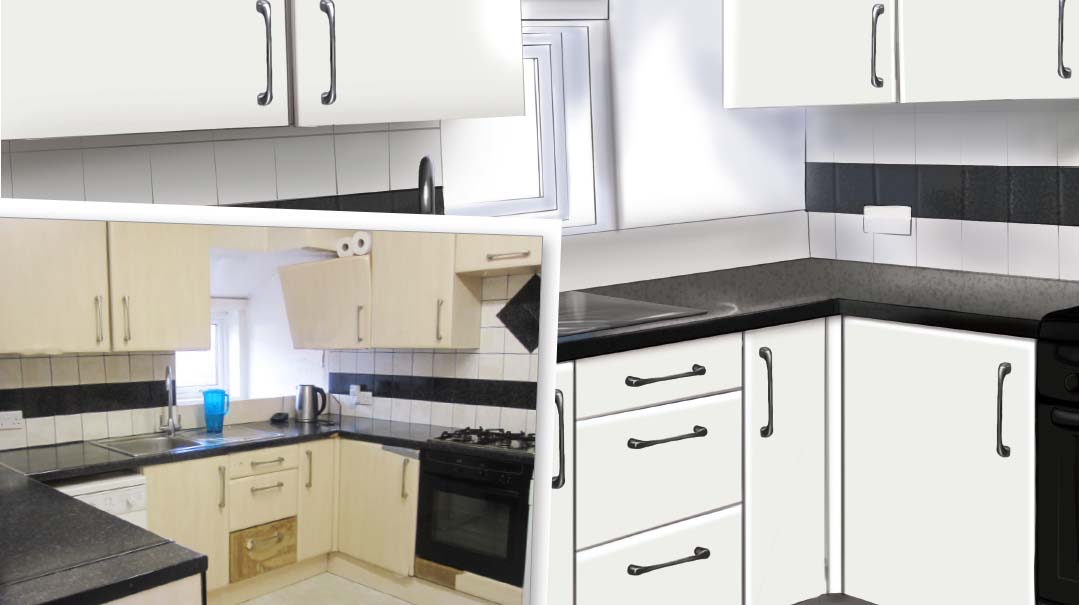 Hi, can you help me with my kitchen cabinet dilemma?
I had a kitchen installed by a quality kitchen company. The cabinets themselves are strong and good quality, but within ten years, some of the cabinet door covers were peeling off at the edges. However, life was too busy for me to follow up, and it took another few years — when my kitchen started to look really bad, some covers completely off, others chipped and broken — for me to call the company and complain that they should have lasted longer. Most of the damage was not caused by water or steam, just age.
The company explained that the factory they had used during the time period I had gotten my kitchen had done a bad job ironing the covers onto the doors, and they had now switched to a different company. Although my ten-year guarantee had expired, they would give me a "great" quote to replace all my cabinet doors to make up for it.
The quote was around $1,500, which is not an expense we can take on at the moment. I looked into ordering custom-made kitchen cabinet doors from less costly companies, but I'm afraid I'll have the same problems, and I don't know which company to trust. It also comes with a lot of work on our part.
With some of my cupboard doors stripped of their covers, and an ugly exposed greenish/brownish wood look underneath, I'm getting desperate, apart from the fact that they're probably being ruined by the moisture in the kitchen without their veneers on. I've begun to consider spray-painting the exposed doors with matching glossy paint, to protect them and make them look nicer, with the idea of doing the same to all the door veneers that are still on. I've never heard of anyone doing this — is it something to consider? Are there any other ideas out there to cover these exposed cabinet doors?
Thanking you in advance,
—R.W.
Rivky responds:
From the pictures you sent, it seems that the cabinet substrate is MDF (medium density fiberboard). It's important to double-check that it is indeed so, and not particleboard. If it's MDF, then you're in luck! MDF is what most painted cabinets these days are made out of, and it's an ideal surface for painting on — it provides a smoother look and long-lasting durability. Particleboard is a softer surface, less tightly packed, and therefore the paint absorbs less easily and will crumble and chip away over time. What you need to do requires a bit of DIY, but it's not too difficult, or you can price the cost of hiring a painter to do this for you. I wouldn't recommend spray-painting.
STEP 1:
Remove the cabinet handles and knobs.
STEP 2:
Remove all the thermofoil veneer by using a blow-dryer on the edges to loosen the glue, then peel off the thermofoil. If it doesn't come off easily, use a knife or a chisel to get it off. Don't pull off the plastic until it's ready, or you may damage the wood below.
STEP 3:
Take a sanding block and lightly sand the newly exposed MDF doors to get rid of extra glue and to make it ready to prime. Don't skip this step! Paint always adheres better to a sanded surface. Any doors that were already exposed should be cleaned with a degreaser before the sanding. The sanding doesn't need to be heavy, just enough to make the surface feel a bit rough.
STEP 4:
Prime: Using an all-purpose stain-blocking primer, paint each cabinet front (and back if you want). Don't skip this step! The paint won't stick well to the MDF without it. This layer doesn't need to look perfect, as you'll be going over it with two coats of paint.
STEP 5:
Paint the door in the color of your choice. I'd recommend using a small roller for this to avoid brushstrokes. A paint sprayer would be even better, but don't confuse this with spray paint, which isn't meant for cabinetry.
For neatest results, the doors should be removed from the hinges first, and the backs of the doors painted before the fronts. I totally get that this is an extra pain, so if you aren't looking for perfection, the doors can stay up.
I'm not sure how much a painter would charge to do it, but if all the thermofoil veneers are off, it might not be too pricey.
Rivky Ungar is a certified kitchen designer who specializes in kosher kitchens. She is the owner of Design It Kosher, a design firm located in Toronto. She can be reached at rivky@designitkosher.com
(Originally featured in Family Room, Issue 20)
Oops! We could not locate your form.
>