| The Day After |
How Will the Kashrus Industry Be Reshaped by Coronavirus?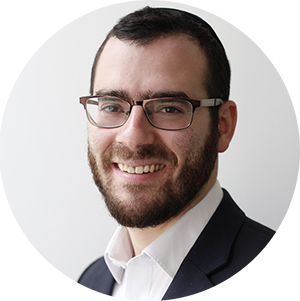 | May 13, 2020
How will the kashrus industry be reshaped by coronavirus?
A

s the coronavirus has shut down the world economy and driven millions into unemployment, one sector has boomed: the food industry, which has struggled to keep shelves stacked as global supply chains shut down.
But kashrus agencies and the wider kosher industry are racing to design solutions for their own unique coronavirus-era problems, from how to conduct hashgachah remotely, the risk of being caught up in the geopolitical tussle over China, and a threatened contraction of the kosher food industry.
"New certification is frozen for the moment, because we can't give hashgachah without access to factories," says Rabbi Moshe Elefant, who is chief operating officer of the OU. "In the first phase when most factories in China and then Europe were under lockdown, there was nothing to certify. But now that China — where there are more than 600 OU-certified factories — is opening up, it's hard to get mashgichim."
Hashgachah in China involves traveling Israeli mashgichim and local Chabad shluchim, Rabbi Elefant explains. "Most of the shluchim have left, and for mashgichim to come — even if they can get a flight — involves two weeks' quarantine when they come back. Who wants to work like that?"
Absent boots on the ground, the OU has turned to a mixture of technology and detective work to continue existing kashrus certification. "In places that don't need constant hashgachah, such as facilities only making kosher pareve, we have been operating by virtual hashgachah," says Rabbi Elefant. "Where the mashgiach knows the factory well, he directs a worker there on Zoom to show him around the machinery. 'Show me this machine,' or 'Turn right here to this piece of equipment,' he'll say."
The technology-based process, he says, is then backed up by old-fashioned detective work: comparing the paperwork, figuring out which ingredients are coming into the factory via invoices.
That combined method is employed at more than half of OU-certified factories in China, but in places that are more complicated from a kashrus point of view, such as those that produce meat, cheese, or wine, hashgachah has ground to a halt. In addition, no new business of any kind can go forward. "Companies are still coming to us for certification, but we can't do that remotely — a mashgiach needs to know the factory very well."
Remote hashgachah is not the only change that coronavirus has forced on the industry. With economies opening up across Europe again, the kosher food industry has been forced to be creative in order to keep supply chains open over the last few weeks, says Eliyahu Mayevski, a buyer for Israel's Adom Group, a leading food importer that supplies national chains such as Rami Levy and Shufersal.
"When the corona panic broke in March, we received an urgent order for kosher l'Pesach sugar," explains Mayevski. "We contacted a Polish sugar factory, the Eidah Hachareidis sent out a mashgiach from Belgium, and we booked four production days. After only two days, Poland closed the borders, so we had to send it by truck to Croatia and then ship it to Israel, which shortened delivery by two and a half weeks, but cost us a lot."
Besides a new need for flexible distribution systems, the real impact of coronavirus, according to Mayevski, could be a shrinking of the booming kosher market.
"In Israel there are now a million unemployed, and whereas people will still buy oil and sugar in hard times, they may cut back on luxuries," he predicts. "That's why we're much more hesitant now on developing new product lines like candies."
There are a number of indicators that this reduced demand is already hitting Israeli retailers. One, ironically, is the tidiness of supermarket shelves. "Our agents said that the shelves with our products are normally messed up by customers, but now they're neat, so clearly there are less buyers."
Another ominous sign comes from the supermarkets' buying patterns. "One of the national chains that we supply is usually very sensitive about our delivery of sugar right on time. Now they're asking if we can delay the shipment."
Mayevski says that it's too early to say definitively how much of the reduced demand is due to people working their way through large stocks bought in the mid-March panic-buying, and how much is because people now prefer to shop in small stores that don't have large infection-prone checkout lines, but he's clear that the kosher food market is heading for troubled waters.
"That will have to be reflected in lower prices for consumers," he says.
Perhaps reflecting a difference between American and Israeli consumers, the OU's Rabbi Elefant doesn't think there'll be a contraction of the market. "The direction of expansion is strong, because kosher consumers are interested in so many food products that manufacturers and distributors will figure out how to satisfy customers."
And, he said, it will take time to see long-term effects in supplying and stocking the stores. Long supply chains for many products mean that kosher food eaten today dates from the pre-coronavirus era. "We have not seen shortfalls yet," explains Rabbi Elefant, "because companies keep large amounts of raw materials in stock months in advance — it takes a long time to trickle down."
With poultry for the US kosher market produced locally, the only interruption to supply was a result of panic-buying and hoarding in mid-March. The same holds true for the portion of the meat market slaughtered locally. The balance, which comes from South America, is a mixed picture. "Shechitah has continued in Mexico, while that in Uruguay hasn't restarted after Pesach," says Rabbi Elefant. "But given the fact that there are no restaurants or simchahs, unfortunately, there is no shortfall."
If kashrus agencies didn't have enough to worry about, coronavirus risks pulling kashrus into geopolitics, as the American government may lean on companies to source goods from countries other than China.
"I estimate that there are close to 2,000 factories in China with hashgachah," says Rabbi Elefant. "Certain raw materials — for example all the garlic produced in the world — come from China. It's possible that American factories won't want to buy products produced there."
Possible, he says, but not probable. "I personally don't believe that China will be pushed out of the world economy. But when I started at the OU 33 years ago, there were just seven factories certified in China, and we were all eating. We can survive."
And where revenue is concerned, authorities will often show flexibility. "After Pesach, Israeli mashgichim were due to come back to Poland to do shechitah of fresh meat for Israeli consumers," says Eliyahu Mayevski, "but the borders were closed. So the Israeli embassy in Poland helped obtain permits for entry, because the Poles want that business. We chartered a Boeing-737, and sent 27 shochtim. They were quarantined for two weeks and just started work again."
A side effect of the close communication with factories from Italy to China has been a close-up view of how the whole world is suffering together. "Normally there are barriers between people around the world — we are all different," says Rabbi Elefant. "What is very uncommon in the current situation is how the whole world is affected by the same problem. Everybody in China is asking how we are. On a personal level, the connection between us has become extremely strong."
And with a bird's-eye view of the international kashrus system, the OU has become a resource for companies everywhere. "Companies call us daily, 'Can you help us get different ingredients?' Borenstein Caterers, a subsidiary of El Al that produces kosher airline meals, almost closed when the flights stopped. We helped them get a contract to supply the New York Department of Education's free kosher meal program."
As long as coronavirus continues to cast a shadow over normal life, there might very well be shortages of French camembert cheese in US kosher aisles, and distributors might have to contend with sudden travel restrictions again.
But what the OU has learned from this crisis, says Rabbi Elefant, is that mashgichim need to know factories like they know their own homes, and the value of technologies to conduct remote inspections. In fact, those remote inspections might very well reinforce the work of mashgichim even when they do go back.
"But I always go back to think about 9/11," he says. "The OU offices are two blocks away from the World Trade Center, and some of our staff saw the planes fly past the windows. Afterward, Rav Yisroel Belsky ztz"l said, 'The world will never be the same again.'
"But in a certain sense, the world does go on — and I think kashrus will be okay."
(Originally featured in Mishpacha, Issue 810)
Oops! We could not locate your form.
>