| This Way That Way |
Gnocchi
| August 22, 2023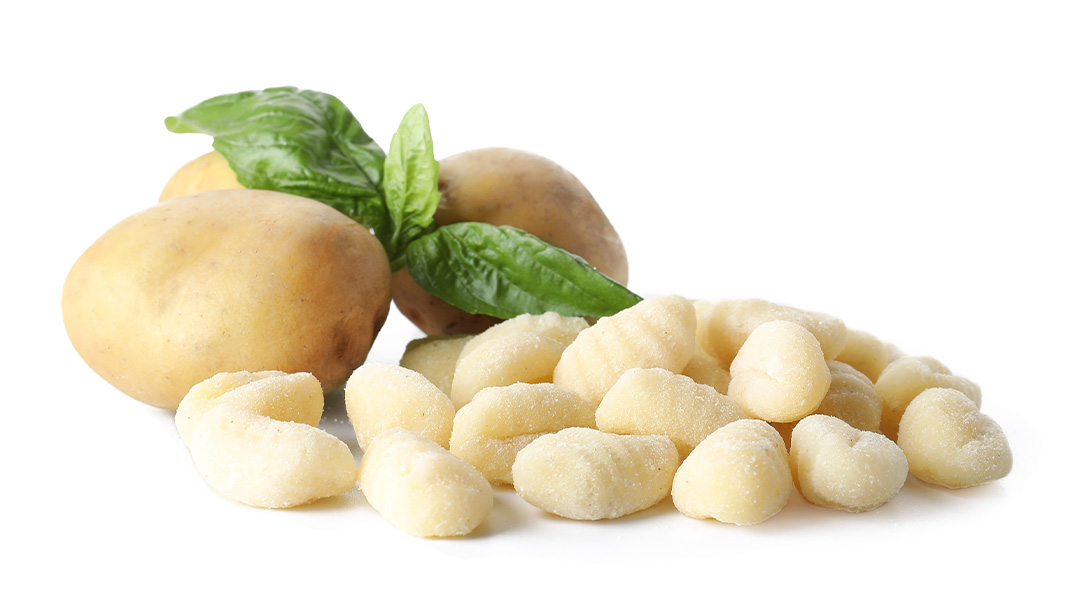 Gnocchi is traditionally made with a mixture of wheat flour and potato and is boiled in salted water before coated in a flavorful sauce. This classic Italian dish has been around since the Roman Empire, made with semolina flour or bread crumbs even before potatoes made it in from the New World.
With a little technique, gnocchi can be made at home. Or you can just buy the premade package that tastes like it just came out of your Italian neighbor's kitchen, boil it up, and enjoy it immediately.
Gnocchi to My Heart
Can't Stop
The singular of gnocchi is "gnoccho," but no one really stops at just one.
Meal Planning at Its Finest
Gnocchi on Thursday nights are a Roman ritual.
The Name of the Game
Gnocchi comes from the Italian word nocchio or from the word noca, meaning "knot on wood" or "knuckle," respectively. Both describe the cute, knob-size food item.
Vegetable Power Soup
Recipe by Faigy Grossman
The velvety texture and flavor of this soup lend themselves to a calming and delicious comfort.
SERVES 6
oil, for sautéing
1 onion, diced
1 red onion, diced
2 large stalks celery
2 potatoes
2 cups frozen cauliflower florets
1 large zucchini
2 large carrots
1 cup canned chickpeas (optional)
½ cup red lentils
7 cups water
1 Tbsp pareve chicken soup mix
1 tsp salt, or according to taste
2 cups packaged mini gnocchi
microgreens or garnish of your choice (optional)
In a medium pot, heat oil and sauté both onions until golden.
Cut celery, potatoes, cauliflower, and zucchini into large pieces. Place all vegetables (adding chickpeas for extra protein, if desired) and remaining ingredients except for gnocchi into the pot and bring to a boil. Lower heat and cook for two hours.
Remove carrots from pot and slice into thin circles; set aside.
Using an immersion blender, blend soup until smooth. Return carrots to the pot, add gnocchi, and cook for an additional 20 minutes.
When serving, garnish with microgreens or garnish of your choice, if desired.
Note: If you prefer a thinner soup, add another 1⁄2 cup water.
Crowd-Pleaser Gnocchi
Recipe by Michal Frischman
Gnocchi is delicious but finicky, especially when cooking in advance for a crowd. Enter this unapologetically rich, creamy comfort-food version. This is where fully loaded baked potato meets macaroni and cheese.
SERVES 12
3 16-oz (450-g) pkgs gnocchi
½ cup milk
2 Tbsp flour
1 cup heavy cream
1 tsp salt
½ tsp pepper
6 oz (170 g) freshly grated mild cheddar cheese
8 oz (225 g) Mehadrin Shredded Mozzarella Cheese
1 cup frozen mini broccoli florets
1 8-oz (225-g) pkg cremini mushrooms, sliced and sautéed
¼ cup panko crumbs
¼ cup cornflake crumbs
¼ cup freshly grated Parmesan cheese
Cook gnocchi according to package directions and drain. Transfer to a 9x13-inch (23x33-cm) pan.
Preheat oven to 350°F (175°C).
In the same pot that you cooked the gnocchi, heat milk and flour, stirring until thickened. Add heavy cream, salt, and pepper, and stir. Mix in cheddar and mozzarella cheeses and stir until melted.
Pour the mixture over the gnocchi.
Add broccoli to one half and sautéed mushrooms to the other half and lightly mix each side so the vegetables are incorporated. Top the broccoli half with a light sprinkle of panko crumbs and the mushroom half with cornflake crumbs. Sprinkle Parmesan over the whole thing.
Bake until the cheese on top is brown and the whole thing is bubbly, about 20 minutes.
Note: If preparing in advance, assemble and then cover and refrigerate without baking. Bake from the fridge covered for 20 minutes and uncovered for 20 minutes.
Brown Butter and Parmesan Gnocchi
Recipe by Chanie Nayman
Gnocchi holds a special place in my heart, as it's one of the things I used to make from scratch during shanah rishonah (heart-shaped, of course!). I haven't been able to make it from scratch in a long time, but this version, using store-bought gnocchi, pops up in my house again and again!
SERVES 4
1 16-oz (450-g) pkg gnocchi, prepared according to package directions
4 Tbsp butter
4 cloves garlic, minced
½ tsp salt
¼ cup Parmesan cheese
¼ cup chopped fresh parsley
Melt butter in a skillet.
Add minced garlic and heat over medium heat until fragrant. Using a slotted spoon, remove garlic from the pan and set aside.
Add gnocchi and salt to the pan. Raise the heat to high and fry the gnocchi until golden on all sides.
Remove from heat, and return the garlic to the pan. Add Parmesan and parsley and toss to coat.
(Originally featured in Family Table, Issue 857)
Oops! We could not locate your form.
>