| Washington Wrap |
Gas Prices Bring Biden to Mideast
| June 21, 2022
Sorry, Israel, Biden's eyes are on oil and inflation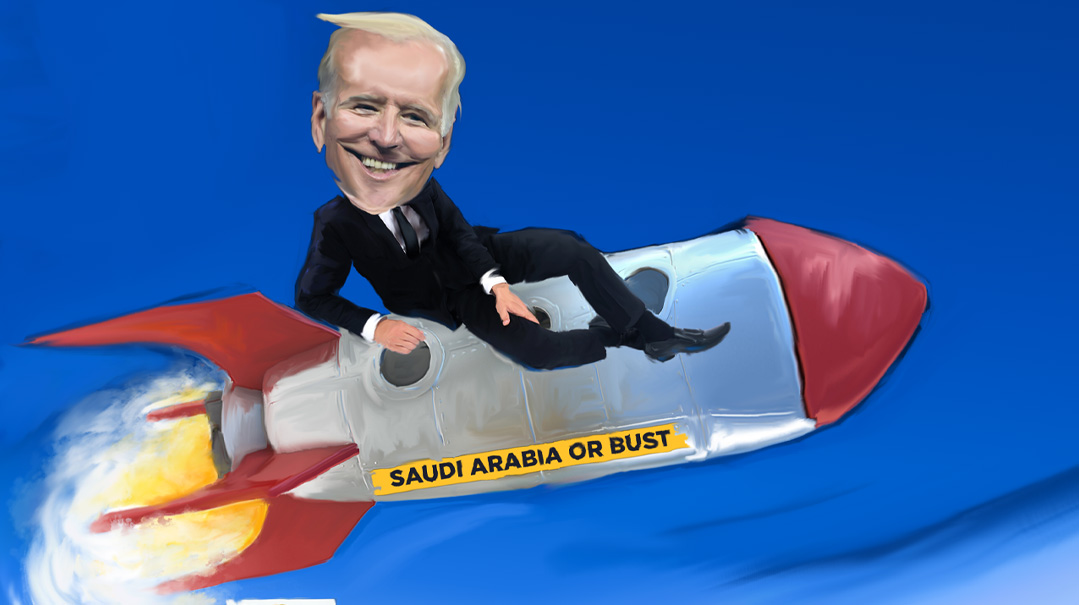 Illustration: Stav Golan
T
he fact that President Joe Biden will be visiting Israel in three weeks is not an indicator of ardent Zionist views, any more than of a desire to advance a pro-Palestinian peace deal. What's bringing Biden to the region is neither the Israelis nor the Palestinians, but gas prices in Michigan and Pennsylvania. That's right, Biden's visit to Israel is related (indirectly) to gas prices, rather than to any political or diplomatic development in Israel.
I'll explain.
The price of gas has been a real obsession for every president in turn  — paradoxically, as it depends largely on circumstances beyond United States control. Countless fictional presidents have torn their hair out over rising gas prices ahead of looming elections, a motif of American political drama, but for Biden, this nightmare is all too real.
Last Friday the average price of gas in America hit the $5 mark, according to the American Automobile Association. This is an all-time high. Just a year ago, the price stood at $3.07, almost two dollars less per gallon. And although gas prices aren't in Biden's control, we're now on the eve of the midterm elections, and his approval rating is abysmal.
Gas prices are greatly exacerbating the current inflation in America. Because gas costs more, transporting goods costs more, energy and electricity cost more, and thus everything is affected, from clothes to plane tickets. But most importantly, low earners for whom every dollar makes a difference have seen their salaries drained by the cumulative effect of the extra cost per gallon.
Biden understands this, and he thinks the answer may lie in Saudi Arabia. The president would like the Saudis to increase their output to reduce the black gold's price, but the Saudis have shown little interest in this. True, OPEC (Organization of Petroleum Exporting Countries, which includes Russia) has agreed to raise its production slightly, but despite this, its 23 member nations are producing two million barrels less per day compared to this time in spring 2020.
The result is a permanent shortage, and skyrocketing prices. Oil producing countries have announced their willingness to up production, but even this falls short of meeting the demand. There are several reasons for this, the most obvious being the Russo-Ukrainian war, and Russia's need for high gas prices to survive economically during a time of crippling sanctions.
In the past, the Saudis — considered the largest oil producing country in the world at around 10 million barrels a day, slightly ahead of Russia — were considered close allies of America and might have been expected to relent. But when Biden entered the White House, he made clear that America's foreign policy would no longer be based on cold utilitarianism but on values — i.e., human rights. And while Saudi Arabia's human rights record has never been singled out for praise, the final straw came in 2018 with the gruesome murder of journalist Jamal Khashoggi. Readers may remember that a US intelligence report made public on Biden's orders concluded that crown prince Muhammad bin Salman had personally ordered the assassination.
Although Biden didn't formally sever ties with Saudi Arabia upon assuming office, he made a point of ignoring Bin Salman and treating his father, the king, as the country's sole ruler, despite bin Salman's extensive responsibilities. A year and a half have gone by, and in that time MBS made clear in an interview to the Atlantic that Biden's ban makes no difference to him. Now, it's Biden who needs the Saudis.
As a result of all this, the key to surviving the midterms without a red wave that will leave him facing an oppositional Congress for the rest of his term lies in Saudi Arabia. In order to climb down from the tree in the most elegant way possible, the administration announced that Biden will fly to Saudi Arabia to attend a number of events, including a summit of the Gulf Cooperation Council (GCC), and will meet there with regional leaders. This presumably includes the king and his son. And so, while Biden is not anticipated to meet bin Salman in person, a photo of Biden with the crown prince will be sufficient for the Saudis as an indication of bin Salman's legitimacy.
It's too early to say what exactly the Americans might gain in return for thawing ties. One possibility is that Saudi Arabia will sell the US or Europe more oil from their strategic reserves. How will this help? Because of the tough sanctions on Russia, both the US and Europe have found themselves in a serious energy crisis, and the US has been forced to fall back on its own strategic reserves. If the Saudis import more oil to Europe, this could indirectly help America.
So why is Biden visiting Israel, as well?
This is a more complex question than it appears. It's the first time a US president has scheduled a visit to Israel without knowing which prime minister will greet him when he steps off the plane. Naftali Bennett's fragile coalition could easily collapse before then, leaving open the possibility that either Bennett, or Yair Lapid in a caretaker role, or Binyamin Netanyahu (if an alternative government is formed) could be the one greeting him on the runway.
For the president, coming to a country beset by political turmoil is not ideal. He has nothing to gain, because he nothing to propose. It's obvious that a peace deal is not on the agenda. But what is? It may just be that Biden learned a lesson from Obama, who memorably skipped Israel in his first Middle East visit. This tagged him in the public consciousness as an Israel-hater, a label he was unable to shake off even after signing an unprecedented $38 billion military aid package to Israel over ten years in his last year in office.
Biden understand this and wants to avoid that perception. He's coming to Israel without knowing which prime minister will host him in order to be able to check off an item on his to-do list, but also to speak directly to the Israeli public and tell them that America stands with them. But the fact that Biden sees the trip as a matter of rote doesn't mean the Israelis see things the same way.
First of all, Israel's Defense Ministry wants to show president Biden the Iron Dome system, as well as the new laser-based interception system, in the hope of securing a commitment for funding. But beyond this, it seems that Israeli politicians, especially Bennett and Lapid, will try to engineer as many photo ops highlighting their close relationship with the administration as possible. Here in America, Biden's approval rating may be below 40 percent, but in Israel, local politicians will be eager to showcase their close relationship with the president of the world's greatest superpower and Israel's closest ally. —
(Originally featured in Mishpacha, Issue 916)
Oops! We could not locate your form.
>