| Washington Wrap |
Fading Urgency for Peace Deals
| October 19, 2021
A deal with Saudi Arabia would be a strategic game changer, but progress on that front doesn't look too promising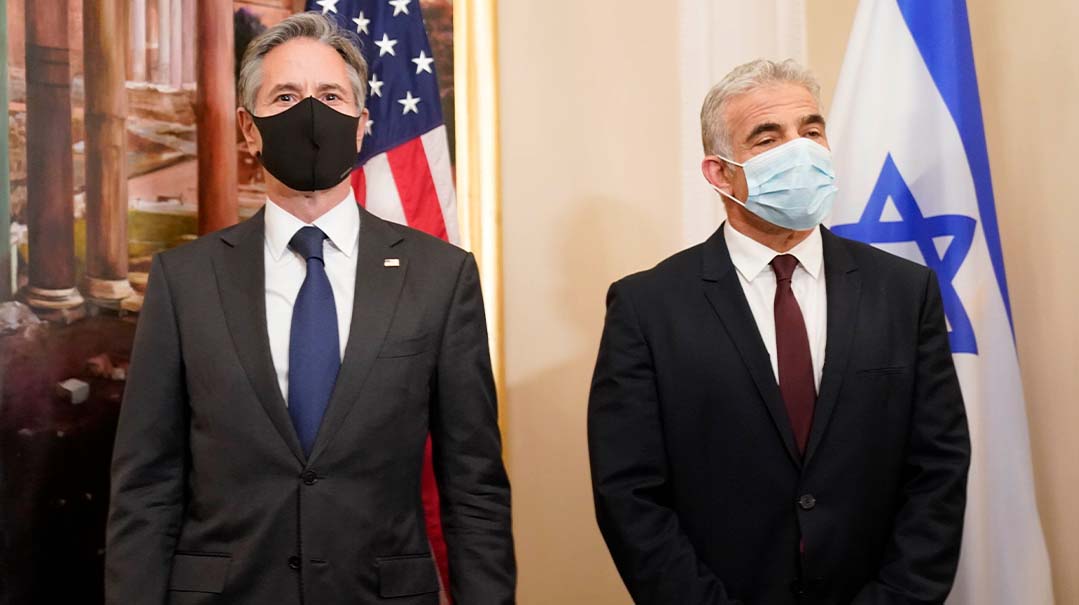 Amid the Afghanistan fiasco, Covid troubles, and spiraling inflation, Joe Biden could really use a foreign policy win right now. So why not bring Saudi Arabia into the Abraham Accords?
Israeli foreign minister Yair Lapid's visit to Washington, and his trilateral meeting with US secretary of state Anthony Blinken and UAE foreign minister Abdullah bin Zayed Al Nahyan, once again brought the Abraham Accords to the fore. For the umpteenth time, Blinken and Lapid pledged to expand on the deals initiated by the Trump administration. But nine months into the Biden administration, no new deal has been signed, and the agreement reached with Sudan last year is teetering.
Experts in Washington believe there are several reasons for this. First off, Trump was willing to give on some points (selling F-35s to the UAE, recognizing Morocco's sovereignty over the Western Sahara, removing Sudan from the list of state terror sponsors) in a daring gamble to make a foreign policy achievement before the elections.
Biden, for his part, doesn't feel the same sense of urgency. A deal with Saudi Arabia would be a strategic game changer, but progress on that front doesn't look too promising. Saudi Arabia is preparing for a normalization deal — but with Iran, not Israel. Just this week, Iran's foreign minister said talks with Saudi Arabia were "headed in a positive direction." And even if Saudi Arabia were to abruptly change tack, Biden would first have to overcome his discomfort with Mohammed bin Salman, whom he's shunned since taking office. The progressive wing of the Democratic Party is certain to oppose any deal involving bin Salman, and Biden wouldn't have an easy time legitimizing the Saudi prince and receiving him in the White House.
In addition, Washington experts believe that while the UAE demanded that the annexation plan be taken off the agenda in exchange for the Abraham Accords, the Saudis will demand a much steeper price. For example, Israel recommitting to the two-state solution — something that seems unrealistic given the composition of the current Israeli government. Thus, it may be that Biden doesn't think he has the cards to secure a deal that will both be groundbreaking, and not come at too high a price.
As for the next four countries on the agenda — Malaysia, Mauritania, Indonesia, and Oman — there are various obstacles to signing deals. Peace deals with Malaysia and Indonesia would provide an economic bonus to Israel. Oman occupies a strategic location abutting the Persian Gulf. But a peace deal with the two East Asian countries could be much more complicated to arrange, and while it would boost tourism and trade, it wouldn't advance Israel's goal of building a bloc of moderate Gulf countries as a bulwark against Iran.
So what could happen in the coming months? It appears the White House intends to invest in strengthening and deepening the Abraham Accords, to hold it up as a success and lay the groundwork for similar deals in the future. In Israel, there's no doubt that Bennett and Lapid are eager to show that they too can make foreign policy achievements. But with a US president who has little interest in the subject and is not willing to pay a price, they may discover that it's harder than it looks.
(Originally featured in Mishpacha, Issue 882)
Oops! We could not locate your form.
>