| Washington Wrap |
Exit Greenblatt, Enter Berkowitz
| September 11, 2019
As Jason Greenblatt bows out, is it curtains for Trump's deal?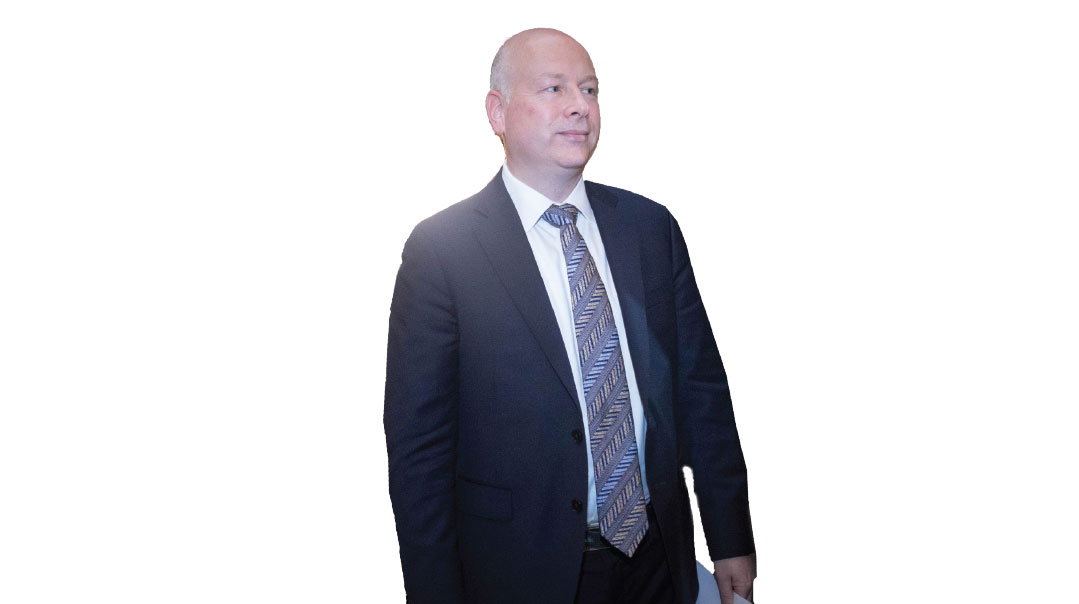 When I was notified of a briefing for journalists covering the White House's Middle East peace plan last Thursday, I assumed it would be yet another update on a possible release date or some other technical detail. Indeed, over the last two years, White House officials have been providing reporters regular updates on the peace team's progress.
But this time, the news was more dramatic. Jason Greenblatt, one of the drafters of the plan, had decided to leave. Greenblatt will stay on in his role until the plan is made public (whenever that is), but he won't take part in any possible renewal of negotiations between Israel and the Palestinian Authority.
This raises more questions than it answers. Greenblatt, who visited the Middle East dozens of times over the last three years, and met with key leaders in an attempt to reach a regional settlement that includes normalization and recognition of Israel's existence by the Arab states, won't be around to realize his vision.
In turn, that fact raises questions about the plan itself. Does the Trump administration intend to release the proposal? Or has that window closed? Why did Greenblatt choose this particular time to leave?
The former lawyer for the Trump Organization underwent an interesting process over his years in the role, whose official title was assistant to the president and special representative for international negotiations. In the beginning, his public posture was very balanced, almost completely neutral. Everyone knew that he was Jewish, Orthodox, and pro-Israel, but he approached the subject of peace with an open mind and tried to gain the Palestinians' trust.

After the December 2017 announcement of Trump's recognition of Jerusalem as the capital of Israel, however, the Palestinian Authority severed diplomatic relations with the White House and Greenblatt gradually despaired of the Palestinian leadership. Bit by bit, he expressed more and more criticism of the Palestinian leadership on Twitter, mainly regarding monetary rewards to the families of terrorists, anti-Israeli incitement within the PA's ranks, and the Palestinians' refusal to return to the negotiating table.
A year ago it was already clear that the Palestinians would not return to negotiations. But Greenblatt remained firm. His attitude was, let the Palestinian leadership see the plan, wait for the Palestinian street to pressure them to accept it, and eventually they'll come. His decision to step aside, therefore, can be seen as an indication that the Trump administration no longer views the Israeli-Palestinian conflict as a core issue. Early in his administration, Trump boasted that solving the conflict would not be difficult. Now, he is engaged in far more critical negotiations with China, North Korea, and possibly even Iran. The plan may be released, but the subject itself is no longer a priority, it seems.
The man who will step into Greenblatt's shoes (though he won't inherit Greenblatt's exact position) is 30-year-old Avi Berkowitz, Jared Kushner's aide and right-hand man. Berkowitz, like Greenblatt and Israel ambassador David Friedman, is an Orthodox Jew. He also speaks fluent Hebrew.
Berkowitz was born in Lawrence, New York, to an Orthodox family and attended the Yeshiva of Far Rockaway. In 2007 and 2008 he studied in Yeshivas Kol Torah in Bayit Vegan and Ner Israel in Baltimore. He earned an undergraduate degree at Queens College and a law degree from Harvard University.
The turning point in his life came in 2011 when the young Berkowitz attended a Pesach program in Phoenix, Arizona. One day on the basketball court, he met a young man named Jared Kushner. Kushner, a player in the real estate market and a son-in-law to Donald Trump, took a liking to Berkowitz and a bond was formed.
Berkowitz worked in Kushner's real estate company and contributed to the New York Observer, a newspaper Kushner owned. In 2016, Kushner recruited Berkowitz to Trump's presidential campaign. He turned down a job at a law firm to join the race.
After the election, Berkowitz joined Kushner in the White House as his aide and right-hand man. But as time passed, Kushner's reliance on him grew and he assumed more and more responsibilities. He traveled around the world with the peace team and took part in diplomatic meetings. Only last month he traveled with Kushner on a round of visits to six different Middle Eastern countries.
He has no background in Middle Eastern studies, in Arabic, or in the history of the conflict. At the same time, he isn't expected to become the next Dennis Ross or Martin Indyk. And whoever in the press painted him as "Jason's successor" was misrepresenting his position. He will take on a greater role on the team, but it must be observed that he is already part of it. What got him there was mainly his loyalty to Kushner and the warm personal relationship between the two. Kushner trusts him unreservedly. He is Kushner's man on the team.
Brian Hook, the Trump administration's special representative for Iranian affairs, will also take a more active role in shaping the administration's Middle East policy. The extent of Berkowitz's duties will become fully apparent after the publication of the plan.
(Originally featured in Mishpacha, Issue 777)
>