| This Way That Way |
Cauliflower
| May 10, 2022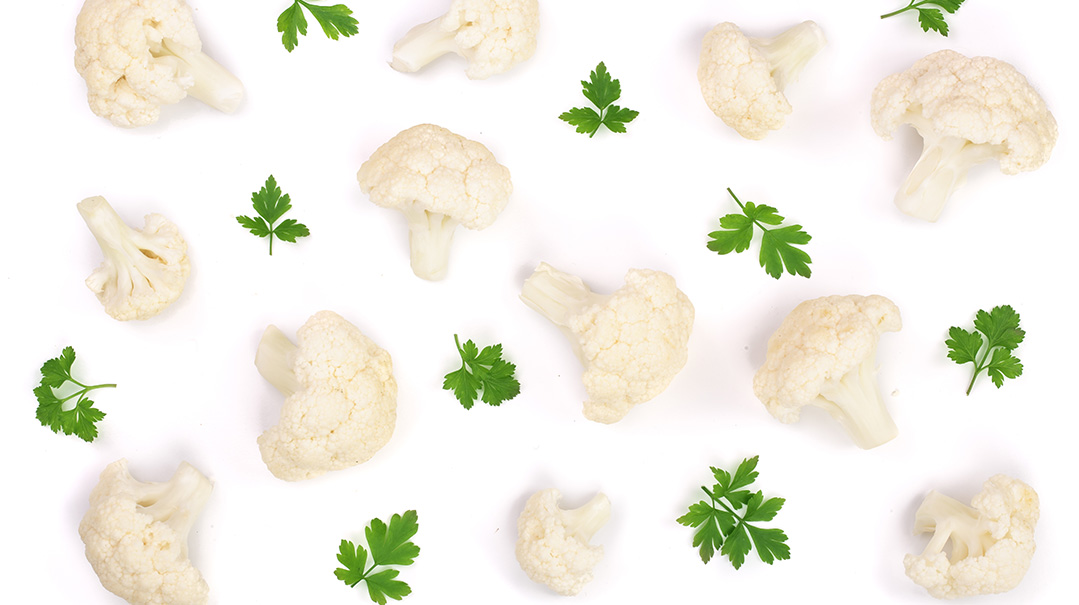 Cauliflower has had its popular day as a rice replacement
or as pizza crust. We like our rice and we like our pizza dough, but we also love a fresh vegetable option! Here are the ways we enjoy eating it.
Did You Know?
While white cauliflower is the most common, you may find striking colored varieties available when in season. Keep your eyes peeled for yellow, orange, green, and even purple cauliflower. These varieties have slightly different flavor and nutritional profiles. Orange cauliflower is slightly sweeter and has more beta carotene than white, while purple cauliflower is high in anthocyanin, an antioxidant commonly found in purple vegetables.
A Call For Cauliflower
Fresh and Flowery
Cauliflower is actually a flower that has not fully developed yet.
Related
Cauliflower is part of the Brassica genus family, which means it's related to brussels sprouts, broccoli, and kale!
Identity Confusion
Green cauliflower is sometimes labeled as "broccoflower," creating the confusion that it's a cross between broccoli and cauliflower.
Cauliflower Israeli Salad
Recipe by Chanie Nayman
This salad is a great option when you want to serve something bright and fresh.
SERVES 6
8 oz (225 g) riced cauliflower (fresh or frozen)
2 plum tomatoes, finely chopped
1 Persian cucumber, finely chopped
1 small red onion (or ½ red onion), finely chopped
juice of 1 lemon (or about 3 Tbsp lemon juice)
¼ cup chopped cilantro, packed
½ tsp granulated garlic
1 tsp kosher salt
½ tsp pepper
Combine all ingredients in a large bowl and toss right before serving.
Note: If you use fresh riced cauliflower, it will stay fresh in the fridge for longer.
Creamy Cauliflower-Mushroom Soup
Recipe by Chavi Feldman
I always crave a filling potato soup, but I don't allow myself to make it too often. Enter this delicious alternative. The mild taste of cauliflower can almost pass for potatoes, and once it's blended, the creaminess can definitely fool anyone into thinking it's dairy!
SERVES 10
1 large Spanish onion, diced
16 oz (450 g) baby portobello mushrooms, peeled and sliced
oil, for sautéing
8 cups water
2 24-oz (680-g) bags frozen cauliflower florets
2 potatoes, diced
¼ cup white wine
2 Tbsp chicken soup mix
dash of thyme
½ tsp garlic powder
salt, to taste
pepper, to taste
In a large pot, sauté onion in oil until soft, about 10–15 minutes. Add sliced mushrooms and sauté an additional 10 minutes, or until mushrooms are soft and have shrunken in size. Add the remaining ingredients and bring to a boil.
Lower the heat and simmer for about 45 minutes or until vegetables are soft. Using an immersion blender, process soup until fully blended and creamy.
Cauliflower Fries
Recipe by Estee Kafra
Cauliflower is a great carb stand-in, and I love serving it with the carb-heavy meals we often have on Shavuos. When you have it like this, it doesn't even feel like a substitute!
SERVES 8
1 large head cauliflower, washed and checked
1 Tbsp olive oil
2 Tbsp Pure Food by Estée Real Barbecue Sauce
1 Tbsp Montreal steak spice
Preheat oven to 400°F (200°C). Line a baking sheet with parchment paper and set aside.
Cut the cauliflower florets off the stem and cut into squares or French-fry shapes.
Place the florets in a bowl and toss with olive oil, barbecue sauce, and seasoning. Spread on the prepared baking sheet and roast for about 20 minutes, or until the edges are browning.
Tip: If you prefer, you can roast the whole floret rather than cutting them into squares.
(Originally featured in Family Table, Issue 792)
Oops! We could not locate your form.
>