| No Food Left Behind |
Carb-less Crust
| May 24, 2022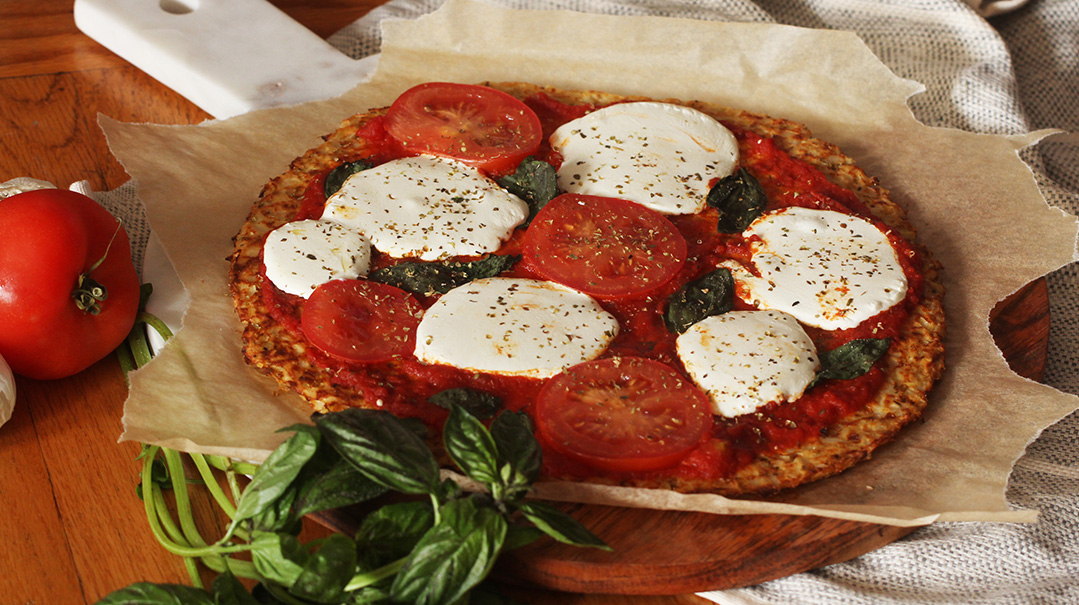 Photography by Beth Warren
These days, cauliflower crust has become such an "oldie-but-goodie" recipe. Who would've thought you could manipulate its consistency so creatively to form a filling and high-fiber base? Formerly, cauliflower crust was a cumbersome process, but with the introduction of kosher cauliflower rice, it makes the entire process much easier and more time-efficient — without sacrificing nutrition, texture, and taste-quality.
The trick to a crispy carb-less crust is in the technique. Try it out with your favorite pizza toppings for a healthy veggie option that's family-friendly too!
Cauliflower Crust
YIELDS 1 9-INCH (23-CM) CRUST
2 12-oz (340-g) pkgs cauliflower rice, thawed
1 large egg, beaten
4 oz (110 g) soft goat cheese (or any cheese)
1 tsp dried oregano
1 tsp garlic powder
1 tsp onion powder
¼ tsp salt
¼ tsp pepper
crushed red pepper, to taste (optional)
Preheat oven to 400°F (200°C). Line a large baking sheet with parchment paper.
Once the riced cauliflower has completely thawed, transfer it to a clean, thin dish towel or cheesecloth. Twist it up, then with a strong squeeze, remove all excess moisture extremely thoroughly. A lot of extra liquid will be released, which will help you avoid a soggy pizza crust. This process is VERY important.
In a bowl, combine the dried-out riced cauliflower, egg, cheese, and spices. Use your hands to thoroughly knead the mixture like a dough, even if the texture is not standard.
Press the dough onto the parchment-lined baking sheet into desired shape — round or rectangular. The dough should remain about 1⁄4-inch (0.6-cm) thick.
Bake for about 30 minutes, until dry and starting to brown on the bottom. Use the parchment paper to flip the crust over, and continue baking until the other side browns and looks like it's holding together, about 10 more minutes.
Add your favorite pizza toppings and spices to the crust, such as sauce, fresh mozzarella cheese slices, fresh basil, and tomato. Return the pizza to the oven and bake 7–10 minutes, or until the cheese is hot and bubbly. Slice and serve warm.
Notes:
>You can use fresh (steamed) or whole frozen cauliflower (defrosted and drained); however, you have to add the step of pulsing in a food processor.
>I highly recommend a cheesecloth to thoroughly drain the cauliflower of fluids as much as possible. You can also try using a durable paper towel. The drier the cauliflower, the more crispy the crust.
>I researched many cauliflower-crust techniques, and found that goat cheese helps bind the crust the best. It will, however, work with most cheeses — they just won't be as binding.
>When I turn over the crust in middle of baking, I place another same-sized parchment-lined baking sheet on top of the crust, press it down, and then flip it over. Then, I slide the parchment paper with the crust onto the empty baking sheet. This helps ensure the crust does not fall apart.
>The crust can be stored in the freezer between two sheets of parchment paper, placed inside a large ziplock bag or wrapped in aluminum foil.
 To schedule a nutrition appointment with Beth virtually, or in the Brooklyn/Flatbush or Jersey Shore locations, email beth@bethwarrennutrition.com or call 347-292-1725. Most insurances are accepted. You can also follow her for healthy eating motivation and recipes at beth_warren. Beth's book, Secrets of a Kosher Girl (Post Hill 2018), is available on Amazon.
(Originally featured in Family Table, Issue 794)
Oops! We could not locate your form.
>