| Washington Wrap |
Braving the Heat to Speak Out
| July 13, 2021
Jewish groups defy D.C. heat to protest soaring anti-Semitism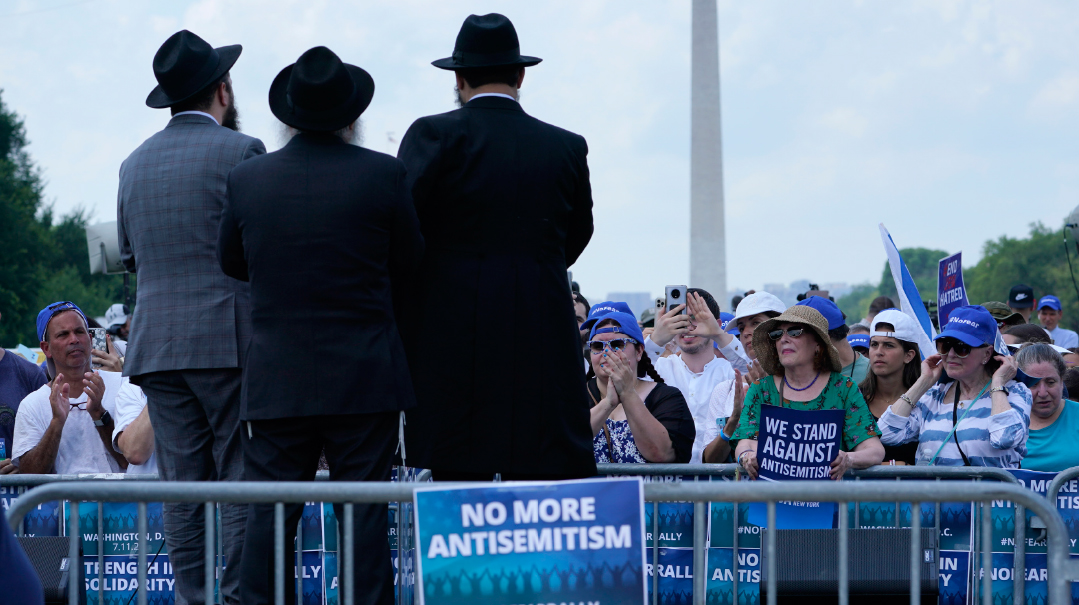 The oppressive heat and notorious Washington humidity didn't deter over 1,000 people from showing up at the western entrance to the Capitol building on Sunday afternoon, to demonstrate against the sharp spike in anti-Semitic incidents recorded in America over the past year, in particular during Israel's Operation Guardian of the Walls against Hamas in May.
According to the Anti-Defamation League, that month saw a significant rise in anti-Semitic incidents. There were 251 incidents between May 11 and May 31, up 115% compared to the same period in 2020. These incidents included 11 cases of physical assault, 90 cases of harassment, and 50 cases of vandalism. And the violence spilled over into June, as well.
Sunday's rally drew people of all ages, from as far away as Connecticut, New York, New Jersey, Pennsylvania, and Maryland, at the height of summer vacation, bringing signs and folding chairs, for a display of solidarity with their fellow Jews. They hefted signs calling for fighting anti-Semitism and ending the hatred. Many came by transport arranged by their community or synagogue, but others drove alone or with family, making the hours-long journey to be at the rally and make their voice heard.
An unlikely coalition of organizations came together to sponsor the rally: umbrella organizations such as the Jewish Federations of North America and the Jewish Agency, communal organizations such as the OU, and even the Republican Jewish Coalition and the Jewish Democratic Council of America, two rival groups that joined forces for a common goal.
"It's an opportunity for the Jewish community to stand together," Ron Klein, chairman of JDCA, told Mishpacha. "This is not about politics. We can differ on lots of policies, but this is about protecting the Jewish community and fighting against anti-Semitism.
"There's an urgent need to bring together the community," he said. "The Jewish community in United States is small in comparison to the rest of the country, but anti-Semitism is not just an issue for the Jewish community. It has a lot of symptoms that affect a lot of other communities. We're the canary in the coal mine of hatred and, in some cases, terrorism, so we need to speak out and we need to engage other groups as well."
Among the speakers at the event are Elisha Wiesel, the son of the late Elie Wiesel; Jeffrey Myers from the Tree of Life Synagogue; Ron Halber, executive director at the JCRC of Greater Washington, Norm Coleman, chairman of the Republican Jewish Coalition, and others.
Future without Fear
The thousand or so attendees included Dov and Judah, who came from Queens together with members of their community.
"It's important to stand up," said Dov. "We were called to come together to stand against anti-Semitism for a 'future without fear,' as the rally was called. And there was an alarming rise in cases and reports of anti-Semitism. It's becoming more acceptable online to express anti-Semitism views, and if we don't draw a line in the sand and stand against it, we let it get free rein."
The rally was important, Dov said, mainly for bringing visibility to the problem at a time when other issues tend to crowd it off front pages.
"It's more to galvanize public opinion, to let people see that we're willing to stand up for this, that we're not just going to be quiet," he said. "I feel encouraged that in the middle of a boiling day, in the middle of vacation, arranged in the last minute, people have managed to come together."
Dov and Judah conceded that the choice of the rally site, the Capitol building, was largely symbolic, as there is little direct action Congress can take on the problem.
"It's obviously a complicated issue," Dov said. "You can't legislate hatred away, but it would be wonderful if all our elected officials could call out anti-Semitism in their own parties left and right."
"I'm seeing a lot of anti-Semitism on the right, I'm seeing it on the left," Judah added. "It's manifested itself in shootings and it's manifested itself in anti-Zionism and harmful acts and pushes to boycott Israel. I have an active social media presence, but I figured that's not enough. We have to show up in person and we have to make ourselves seen literally."
Asked how the rise of anti-Semitism could be stemmed, Judah noted that knowledge of the Holocaust is decreasing in younger demographics. "We need schools and we need we need better education. We need to know that we will not be shoved under the rug."
Benjamin Cohen, who lives in the Washington suburbs, said he decided to attend because he is "very much opposed to the comparison between Israel and Hamas and all that baloney."
"I'm tired of reading that stuff," he said. "I'm angry, number one, at the politicians and, frankly, Democrats who refuse to condemn their colleagues, other Democrats in Congress, who, again, compare Israel to Hamas."
Two-Sided Problem
Michael, who also lives in Washington suburbs, arrived with members of his shul.
"I'm concerned about how anti-Semitism is up from both the far left and the far right," he said.
And just as there are two sides to the problem, Michael said, there are two sides to the need for the rally. "One is for our friends, to show people that you're not alone. That's important for any rally. The other side is for our enemies, to show that there are a lot of us. They are in the minority, not us."
Michael said he sees the increase in anti-Semitism arising from the eclipse of the moderate centrist voices in the political debate.
"I think that the rise of extremism comes anytime that there's conflict, and there's a lot of conflict out there," he said. "I don't know how you reduce that. And with the rise of any extremism comes a rise of anti-Semitism. We're the group that the far extremes from both sides seem to dislike. I think additional education is important."
This latest surge is different from previous waves, Michael said. "When a Congresswoman stands up and starts throwing around anti-Semitic tropes — we didn't use to have that."
While this rally was a positive first step, the Jewish community's next challenge is how to bridge the divides and build an effective coalition that can influence policy and also convey the united voices of 30 different organizations from both sides of the political spectrum. There's no disagreement about the need to fight anti-Semitism, but ideological differences between the various groups make it difficult to coordinate wider moves such as pushing legislation in Congress and state legislatures.
Part of the disagreement relates to the question of what the source of the problem is — i.e., where should the battle against anti-Semitism take place. And this ties into the solution: Do we need more funds for Holocaust education, or for tightening security at Jewish institutions? It's an open question whether it's possible to bridge these divides and reach agreement on a joint plan of action, or at least on a few operational objectives.
(Originally featured in Mishpacha, Issue 869)
Oops! We could not locate your form.
>