| Washington Wrap |
Biden's First Big Win
| August 3, 2021
Biden's negotiations snag on Tehran's hard line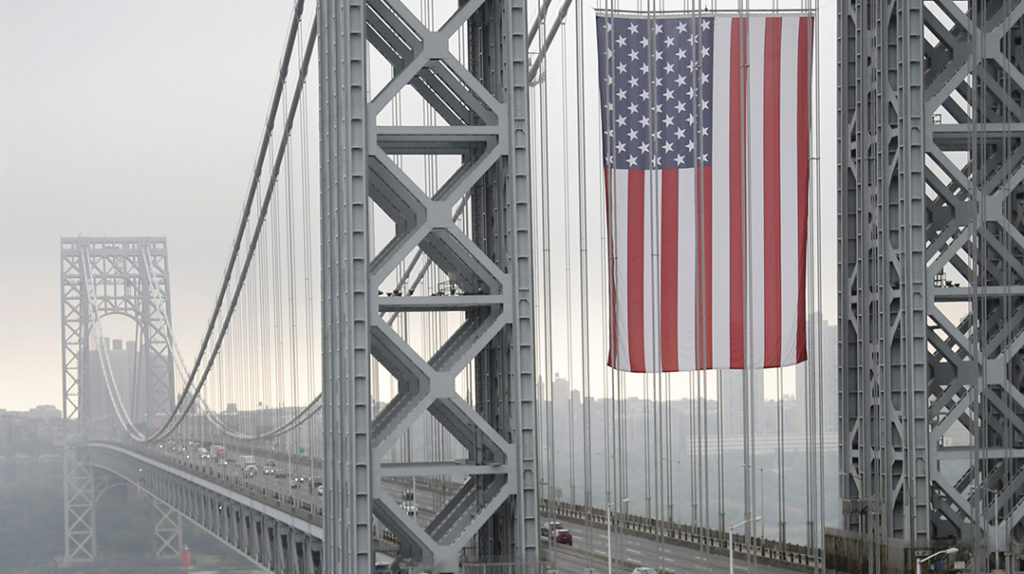 Photo: AP Images
The breakthrough in talks for bipartisan support of a $1 trillion infrastructure bill ($450 billion from the existing budget plus a new $550 billion) carries real promise for America. For years members of both parties have tried to reach an agreement that would enable much-needed investment in America's bridges, roads, and railways.
But lack of good will, as well as disagreement over the definition of "infrastructure," kiboshed previous proposals. When Biden assumed office, he made infrastructure reform one of his signature proposals. For him, the compromise kills two birds with one stone, at once creating jobs and allocating funds for renewable energy projects such as electric vehicle chargers, as part of his climate change agenda.
For their part, Republicans who support the bill will make themselves a part of the achievement, effectively neutralizing one key obstacle ahead of the midterms. Instead of Biden being able to go from city to city in 2022 saying, "I wanted to build you a new road here, but the Republicans wouldn't let me," Republicans will be able to say, "It's thanks to us that a new road will pass through here."
So what's in the bill?
$110 billion for repairing roads and bridges. The bill will both keep up the current federal investment in road maintenance and at the same time add new projects for repairing or replacing aging roads and bridges.
$66 billion to repair railways. Priority will be given to passenger trains (Amtrak) in the Northeast damaged by Hurricane Sandy a decade ago.
$65 billion for high-speed Internet connection. This may be one of the bill's most important provisions. According to statistics provided by the FCC, 19 million Americans have no broadband Internet connection. This can have far-reaching consequences for people in rural areas. In an age when everything from depositing a check or shopping online to online Zoom classes requires stable Internet connection, the inability of 6% of the population to connect to broadband can have a detrimental impact on their quality of life.
$73 billion in the electric power system. This includes $8 billion for investment in renewable energy, as well as $8 billion in tax credits for companies that achieve energy efficiency.
$11 billion for transportation safety. Half the money will be invested in improving safety for cyclists and pedestrians, and another half a billion will increase safety for vehicles transporting hazardous materials.
$39 billion for public transit. Funding will cover projects ranging from light rail to bus stops and repairing traffic lights.
$17.3 billion for repairing ports. This includes $4 billion for modernizing entrance ports to the United States in the North as well as the Southwest.
$25 billion for airports. The bulk of the money, $20 billion, will be used for upgrading runways, with another $5 billion for air traffic control.
$55 billion for upgrading water resources.
$15 billion for purchasing electric buses for students. This includes money for electric vehicle charging stations. This isn't very much given the scale of the investment needed, but for Biden, it's a symbolic first step to prove to his voters that he's concerned for the environment.
What was left out?
Biden's original plan was much more ambitious, calling for $2.5 trillion in spending. It included such provisions as $213 billion for "affordable and sustainable housing," and another $137 billion for public schools and community colleges. But in the end, none of these items appear in the infrastructure bill, which focused mostly on core issues — trains, roads, cyber, Internet.
Senate Majority Leader Chuck Schumer said he would return to the drawing table to draft a $3.5 trillion package focusing on these issues and giving special emphasis to the climate crisis as soon as the current bill passes. But given the razor-thin Democratic majority, it's hard to envision such legislation going forward — not only because of its cost, but because of what's inside.
Biden has learned an important lesson about the limits of political power. After the elections, Democrats celebrated at the prospect of controlling the presidency, backed by majorities in both houses that would override the filibuster and aggressively advance their legislative agenda, including the addition of Washington, D.C., as the 51st state.
Those unrealistic expectations ran into cold reality when senators from the moderate wing of the party, such as West Virginia's Joe Manchin and Arizona's Krysten Sinema, reminded their colleagues time after time that the party's goal is not to win once by chance, but to try to keep its majority, and to do that it needs to avoid alienating voters in conservative states such as their own, if Dems want to continue winning there.
While the Democrats got a win, they had to make big compromises to get there. Instead of getting everything they wanted, they'll get a package focusing on core infrastructure issues such as water, roads, and trains. Other ideas, such as free education, day care and care for the elderly, are important issues, but will have to be debated separately, and without a compromise, it's doubtful whether there is a Democratic majority for them.
(Originally featured in Mishpacha, Issue 872)
Oops! We could not locate your form.
>