| Washington Wrap |
Biden Barnstorms in Baltimore
| November 16, 2021
Biden tries to sell bridges, but are voters impressed?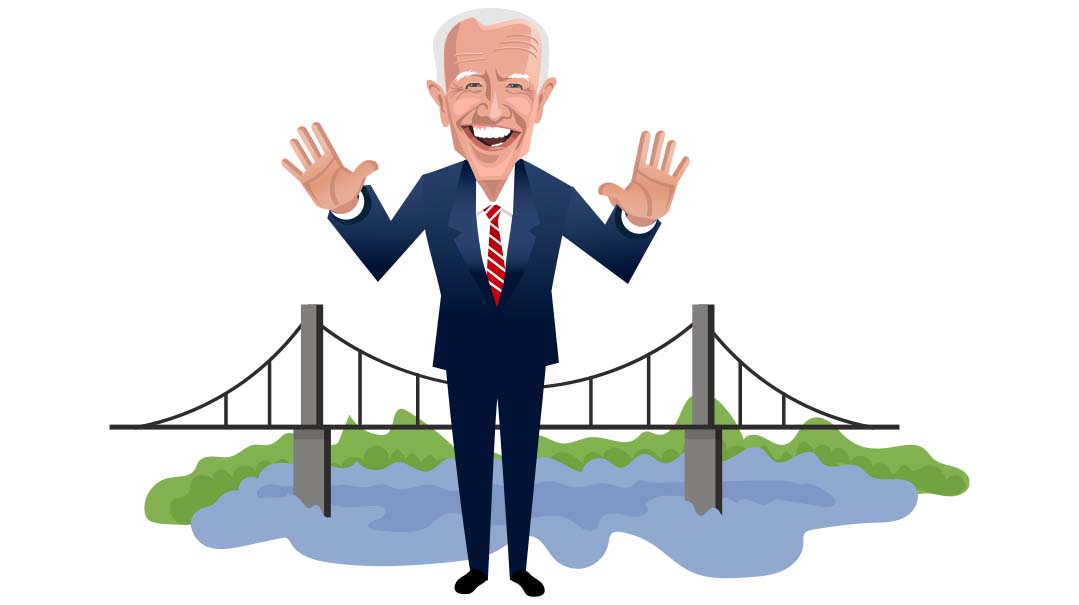 President Joe Biden traveled to Baltimore last week to take a victory lap on the passage of his infrastructure bill, meeting with Maryland officials and union workers. The president was trying to generate momentum from his first big legislative win to turn around slumping poll numbers.
This was no political rally, but rather an invitation-only event — the audience was mainly comprised of elected officials, local executives, and union workers.
I took my car for a short ride from D.C. and followed Waze's directions to the Port of Baltimore's Dundalk Marine Terminal. If Biden was hoping to showcase the challenges his infrastructure bill was drafted to address, he picked a perfect example. Baltimore's harbor, where the Patapsco River empties into Chesapeake Bay, was first explored by Captain John Smith in 1608; American colonists founded the port in 1706, and it quickly became the prime gateway for trade with England. The facilities have gone through many expansions and upgrades in the last three centuries, but now face a crying need for modernization.
As a historic global supply chain crisis unfolds, the need for efficient, modern ports couldn't be more obvious. As Americans wait for new cars, computers, iPhones, and clothes to arrive from overseas, every day of delay, every hour of uncertainty is costly to the nation's economy.
"The infrastructure bill will be key to our continued growth and projects," said Bayard Hogans, vice president for Ports America in Baltimore, at the president's speech. Hogans's organization is part of a public-private partnership that invests in large infrastructure projects such as these. "The infrastructure bill will keep the port of Baltimore flowing smoothly whenever we get these surges in the supply chain."
Although many people on Capitol Hill justified the massive spending program on the premise that infrastructure in America is crumbling, Hogans wouldn't quite go that far.
"I don't know if I'd say crumbling," he qualified. "I would say it needs investment. Across the supply chain, we need to continue investment. You can't stop investing in infrastructure, ports, roads, rail — every piece of the supply chain. It has to be a focus every single year, to continue putting dollars into that."
Baltimore mayor Brandon Scott was among the invitees and expressed his enthusiasm for the legislation.
"When you think about the infrastructure bill, America's railroad started here in Baltimore," the mayor told me. "Our port is older than the country."
Mayor Scott said the bill earmarks funds for some important improvements in his city, among them revamping the 126-year-old Howard Street Tunnel to allow room for trains with double-stacked containers traveling to and from the port.
"To have the Howard Street Tunnel double-stacked will be transformative for this port, and really for the country," he said. "When you think about the number of bridges that we're going to be able to build… this is about building a new, brighter America, a new, brighter Baltimore, but building it for everyone. The jobs that are going to be created for our residents will be transformative."
Biden arrived in Baltimore the same day the US Bureau of Labor Statistics published its report showing that the October 2021 consumer price index had soared by 6.2 percent, a 31-year high. The president perhaps wanted originally to tout his most significant achievement yet, the infrastructure package, but had to reassure his audience that his administration is on top of inflation, too. Biden argued that high demand versus low supply, compounded by supply chain problems, is driving prices up. And one antidote is a massive $17 billion investment in US ports, as was included in the infrastructure bill.
It should be noted, however, that some economists warn that more spending will just add fuel to the inflation bonfire. The fact that the administration is yet to introduce a plan to address inflation could also explain the fact that Biden's approval rating hasn't seen any bump following the passage of the infrastructure bill. And furthermore, if infrastructure is the problem behind inflation — well, it's going to take years for all of these projects to start improving the supply chain. But the president's supporters were enthusiastic nevertheless.
"This is going to be a big boost to people who live in the Baltimore area, in several ways," Senator Chris Van Hollen (D-MD) told me. "It's going to put a lot of people to work in good-paying jobs, improving our roadways, our tunnels, expand our transit systems, work on bridges. It will also help people get to and from work together and be able to connect people with friends and families in other parts of the state. So, it's a real win all around."
Tony Revels, a port foreman and union worker, was chosen to introduce the president. "This is large because the future of our port and the highways, the railways, the tunnels, the bridges, it's all in need of repair, and this will be helpful for everybody," he told me.
Revels told me his crew is on the front line of the supply chain crisis.
"We're the first to see cargo when it's coming in on one of the vessels, and we're the first to feel it when it's not coming in on the vessels," he said.
He attributed the crisis to the pandemic. "I think Covid had a lot to do with it. The fact that a lot of people were unemployed and scared. Nothing can happen if you don't have employees to move commodities and people don't come to work. It takes bodies."
When Biden entered together with Mr. Revels, his pitch was focused only on the economy.
"Today's economic reports showing unemployment continuing to fall, but consumer prices remain too high," Biden said. "The American people are in the midst of an economic crisis. Recovery is showing strong results, but not to them. Everything from a gallon of gas to a loaf of bread costs more. And it's worrisome, even though wages are going up."
Biden made some specific promises in regard to the wages problem.
"We're in competition to determine whether or not we can still remain the most powerful economic force in the world," he said. "China is outspending us on research and development. And here's what I'm going to do: I'm going to create good-paying union jobs. Not $12 an hour, not $15 an hour — $45 an hour and up with good benefits so you can raise a family and build the middle class out. And jobs that cannot be outsourced."
Speaking about his administration's $17 billion investment in ports, Biden said: "We're going to reduce congestion. We're going to address repair and maintenance backlogs, deploy state-of-the-art technologies, and make our ports cleaner and more efficient. And we're going to do the same with our airports and freight rail."
When the event was over, Biden came closer to the crowd, allowing a line of union workers and city executives to chat with him and take selfies. Around union workers, Biden was in his element. Maryland is a blue state. He was not coming here to find new voters, but rather to hang out with his home crowd. When they asked for selfies, he made sure to be the one taking the actual picture.
I took the shuttle back with the workers to the parking lot, where we had left our cars. I overheard snippets of conversation.
"What did you tell him when you took a picture?" a worker asked his friend.
"I didn't say anything, I just gave him the camera," the friend replied. "What did you tell him?"
"I told him that I hope that automatic buses and robots are not going to replace our bus drivers," the worker replied.
"And what was his answer?"
"He said that we will never allow it to happen."
Biden's comment might have sounded reassuring, but the president has no control over the future. Former Democrat Andrew Yang addressed this point extensively during his presidential primary bid, making the case that in the near future, autonomous vehicles will dominate the market, causing many drivers to lose their jobs.
It is yet to be seen when robots will replace bus drivers, but one thing is sure: Biden still has a lot of selling to do if he wants to drive his approval ratings up from their all-time low.
(Originally featured in Mishpacha, Issue 886)
Oops! We could not locate your form.
>