| Washington Wrap |
Begging Your Pardon
| October 2, 2019
Annual shortlist of political forgiveness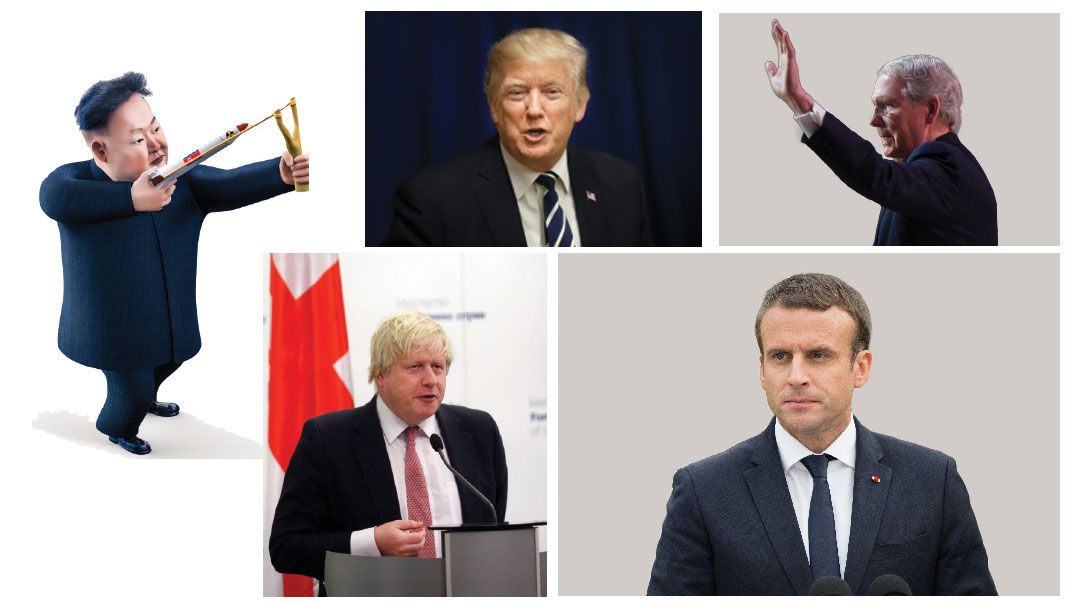 Yom Kippur is a time of introspection, a season when we ask friends and family for forgiveness and we pour out our hearts to our Maker.
Asking for forgiveness isn't a forte for politicians, but in what has become an annual tradition, I compiled the below list of newsmakers (Jewish and non-Jewish alike) who should seek forgiveness from their constituents, allies, or rivals.

Boris Johnson from Brexit Supporters
The Conservative Party's Boris Johnson looked like the perfect man to solve the Brexit crisis. Coming into office, he promised to perform some magic that would finally allow Britain to extricate itself from the European Union, either as part of an agreement or unilaterally. But just two months into Johnson's tenure, not only are the Brexit terms still shrouded in mystery, he couldn't even force a new election to strengthen his hand.
This teaches us that there are no magic solutions to complex problems, and sometimes, a populist formula turns out to be more difficult to implement than once believed.

The North Koreans from Trump
Like the Iranians, North Korea has played a double game with the United States and the world this year. Trump met North Korean leader Kim Jong-un on two separate occasions, even crossing the 38th parallel with Kim to symbolize a new start in relations. But it turned out to be an empty gesture. Kim used the photographs for his domestic propaganda and then continued with provocative missile tests. In addition, the North Koreans fudged the American demands to discuss demilitarization of the Korean peninsula. Secretary of State Mike Pompeo, who invested long hours in meetings with the North Koreans, already appears less committed to future contacts.

The Iranians from President Macron
If Iranian foreign minister Javad Zarif had told French president Emanuel Macron on the eve of his arrival at the G7 in August that he planned to waste his time, it's safe to say that Macron would not have extended him the invitation. Over the last two months, Macron has been working behind the scenes in an effort to salvage the 2015 nuclear deal between Iran and world powers. But the Iranians do not appear to be familiar with the concept of gratitude. Since the G7, the Iranians have attacked Saudi oil installations, continued to "reduce their commitment" to the nuclear agreement, and have threatened US forces and Israel with destruction.

This latest tactic has also caused no small measure of embarrassment to President Trump, who was considering lifting sanctions on the Iranians and meeting with President Hassan Rouhani just a few weeks ago. In light of the Iranians' malodorous behavior, it appears that won't be happening soon.

Ilhan Omar and Rashida Tlaib from Israel
In August, the two members of Congress planned to visit Israel and the West Bank, where they no doubt planned to score political points against Israel. Jerusalem considered their request and finally decided — under pressure from President Trump — not to grant them entry. Rashida Tlaib then submitted a humanitarian request to visit her grandmother, a request that was approved by Interior Minister Aryeh Deri. But then Tlaib canceled her visit in protest.
It was an instance in which Israel faced two bad choices — either to refuse them entry and generate negative coverage around the world, or grant them entry and then deal each day with a new provocation.
Omar and Tlaib have made a slew of scandalous statements this year, some of them blatantly anti-Semitic. Their presence is also causing a headache for Democratic House Speaker Nancy Pelosi, who knows that Trump will try to make the duo the new face of the Democratic Party. We can only hope that the two politicians tone down their rhetoric, and consider the meaning of their words, in the new year.

Trump from Jewish Democrats
President Trump has been good to Israel and the Jewish community. For instance, he recognized Jerusalem as Israel's capital and moved the US embassy. This year, he acknowledged Israeli sovereignty over the Golan Heights.
All those good deeds are precisely why his remarks about Jews who vote for the Democratic Party as being "disloyal" were so disappointing. It's never a good idea to toss Israel into the internal American political fray. Administrations will come and go, both in Israel and in America. But for the bond between the two nations to remain strong, it needs to remain bipartisan.

Mitch McConnell from the American Public
American politics is a business in every sense of the word. Without money, it's hard to get anything done in Washington. The more resources you have, the stronger your microphone is, and the farther your message will reach. One of the most powerful lobbies in America is the National Rifle Association, or NRA.
This year, the United States has dealt with a slew of gun violence. As of August, the US has seen 289 mass shootings in 2019. From Pittsburgh to Poway, El Paso to Dayton, Americans have been shocked by the horror and senselessness of the crimes. That's why more and more people agree that those who pose a potential danger to society should not be allowed to buy guns. Only September 9, the Washington Post reported that 89 percent of Americans support more background checks for people who want to buy guns. Further, 86 percent say a judge should have the right to take away a gun from someone who has been deemed dangerous.
But in the Senate, Republican majority leader Mitch McConnell has so far not allowed consideration of a House bill that would mandate universal background checks. McConnell has his reasons. There are elections next year and Republicans don't want to alienate part of their base. McConnell has also said that he will not introduce the legislation before President Trump signals that he will support it.
While there's some validity to his arguments, there are moments when politicians should be able to rise above politics and take action for the greater good. The role of Congress is to pass bills, not to wait for the president to legislate. If McConnell does nothing to stem gun violence, Americans will be right to lose faith in their political class.
(Originally featured in Mishpacha, Issue 780)
Oops! We could not locate your form.
>