| This Way That Way |
Balsamic Vinegar
| October 18, 2022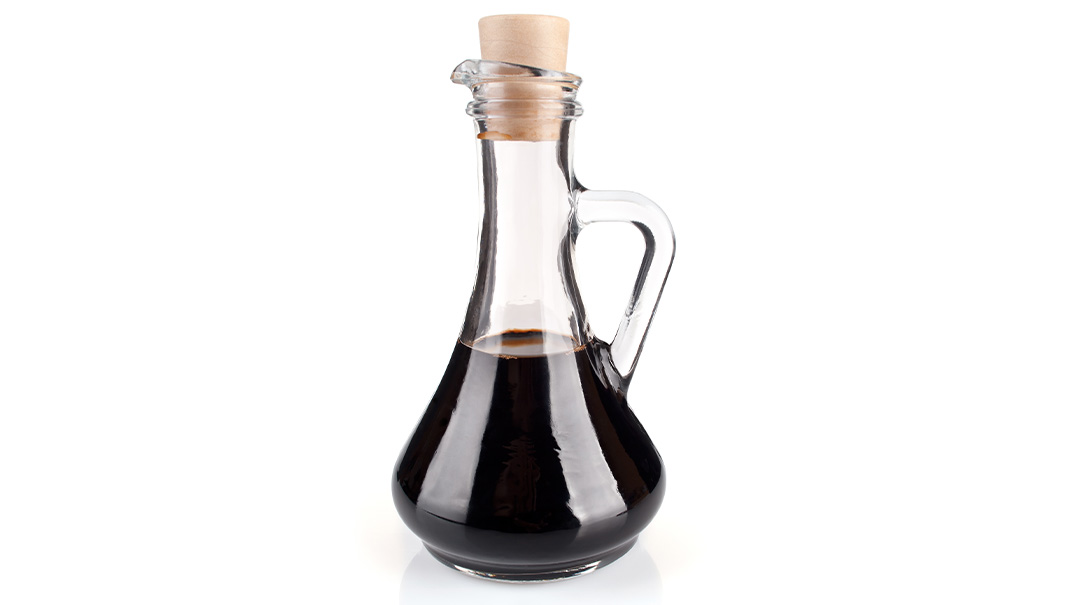 This dark, concentrated, and flavorful vinegar brings a boldly tart tang to the dishes it graces, and it may offer health benefits as well! One of the few vinegars that can be enjoyed even as a component of a dessert, balsamic vinegar's uniquely fruity taste is one of a kind.
Vinegar for the Win
Italian Origins
While originally from Modena, Italy, balsamic vinegar doesn't need to be from Modena, or even Italy, to bear the name.
Dressing with Dressing
Vinegars have been used for centuries as a topical treatment for wounds, but that practice isn't recommended today.
Wine and Dine
Although balsamic vinegar is made from fermented grape must (grape juice, seeds, skin, and stems), it doesn't contain any alcohol.
Citrus Pear Salad with Honey Balsamic Sprouts
Recipe by Chavi Feldman
I couldn't believe how delicious and gourmet tasting this recipe was. The roasted brussels sprouts add an intense burst of flavor, which is further complemented by the pears and citrusy dressing.
SERVES 4
5 oz (140 g) spring lettuce mix
1 firm but ripe red-skinned pear, quartered, cored, and thinly sliced
4 cooked baby beets, cut into 8 wedges each
1 small avocado, cubed
¼ cup unsalted, roasted pumpkin seeds
Dressing
¼ cup orange juice
¼ cup olive oil
1 Tbsp dry white wine
1 Tbsp vinegar
1 tsp Dijon mustard
½ tsp orange zest
kosher salt, to taste
freshly ground pepper, to taste
Roasted Brussels Sprouts
2 cups pre-checked frozen brussels sprouts, defrosted
2 Tbsp olive oil, divided
½ tsp kosher salt
¼ tsp pepper
1 Tbsp balsamic vinegar
1 tsp honey
Preheat oven to 425°F (220°C).
Slice brussels sprouts lengthwise and toss them with 11⁄2 Tbsp olive oil, kosher salt, and pepper. Transfer to a lined baking sheet and roast until tender and caramelized, about 30–40 minutes, shaking the pan every 5–7 minutes for even browning.
Transfer brussels sprouts to a mixing bowl. Add remaining 1⁄2 Tbsp olive oil, balsamic vinegar, and honey and coat evenly.
Whisk all dressing ingredients in a small bowl.
To serve, combine salad ingredients except for the pumpkin seeds. Add dressing and toss well. Top with pumpkin seeds.
Sweet Baby Onions with Balsamic Reduction
Recipe by Sarah Faygie Berkowitz
These caramelized baby onions will add flavor and flair to any entree!
SERVES 4
2 Tbsp olive oil
1 12-oz (340-g) bag frozen baby onions, partially defrosted
⅓ cup balsamic vinegar
3 Tbsp confectioners' sugar
salt and pepper, to taste
Heat oil in a frying pan. Add onions and sauté over high heat until they start to brown. Continue cooking for another minute, browning on all sides and allowing any water to evaporate.
Add vinegar and confectioners' sugar and stir. Bring to a boil and continue cooking until sauce is thick and sticky (about 5–10 minutes). Turn off heat, add a dash of salt and pepper, and toss to coat evenly.
Serve as a sweet and savory accompaniment to salmon, meat, or chicken.
Spicy Balsamic Grilled Chicken
Recipe by Brynie Greisman
Marinate these grilled chicken cutlets the night before, and you'll have a delicious, nutritious, and low-fat meal in just minutes.
SERVES 6
Marinade
2 Tbsp balsamic vinegar
2 Tbsp olive oil
2 tsp paprika, preferably oil-based
¼–½ tsp oregano
½ tsp cumin, scant
salt and pepper, to taste
pinch dry mustard, pinch brown sugar, pinch dried parsley, pinch cayenne pepper, and/or a drop of hot sauce (optional)
Mix all marinade ingredients together. Pour into a glass bowl or a ziplock bag. Add chicken cutlets and marinate for a few hours or overnight.
Grill for 10 minutes on each side and, if necessary, an additional 5 minutes on the first side (if your grill works from both sides, 10 minutes will be sufficient). Serve with grilled corn and a fresh salad.
(Originally featured in Family Table, Issue 814)
Oops! We could not locate your form.
>