| Like a Local |
Baker's Best | September 12, 2023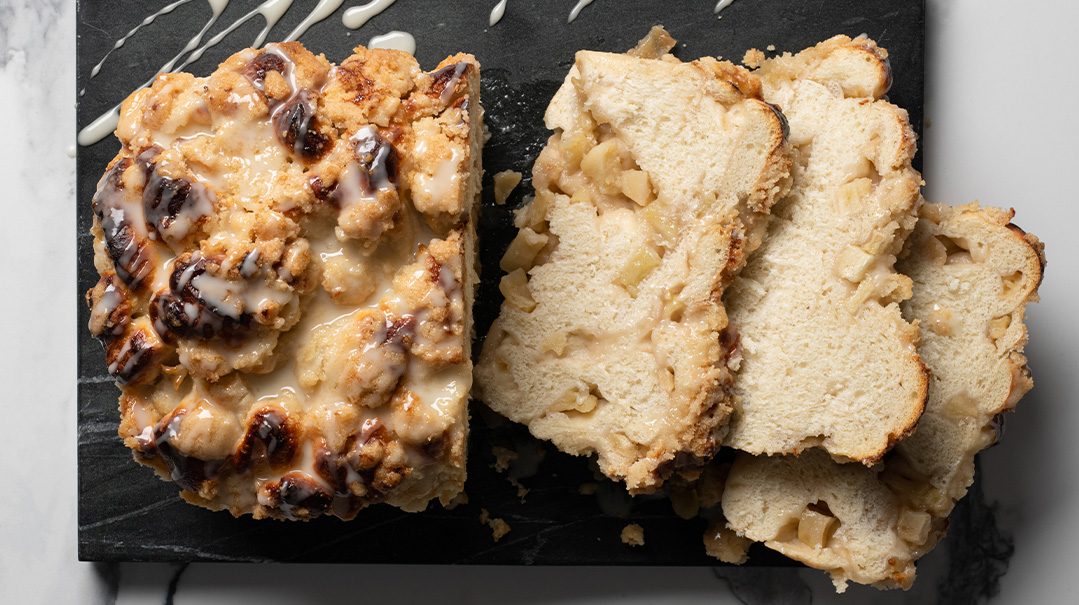 Styling and Photography by Devorah Applegrad
Food Prep by Leah Hamaoui
WHO
Mr. Chaim Lieff
WHAT
Specialty breads and pastries
WHERE
Brooklyn, NY
WHEN
9 years ago
WHY
To provide their customers with delicious, wholesome baked goods
As soon as we began discussing this column, a memory immediately sprang to my mind — a Shabbos afternoon conversation with my cousin Simi from Flatbush. I was visiting my brother's house, and Simi was telling us all about the incredible smell that wafts along Avenue M when the famous apple bread is being baked. And so, I immediately gave her a call, hoping to prod her memory and clarify the where's and what's of the heavenly bread she had been referring to all those years ago. Well, I didn't need to prod at all; Simi knew exactly what I was talking about and happily shared this hidden gem. And I am likewise happy to pass it along to our readership!
Breadsmith, a kosher bakery that is part of a national franchise, is located on Avenue M, in Brooklyn, NY, between East 18th and 19th Street. I contacted the bakery's owner, Mr. Chaim Lieff, for some background history and more information. As Mr. Lieff explained, the franchise started in Wisconsin about 30 years ago and spread across the nation; the bakery in Flatbush opened nine years ago and has, baruch Hashem, seen much hatzlachah. (A few locations of the franchise are kosher; this one is under the hashgachah of Rabbi Yechiel Babad.) All the bakeries officially have the same menu but they don't all create the same products every day. As he explained, "In Texas, the consumer demands will be different than in Brooklyn."
When questioned how this bakery is different from other bakeries, Mr. Lieff offered his take. Breadsmith creates artisanal breads, challah, specialty breads, and hearty pastries such as scones and healthy muffins in the time-honored traditional way. It also produces breads for high-end weddings and for restaurants, in addition to the goodies that get baked for the store. It's famous for pretzel breads and buns, as well as its fabulous cinnamon and chocolate buns made from a heavier dough (they're not fluffy, puffy, and yeasty) that are simply out of this world.
Breadsmith places an emphasis on wholesome baking without additives and preservatives. Breads are baked using unbleached flour, in a five-ton, European hearth stone oven. Made entirely from stone, brick, and/or clay, a European hearth-style oven features a flat baking surface, curved walls, and a beehive-shaped domed roof. To heat the hearth oven, a wood fire is built in the baking chamber and left to burn for several hours.
The bakery runs on a solid 24-hour schedule; the ovens work nonstop, around the clock. By 3:00 a.m., the morning breads are baking, and then the oven continuously turns out steaming loaves and all types of delicious products right up until 3:00 a.m. the following day, at which time the cycle begins again. This schedule sure brings the idea of fresh to its true meaning!
Getting back to the apple bread — well, if I thought I could run in and pick up a loaf to sample, I was mistaken. Mr. Lieff explained that this bread is a seasonal item, not necessarily available all year, although an order in advance would likely be filled. (And that's actually what he did for me, way back in the middle of the summer.) He then generously shared his very unique method for this amazing bread that is just so perfect for this Yom Tov season (see recipe below).
My mother-in-law and I had a midnight tasting session and before we knew it, we had eaten our way through half a loaf — it was that good! How could it not be good — it's bursting with scrumptious apple flavor. I would almost call it an apple babka, especially with the crumbs and glaze, and it's perfect for Rosh Hashanah.
Mr. Lieff wasn't able to share his actual bread dough recipe, but he said that any light, fluffy, sweet challah dough would work just fine. The filling is enough for four loaves of bread; if you're making a batch of dough from five pounds of flour, you should have enough dough left over for two additional challos.
Apple Challah/Bread
sweet challah dough of your choice, enough for 4 medium-sized loaves of challah
1 egg, beaten, for egg wash (optional)
Apple Filling
9 cups peeled and coarsely chopped Granny Smith apples (I used 8)
1⅔ cups sugar
2½ Tbsp lemon juice
½ cup flour
¼ cup water
Crumb Topping
⅔ cup sugar
⅓ cup oil
1 cup flour
Citrus Icing (optional)
1¼ cups confectioners' sugar
1 Tbsp water (or a bit more, to achieve desired consistency)
1 Tbsp orange juice
In a large, heavy-bottomed pot, place all filling ingredients and bring to a boil. Reduce to a simmer and cook, stirring intermittently, for about 25 minutes or until mixture has thickened and apples are very soft and have mostly fallen apart. Remove from heat to cool. (You can do this a day or so in advance, just bring to room temperature before filling dough.)
In a small bowl, combine crumb topping ingredients, stirring with a fork until coarse crumbs form; set aside.
Preheat oven to 200°F (100°C).
Working with a quarter of the dough at a time, roll out into a large rectangle. Spread 11⁄4 cups of filling over the entire surface of dough and roll up jellyroll-style. Slice dough diagonally into slices, cutting until many pieces are formed (it doesn't matter if filling spills out).
Line a 9×5-inch (23×13-cm) loaf pan with parchment paper and place filled dough pieces into the pan. Brush with egg wash, if desired, and sprinkle with crumbs.
Repeat with remaining sections of dough.
Place pans in the oven for 30 minutes to help them rise.
Increase heat to 375°F (190°C) and bake for 45–50 minutes; allow to cool.
Prepare citrus icing, if desired: Combine ingredients in a small mixing bowl and stir until smooth. Drizzle over loaves of cooled apple bread.
(Originally featured in Family Table, Issue 860)
Oops! We could not locate your form.
>