| Recipes |
Apple Strudel
| October 12, 2021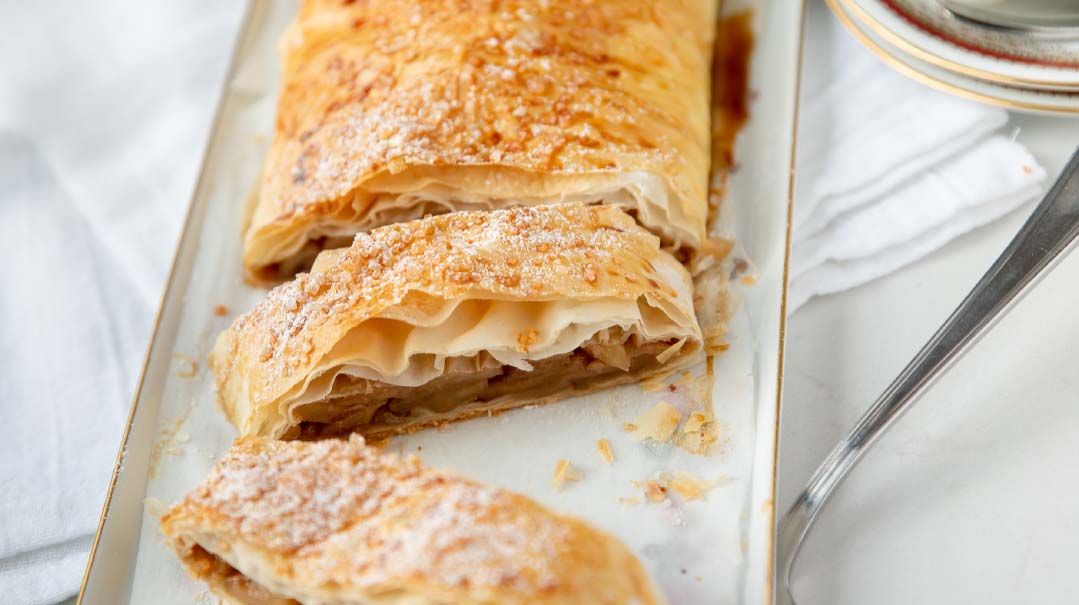 Recently, I invited my friend Lindy and her family for a Shabbos seudah. Lindy refused to come empty-handed and treated us to a fresh and delicious apple strudel, inspiring me to share the recipe here.
Apple strudel is the perfect ending to a fall/winter meal. It's sweet but light and oh so simple to make. Strudel is an Austrian dessert, and the original version uses a homemade dough that's gently stretched paper thin.
In our bakery, my grandfather always taught us that if you could read the newspaper through the dough, you knew it was pulled thin enough. As you would imagine, it's a bit of a tedious job. Thankfully, you can easily substitute phyllo dough or puff pastry and still have delicious results.
Best Apple Strudel
YIELDS 1 STRUDEL
1 sheet puff pastry or 6 sheets phyllo dough
3 Granny Smith apples, peeled and sliced thinly
1 tsp lemon juice
1 tsp vanilla extract
¼ cup brown sugar
½ tsp cinnamon
½ cup golden raisins (optional)
¼ cup plain bread crumbs
1 egg, beaten
¼ cup coarse sugar (see note)
Preheat oven to 375°F (190°C) and line a baking sheet with baking paper.
Roll out puff pastry sheet nice and thin. If using phyllo dough, lay one sheet flat and brush with melted margarine or oil. Top with a second sheet, brush again with oil or margarine, and continue to layer the remaining sheets.
In a large bowl, toss apples with lemon juice, vanilla, brown sugar, cinnamon, and raisins.
Sprinkle bread crumbs down the center of your dough lengthwise. Top with apples in a narrow line (approximately 2–2½-inches/5–6¼-cm wide) down the length of the dough. Fold one side over to cover the apples and then fold the second side over it. (Do not fold the ends, since you'll just end up with extra dough when it bakes.)
Flip the roll over onto the prepared baking sheet. Cut a few slits along the top to allow steam to escape. Brush with beaten egg and sprinkle with coarse sugar, then bake for 35–40 minutes until golden brown.
Serve warm with a scoop of ice cream, a sprinkle of confectioners' sugar, or a drizzle of caramel sauce.
Note: Coarse sugar, also known as sugar crystals, can be found in many large stores such as Walmart or on Amazon. If it is not accessible to you, you can use regular sugar.
Tips:
You can use a different type of apple, but I like Granny Smith because they hold their shape and texture nicely after baking.
The bread crumbs at the base are important to help absorb some of the moisture from the apples and leave your dough crisp and not soggy.
As always, I love a recipe that can be made with variations, and this is no exception. Feel free to add in berries, sliced stone fruit, or even some chocolate chunks.
(Originally featured in Family Table, Issue 763)
Oops! We could not locate your form.
>