| Kitchen Encounters |
Another Fish Story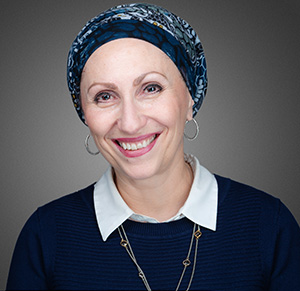 | June 7, 2022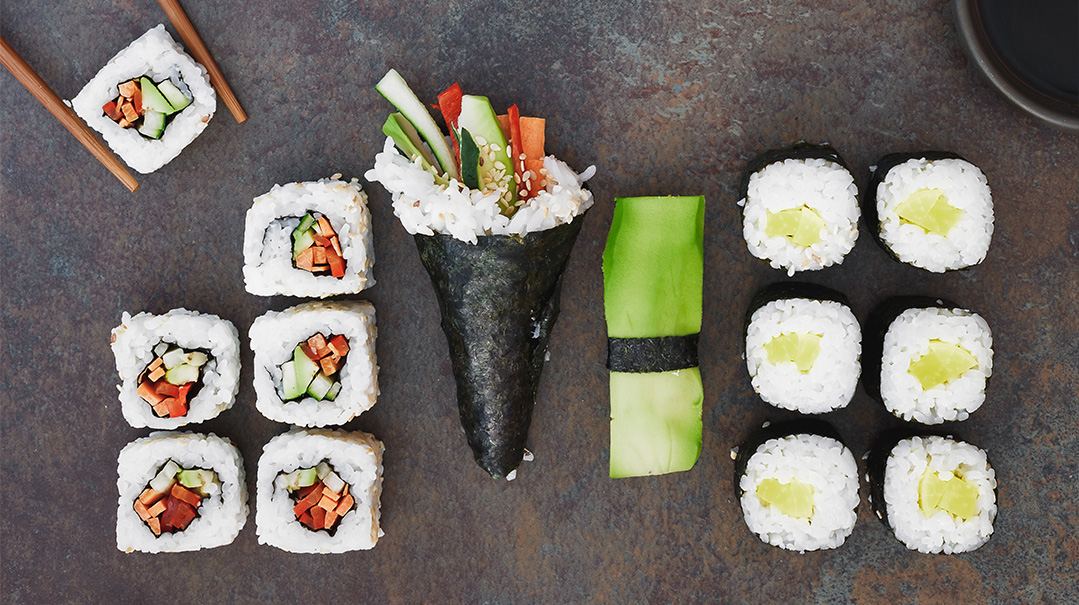 Just imagine: Today we have a new generation that can't even remember a time when there wasn't…
No, not computers. No, not cell phones. I'm talking about sushi!
I betray my age when I say I remember the days before those cute, colorful little rolls were the sine qua non of every simchah spread. When I was a kid, exotic meant Chinese food — sesame chicken, beef with broccoli — not Japanese. Whouda thought a dish made of raw fish and seaweed would capture the hearts and stomachs of the Orthodox Jewish world? Who'd have dreamed the craze would actually last?
The food-obsessed kosher world always has an eye out for what non-kosher foodies are up to. When sushi made its appearance, it was a craze that lent itself easily to kosher chefs: It's mostly made from kosher ingredients and is incredibly versatile — it can be a snack or a meal. And unlike pizza or chicken fingers, it's pareve! It could swing either way at a party, be it an elegant wedding smorg or a milchig Melaveh Malkah.
"Sushi has been the biggest single game changer in the kosher world," says Elan Kornblum of Great Kosher Restaurants. "No other item in the kosher world has had so much influence. People now assume pizza and sushi go together! There are caterers who won't do an event if there isn't a sushi table because it doesn't reflect well on their business."
A Fishy Story
So where does sushi come from? According to Japanese folklore, an elderly woman afraid that thieves would steal her store of rice began hiding it in ospreys' nests. Over time the rice would ferment and become mixed with scraps of fish discarded by the birds, which preserved the fish longer. The mixture was tasty, so the Japanese began eating fermented rice and fish together.
But this charming piece of folklore is misleading:
Most experts believe sushi, or at least salted fish wrapped in fermented rice, was originally invented in China. The rice was used to preserve the fish (which was itself salted for preservation) and discarded when the fish was eaten. Sushi was introduced to Japan from China in the eighth century, and originally used larger pieces of fish.
In the 18th century, a Japanese chef named Hanaya
Yohei decided to stop throwing out the rice blanketing the fish. He'd toss the rice with a little rice vinegar, make a little ball, and put the fish on top. Presto — modern-style sushi.
Then when transportation and refrigeration advanced in the 1970s in Japan, modern sushi took off. It was no longer necessary to salt the fish to preserve it, and more ingredients became available. Sushi restaurants opened up in Tokyo, where color-coded plates of sushi would move down a conveyor belt in front of seated customers, who would help themselves to what they wanted. Their bill would be calculated by the stack of plates they accumulated, different colors indicating different prices.
Americans were resistant to Japanese food right in the wake of World War II, but by the 1960s Japanese goods were filling American stores, and Americans had become familiar with such dishes as tempura or sukiyaki (beef and vegetables cooked in broth). A Japanese restaurant in New York introduced sushi to its menu in 1963, although New York Times food critic Craig Claibourne admitted, "Sushi may seem a bit too far out for American palates." The idea of raw fish still made most people squeamish.
In The Story of Sushi: An Unlikely Saga of Raw Fish and Rice, Trevor Corson reports that sushi really got its start when a restaurant named Kawafuku in Los Angeles brought in a Japanese sushi chef in 1966. Located in Little Tokyo, the dish was mostly popular among local Japanese, but more and more restaurants in the area picked up on the trend. In the late 1960s, Corson says, Los Angeles chefs invented the California roll, which replaced the hard-to-get raw tuna with crab meat or fake crab meat and added avocado. Chefs later invented the "inside out" roll, in which the seaweed was hidden inside an outer layer of rice, since American consumers didn't initially warm to seaweed. The "spicy tuna" roll was likewise a Los Angeles invention, as chefs added chili sauce or sriracha to the fish.
In 1970 a sushi restaurant opened outside Little Tokyo, next to the 20th Century Fox movie studio. It was called Osho, and since celebrities frequented it, sushi's profile was raised. By the end of the 1970s, sushi got another PR boost, this time in the form of a Senate report entitled Dietary Goals for the United States, which enjoined Americans to stay clear of high-cholesterol foods like meat, eggs, and dairy, and to consume more foods rich in omega-3 fatty acids, notably fish.
Corson credits the bestselling novel Shogun with driving up interest in Japanese history and culture in the 1970s. At the same time, economic prosperity in Japan brought
Japanese businesses and immigrants to the US. In New York's East Village, a Japanese immigrant named Bon Yagi opened Hasaki, the country's first and longest-running all-sushi restaurant in 1984, later opening other single-food restaurants like a ramen shop and a soba shop.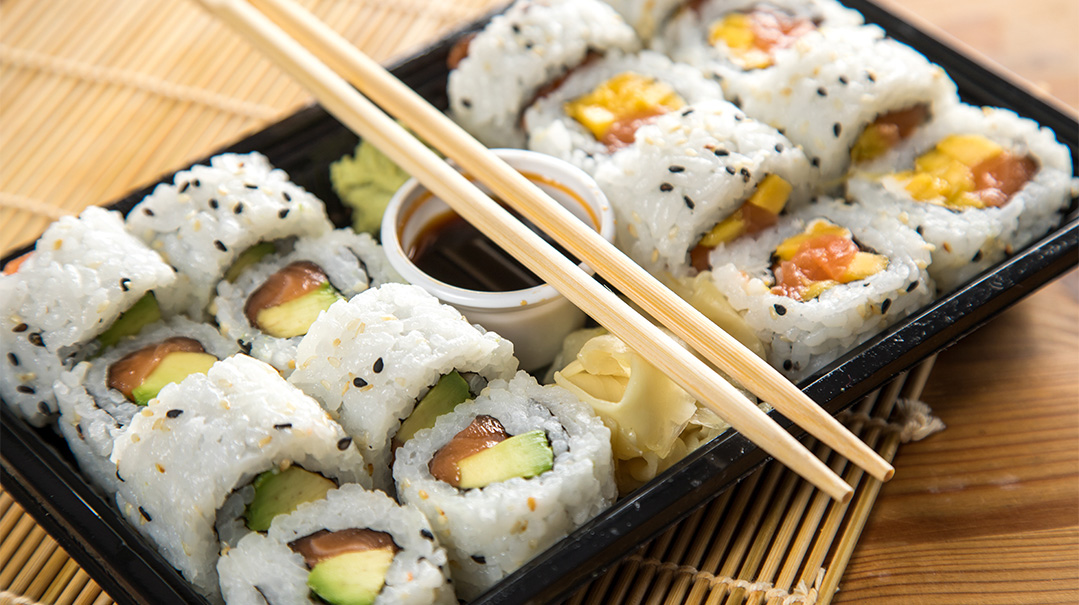 Sushi Goes Kosher
To Elan Kornblum's recollection, the first kosher restaurant to offer sushi was the Haikara Grill on the East Side of Manhattan, back in the early aughts . It was followed by others including Tea for Two on Kings Highway in Brooklyn. "In the beginning sushi was more a thing people served at weddings," he says. "Real sushi is rice and raw fish, but producers adapted it to American tastes and began making versions with cooked fish or vegetables, or they'd fry the roll. The beauty of sushi is that it's so diverse — you can make hundreds of different rolls."
For restaurants, sushi has the advantages of requiring very little kitchen equipment, plus it has a high markup, even if they need to hire a dedicated sushi chef. (The disadvantage is that the ingredients are highly perishable.) By 2016, Rabbi Moshe Elefant of the OU told the New York Times that 80 to 90 percent of New York's 100 kosher restaurants served sushi. His own daughter had recently served homemade sushi on Shabbos, alongside gefilte fish. Elan avows people have even tried making sushi with gefilte fish ("But… why?" he says).
The sky's the limit for sushi creativity. Some meat restaurants now serve meat sushi, using bits of prime rib. Cream cheese and salmon sushi is a riff on bagels and lox. Sushi can be wrapped in seaweed, rice paper, or soy paper, and quinoa can be subbed for rice (especially on Pesach for foodies who eat quinoa but not rice). Even the rice can be changed up, as you can use white rice, brown rice, even black or purple rice. In terms of presentation, creative caterers have offered sushi "birthday cakes" and sushi plates in the form of a menorah.
The latest restaurant trend is omakase restaurants (Elan notes that the kosher market is usually five to ten years behind the non-kosher trends). In these restaurants, the chef decides what to make for the customers, rather than taking orders. Using ingredients like koma (bluefish and tuna carvings), the chef creates a 10–15-course sushi meal, answering clients' questions and anticipating what they'd like for the next course. Elan mentions Akimori  and Koma Sushi, both in Brooklyn, as restaurants that have begun offering omakase. Masuda Omakase, a private event company, offers omakase in your home.
Try This at Home
Sushi ingredients have made their way into supermarkets as well as restaurants, as intrepid home chefs discovered that, given the right fixings, they could prepare their own sushi at home. Sushi Maven in Boro Park, a distributor of kosher sushi ingredients, got its start when Freund's Sushi and Grill store found it hard to procure sushi ingredients with a reliable hechsher. "We began sourcing the ingredients ourselves," says Pincus Yoel Freund, Sushi Maven's founder. He began importing seaweed, wasabi powder, and ginger around 2009, and was the first to purvey products with a heimishe hechsher. Today, Sushi Maven sells everything you could possibly need for sushi. Popular items include kani sticks, spicy mayo, roasted sesame seeds, and sushi rice, as well as tempura powder that can be mixed with water to make tempura batter.
Soy wrappers, soft squares made of eggs and soy, are a new item that's been taking off as people seek out gluten-free wraps. Another new item, miso for soups and sauces, is gaining popularity. "Most of our products are produced in the US," Mr. Freund says, "but we can only get the seaweed from China. People don't realize this, but seaweed is the product that needs the most supervision. It can become mixed with shrimp or insects and needs careful supervision and checking."
Sushi consumption has also led to spinoff products. Kayco Company president Charles Herzog finds that today's consumers, "Generation Z," are actively looking to experiment with global cuisines and innovative products, and hence the seaweed snacks Kayco launched a few years ago "took off like a rocket." Mr. Herzog notes, "Supermarket buyers are in tune with the trends and will follow suit with their buying decisions."
Sushi isn't terribly hard to make — you need sushi rice, sesame seeds, rice vinegar, seaweed, soy sauce, and whatever fillings you want to put in (cucumber, sweet potato, avocado, kani, fish). A rolling mat helps make neat rolls that hold together. I've done it a few times on a Motzaei Shabbos or lazy Sunday afternoon to use up the leftover salmon from Shabbos. You can make spicy mayo (definitely not a Japanese invention) by mixing a little sriracha into mayonnaise; if you want to be more authentic, put pickled ginger and wasabi on the side.
Move over, gefilte fish! A new Jewish tradition has been born.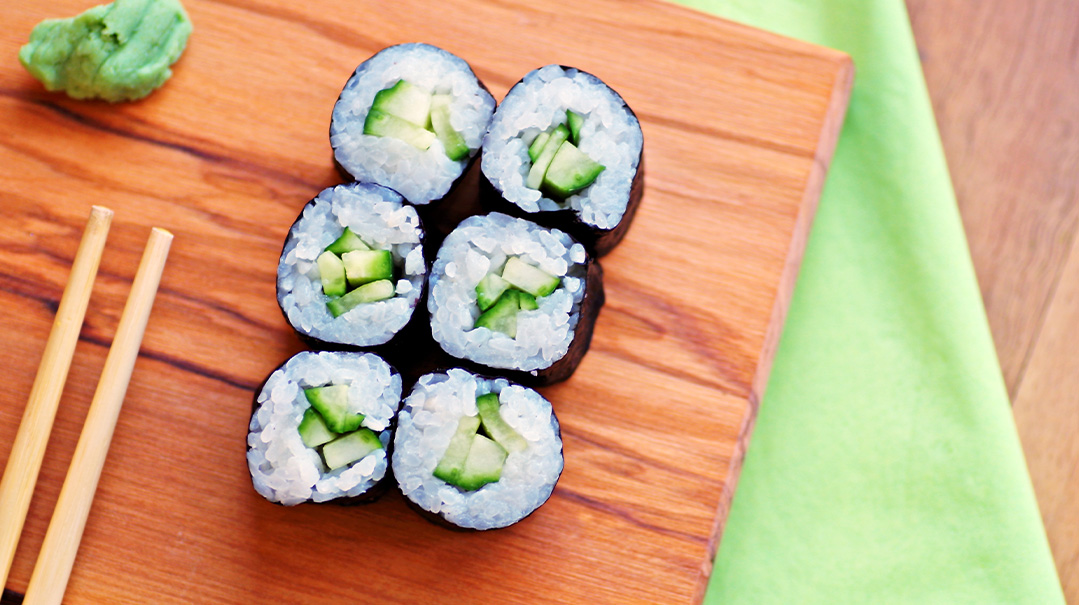 Homemade Sushi
Adapted from www.happyfoodstube.com
YIELDS 40 PIECES (5 SUSHI ROLLS)
2 cups sushi rice (14 oz/400 g)
¼ cup rice vinegar
1 Tbsp sugar
1 tsp salt
1 small cucumber
1 small carrot (optional)
1 large ripe avocado
7 oz (200 g) salmon, high-grade raw, cooked, or smoked (lox)
5 nori sheets
Optional Condiments
soy sauce
wasabi paste
pickled ginger
Cook the rice following package instructions.
In a small bowl, combine vinegar, sugar, and salt and mix until the sugar is dissolved. Pour this over cooked rice and mix well. Allow rice to cool.
Meanwhile, cut the cucumber, carrot, avocado, and salmon into thin strips. (I like cutting the cucumber and carrots into matchsticks, and avocado and salmon into chunks — all of them about 4 inches/10 cm long.)
Place mat onto your worktop and place a nori sheet on it so that the rough side is facing you. Spread the rice over the nori sheet, covering it evenly but leaving about 1⁄2 inch (11⁄2 cm) of the sheet free; the rice-free end should be farther from you.
Place a thin row of salmon, cucumber (or carrot), and avocado in the middle of the rice.
Wet the rice-free end with water and roll everything tightly. (The mat helps you get a nice round shape. Also, by applying pressure when rolling, you're making sure the roll stays tight.)
Slice and serve with soy sauce, wasabi paste, and/or pickled ginger, as desired.
(Originally featured in Family Table, Issue 796)
Oops! We could not locate your form.
>