| Washington Wrap |
A New Chessboard at the Capitol
| November 22, 2022
In which areas might the Democrats and Republicans cooperate, and where we can expect them to clash?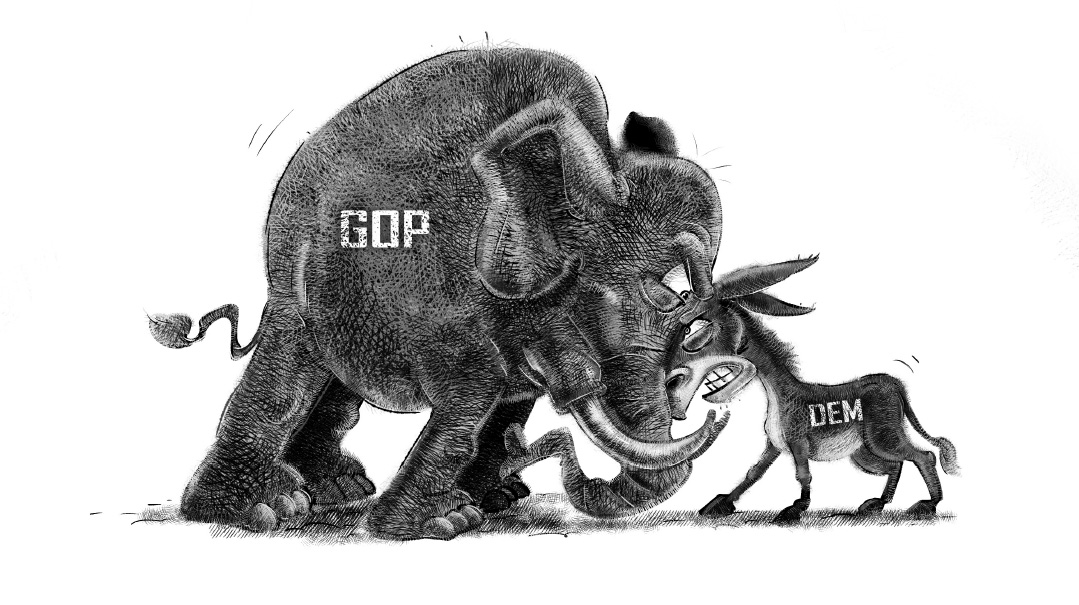 The dust from the 2022 midterms has finally settled, with Republicans flipping the House and Democrats retaining the Senate. The recognition is dawning that neither party will be able to advance its agenda without some form of bipartisan cooperation.
Let's try to make some sense out of the situation and find out in which areas the Democrats and Republicans might cooperate, and where we can expect them to clash.
The Agendas
Republicans
Investigating Biden and His Son Hunter
A number of ranking Republicans have expressed interest in investigating the president's son Hunter, specifically his ties with China as well as accusations of tax offenses. But this is controversial even among Republicans. While incoming Judiciary Committee Chairman Jim Jordan, among others, believes Republicans should pursue this line of attack with everything they've got, others fear it will alienate voters ahead of the 2024 election cycle. Still, with their majority so narrow, a small minority of Republicans could force the party's hand by threatening to wreck its agenda if their demands are not met. Future House Speaker Kevin McCarthy will have to navigate carefully between the party's different wings.
In addition, Republicans could decide to investigate the administration for its mismanaged withdrawal from Afghanistan and the southern border crisis.
IRS Expansion
Biden's last infrastructure package, the Inflation Reduction Act, included provisions for expanding the IRS, adding some 87,000 new agents, in order to increase tax revenue. Now some Republicans want to roll back this provision.
Ending the January 6 Commission
The much-touted commission is expected to be scrapped under the Republican leadership. It's even possible that Republicans will form their own committee, which will seek to discredit the findings of the previous commission and clear Trump's name, although whether this will actually happen is far from clear.
Democrats
Judicial Appointments
One reason Biden was so pleased with the results is that with control of the Senate, confirming his judicial nominees will be easier. According to Axios, Biden has already confirmed 58 federal judges, compared to only 26 for Trump at the same point in his term. That said, the pace of Trump's judicial appointments increased dramatically in the second half of his term, with a final tally of 174 federal judges confirmed. Another thing to be taken into account is that Trump made three Supreme Court appointments, while Biden has so far made only one. For this reason, Democrats will be eager for opportunities to fill as many vacancies as possible.
And it's not just judges, by the way. Appointments to the cabinet, diplomatic postings, and other key appointments all require confirmation by the Senate, and an oppositional Senate can not only vote down a president's nominees, but deny them a hearing.
One such example is former Supreme Court nominee Merrick Garland, now US attorney general. Obama nominated him to fill the vacancy created by the death of Justice Antonin Scalia in 2016, but then-majority leader Mitch McConnell refused to bring it to a Senate vote on the grounds that Obama had less than a year in office and that the choice should reside with the American people. As a result, Garland didn't even get a hearing. We all remember the sequel: when Ruth Bader Ginsburg died in 2020, Trump and McConnell rammed through her replacement — Amy Coney Barrett — less than a month before the presidential election.
Same-gender Unions
This is another issue Democrats are looking to advance, and it could well be on their Senate agenda for the next term. What's interesting is that 12 Republican senators have voiced support for the proposal, including Mitt Romney, Joni Ernest, Susan Collins, and Lisa Murkowski, which may indicate that it has chances of getting by the narrow Republican majority in the House, as well.
Possible Agreement
Funding for Ukraine
It seems that the days of Washington's open checkbook for Ukraine have come to an end. Many Republicans are furious at the billions the Biden administration has invested in Ukraine, and would like to see aid reduced to the absolute minimum, or even terminate it entirely. Congresswoman Marjorie Taylor Greene, for example, wondered aloud when Ukraine had become the 51st state. Still, Biden shouldn't have much trouble in finding a few Republicans to vote in favor of continuing the administration's hard-line stance against Putin.
Infrastructure
Currently, there are no more infrastructure proposals on the table, as Biden has already succeeded in passing a number of such bills. Still, it seems likely that if Biden advances another package incorporating funds for roads, trains, and ports before the end of his term, Republicans will give him a hearing. After all, the Republicans won't be able to run on having investigated Hunter Biden — they'll need to produce receipts proving they've improved voters' lives.
The Obstacles
Budget Battle
The biggest obstacle ahead is the federal budget, passage of which requires majorities in both houses, as well the president's signature. If the two sides can't come to agreement, a government shutdown could ensue.
There's no shortage of precedents for such gridlock: It happened with Bill Clinton and Newt Gingrich, Barack Obama and John Boehner, and Donald Trump and Nancy Pelosi. And the more polarized Washington is, the less likely compromise becomes.
Fiscal responsibility is a key concern for Republicans, and many of them have indicated that they aren't in a hurry to compromise and will vote down "unnecessary spending."
No to Green
McCarthy's control of Congress guarantees that no transformational legislation will go through Congress. First and foremost, this means that Biden's green agenda will run into a brick wall. It will be interesting to see, for example, whether the COP27 decision for rich countries to pay poorer countries for climate damage will end up on the House Finance Committee's table, and how the committee will react.
Another key Biden pledge ahead of the midterms was an abortion rights bill.  But with Republicans controlling the House, it's now on indefinite hold.
(Originally featured in Mishpacha, Issue 937)
Oops! We could not locate your form.
>