| Day in the Life |
Chaim Sinai Orbach | June 19, 2019
Chaim Sinai Orbach is the president and CEO of CSO Radio in Lakewood, New Jersey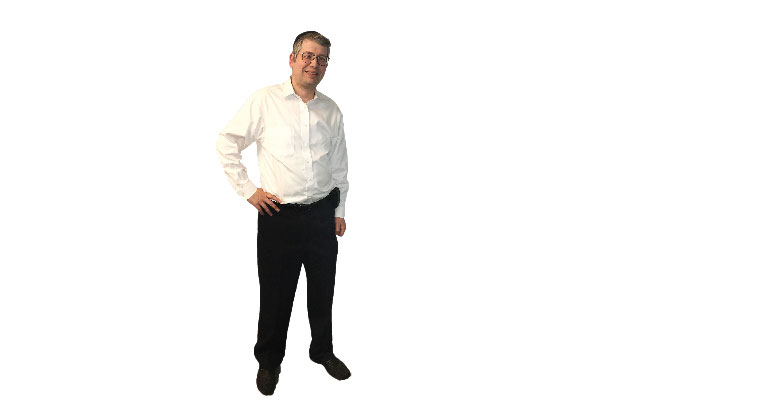 What I do
I sell and install vehicle electronics and accessories, anything from remote car starters to live-streaming 4G camera systems to mobile communication systems to digital video recording to safety sensors and more for company vehicles, and smaller-scale options for private individuals as well.
What that means
We want to make families' lives — in their cars — easier, safer, and more enjoyable. People spend so much of their lives in their cars, and something as simple as an inexpensive phone mount can make a huge difference. Some more examples: Many people live — and park — in the infamous "ches"-style development; having a backup camera gets rid of the guesswork and makes the heart beat a little softer when backing up. For a family going on a long drive, not having a working stereo can make for a very unpleasant trip. People spend a fortune on car insurance, but then find out the hard way that in an accident, they're guilty until proven innocent by their insurance company; with a relatively inexpensive dash camera, the value of a car insurance policy increases many times over.
Most common request
It's definitely adding a seat to a minivan. Many people with a seven-passenger minivan find themselves needing an eighth seat somewhere down the line. We can install an extra "jump seat" with a seatbelt between most existing captain chairs — it's a safe option when you need another seat but can't justify buying new van.
Our clientele
Local families' cars and vans, and commercial vehicles, too — anything from ice cream trucks to double-decker buses, even boats. That's what keeps the job interesting! For companies whose core business relies on vehicles and drivers — food distribution, supply delivery, school bus, senior transportation — some of the biggest expenses involve losses that are considered "the cost of doing business." Our services help mitigate these losses from drivers wasting time, trucks left idling for no reason, careless or avoidable accidents, frivolous accident claims, merchandise damage, and more.
Why it works
In today's day and age, there's technology for everything, and our ability to use our technological knowledge to save money is key. As your company's fleet grows, so do the risks of poor communication, mishandling of equipment, inefficient use of time. The more you know about your fleet, the more you can efficiently control the whole operation; drivers are held accountable, passengers are safer, deliveries are handled efficiently, and so on.
Name drop
The US Army Corps of Engineers has been a faithful customer. It was fascinating to learn what they do to keep our waterways safe, and I was especially proud when one of their boats on which we'd installed communications equipment was seen in the news raising an engine of the US Airways plane that landed in the Hudson River. We've also worked on vehicles for New Jersey Natural Gas, Xerox, and the Philadelphia Fire Department.
Largest job
This was actually one of the largest fleet installation projects ever done: In 2007, First Student, one of the largest school bus companies in the world, decided to install a piece of complicated safety equipment on about 20,000 buses across the US. They quickly found that not many companies were qualified to do the installation properly. By the time we were given the job, 500 buses had to be completely redone. Baruch Hashem, they were happy with our work, and we were given the job for most of their vehicles in the Northeast.
My pet project
The one that takes front and center for me is the Ride 'n Remind System. No parent ever thinks they'd forget a child in a car, but unfortunately, the human brain is such that given the wrong set of events, a driver can completely forget they put a child in the backseat. In the heat, this can be tragic. With our system, the sensor is activated when you put a child in the backseat, and when you turn your car off, a chime sounds to remind you to check, and you have to press a button near the rear door to deactivate it. If you don't within 40 seconds, the car's horn will sound. And it really works! I was once in a mall parking lot in Lakewood and I suddenly heard a car honk. I watched a mother turn and run back to her car, and then the horn stopped and she headed back to the mall with a small child in tow.
…and the biggest challenge
Spreading the word! I've been trying to get the governments in Israel and the US to let people know this reliable solution exists, to prevent tragedies from happening, but despite the fact that senior officials in both countries have been impressed with it, the information isn't out there. I'm still hoping someone somewhere can cut through the red tape and help….
The people you meet
A double-decker bus company in Manhattan hired us to do some work. One fine summer day, I was riding around Manhattan testing our equipment, and I ended up schmoozing with a jolly entertaining tour guide between runs. He told me he's Jewish but not religious, but he puts on tefillin every day. When I raised my eyebrows, he explained, "Many years ago, my son had a severe burn accident and the doctors feared for his life. At that moment, I said, 'G-d, if You save his life, I'll put on tefillin every day.' He did, and I've been putting on tefillin ever since."
Most memorable thank you
A family was about to leave on a trip and their car stereo broke, and even though it was after closing time, I was able to help. After they got back, a cake arrived at my house with a thank-you note for my wife. My wife isn't involved in the business, but she's so supportive even with the late hours and the last-minute emergencies and all it entails, so she definitely deserved it.
Busy season
Bein hazmanim and bein hasedorim — despite complaints that Lakewood isn't the yeshivah town it once was, that's when we're working the most.
I'll never forget
the time a couple of Na-Nach-Nachman guys asked us to install a massive sound system in their van, and once it was done they cranked it up and danced on the roof for a while in the lot in front of the store.
(Originally featured in Mishpacha, Issue 765)
Oops! We could not locate your form.
>