| Day in the Life |
Day in the Life of… Tani Guterman | September 11, 2019
Tani Guterman is a pediatric occupational therapist who works in the New York public school system. He hosts a weeknight podcast called O.T. Talk with Mr. T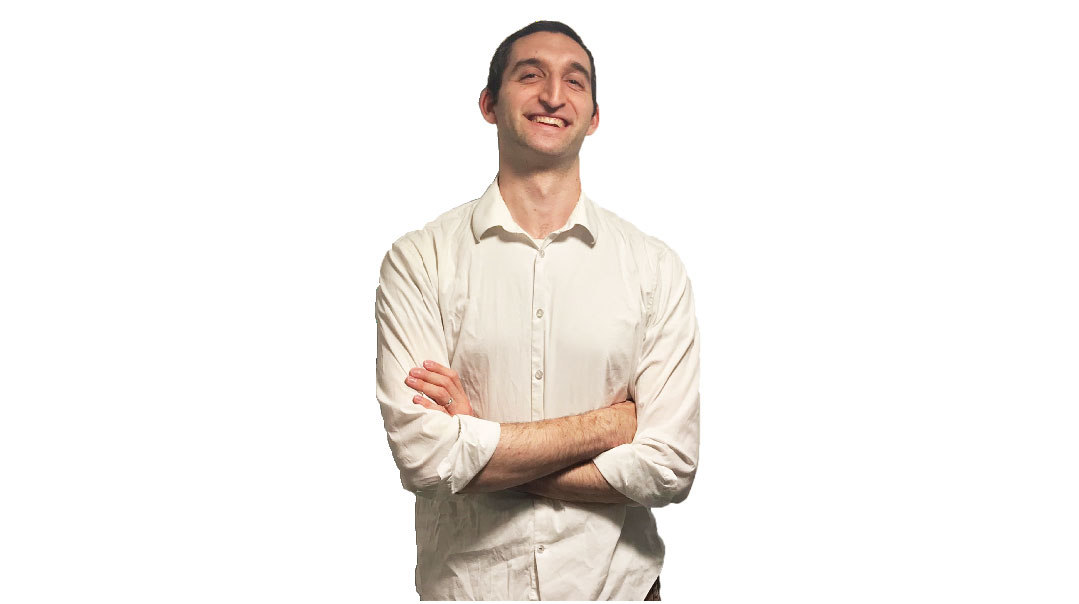 W
hat I do
As an OT [occupational therapist], my credo is to help people live life to its fullest, to help them live as independently and as functionally as possible.
What that means
OTs work in different settings, so it depends. I work with elementary school children with and without special needs. I help them with daily living activities — dressing skills, like using buttons, zippers, and snaps; eating skills, like using utensils properly and opening containers; and using classroom tools, like holding scissors properly and writing with a functional grasp. I also work with sensory needs like touch, taste, smell, hearing, seeing, body joint awareness, and the movement of your body in space. There's more, but that's the basic gist.

What it entails
Regardless of where you work, there's always the session, the paperwork, the evaluations, and the treatment, including consulting and correspondence. I'll meet with students for a set amount of time a week, usually 30 minutes two or three times a week, one-on-one in the therapy room. I have to see 40 sessions a week, or eight sessions a day over five school days, so I usually end up with a caseload of 20 students, give or take.

No offense, but question: What kind of reaction do you get when people hear you work in a field associated with frum females?
Funny you should ask. I've been saying for years how this profession is dominated by women — it's a ratio of maybe four or five to one! I go to meetings or share days and look around the room at hundreds of participants, I can literally count the males by hand. Even though being a male OT today doesn't have as big a stigma as it used to, I think about making a program that could get more frum guys into it. Maybe the curriculum has classes for guys called FOTSM: Frum Occupational Therapy Studies for Men.

Most common question I get
Something along the lines of, "Why don't you work with EI (Early Intervention), a contract agency, or a Jewish school? You'd make more money and help Jewish people." First of all, OTs in the school system make salaries comparable to other settings like hospitals or clinics when you factor in our amazing hours — we work the school day schedule, eight to three — and get fantastic health benefits. Also, working in a non-Jewish setting means I get to make a kiddush Hashem every day.

Seasons of the year
In the Department of Ed we say, "Brace yourselves, IEP season is coming!" because the beginning to middle of the school year is very hectic, getting to know the students who came, adding kids to the caseload, reading through their IEPs [individualized education program], meeting teachers, and lots of IEP meetings. End of the school year is lighter, and my summer schedule is pretty relaxed: I work for a six-week program for children with special needs — autism spectrum disorder, cerebral palsy, Down syndrome — who have mandated services for 12 months. It's a slighter shorter workday and tends to be more hands-on learning, almost like a camp setting.

How I got into this field
I worked in Camp HASC when I was younger, and one summer I had a camper in a wheelchair. I was so impressed when I brought him to OT! I saw him being laid on the mat so he could play with items, reach for them, try to gain more use of his body and limbs. I remember thinking, As an OT you play with kids and get paid for it? I'm in! I loved the idea of helping people be more independent through play, games, and overall fun. I volunteered at a bunch of OT settings before getting a master's degree in OT. That was four years ago, and I love it more and more each day.

… and how I got into radio
I loved listening to the radio growing up. I'd picture myself as a host on the air, complete with the fancy headphones and super-chic microphone, a fancy talk show title, even the catchy intro tune. My college had an in-house radio station, and I was once a guest on a program, and then I got to host. It was such a thrill! When podcasts became popular, I started thinking about what I could do with my passion for radio and my passion for OT, and on a cloudy mid-March day last year, my podcast was born.

Best advice I ever received
It was from an Aish article by Sara Yoheved Rigler about how to decide what to do with your life. As the phrase goes, "If you love what you do, you'll never work a day in your life." She said you should think of what you'd do if half your day was free and you didn't have to worry about money, and you should also ask yourself what you'd do for free. That struck me like lightning, because for both of those questions, I knew the answer: host a radio show.

The details
O.T. Talk with Mr. T fuses these two passions, radio and occupational therapy. It's a ten-minute podcast, weeknights Monday through Thursday, with advice, activities, and suggestions for children, families, educators, OTs, and OT students. Every episode is called "Let's Talk something," with a topic and subtopic, like "Let's Talk Household Items: Cups," and has tips like using cups for water play in the tub, for measuring baking items, for stacking into a tower, as a target for throw practice, or as storage, a sensory shaker, and more.

Things I've learned about doing a radio show
The beginning is really hard, but it does get somewhat easier. It still takes a lot of work and persistence to keep up the schedule, but doing what I love is so rewarding. I've also learned that free resources like this show can be a game changer for families that can use as much help as possible.

In Brief:

Best feedback I've ever gotten as an OT
When the mother of a ten-year-old girl who had some difficulty using her hands gave me the nicest glass jar filled with kosher candy at the end of the year. That simple thank-you gesture was heartwarming.

… and to the show
An e-mail from a parent, telling me they were listening to the show that summer and taking notes. That was worth everything because that's my goal: to help families, episode by episode.

If I could tell myself something when I launched,
I'd say "It's going to be a long, hard road, but it's worth it. Imagine: In a year and a half, you'll have two seasons of more than 200 episodes with an average of 50 to 100 listens per show."
(Originally featured in Mishpacha, Issue 777)
Oops! We could not locate your form.
>