| Be My Guest |
Yitzchok Levine Invites Abie Rotenberg
| September 14, 2021
"I'm hard at work now on a fifth Journeys album. The last one was released 17 years ago"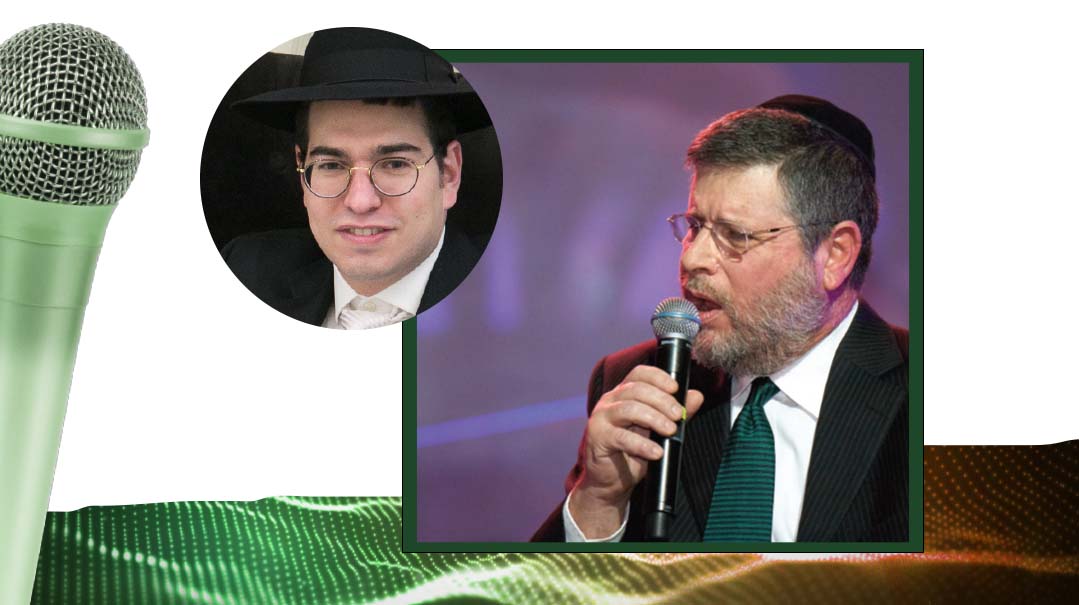 YITZCHOK LEVINE, founder and joint CEO of Jewish Music Stream invites ABIE ROTENBERG to his succah
Why?
I grew up listening to and loving the Dveykus albums, Journeys, the Marvelous Middos Machine albums, The Golden Crown, and the Lev V'Nefesh albums were the background in carpool. When I was in elementary school, Aish 1 and Aish 2 were always on repeat. It takes someone very special to be able to compose and put out such beautiful material, and Abie gets the credit for so much beautiful material that is still so well known, sung all over, and appreciated by so many.
I still follow his advice every day at work ("Don't you have to put in the plug? The plug... The plug?? Oh! The plug!! Yes Shnooky, put it into the wall!" — Marvelous Middos Machine 1), and I've tried to follow his recommendations when deciding that music to listen to ("But one thing we must keep in mind, a Jewish song of any kind, is only precious if and when, it brings us closer to Hashem" — "We've Got The Music," Journeys 3), so I consider myself a bit of a talmid.
Yitzchok:
Many composers from over the years (Rav Shmuel Brazil, Yigal Calek, Baruch Levine, to name a few) have come from a chinuch background, as you did. Has that made a difference in your compositions?
Abie:
My background in chinuch has definitely contributed to the content and quality of the lyrics. I'm not sure it impacts one's ability to write a popular niggun, though.
Yitzchok:
Do you generally first pick a pasuk or write lyrics and then come up with the tune, or do you first have the tune and then try to find what words would fit in best?
Abie:
It depends. I've done and continue to do both. Sometimes I'll attempt to write a tune for particular words that inspire me — that's what happened with "Hamalach" and "Veliyerushalayim." At other times, the melody comes first and the search is on for words that are a match for the emotion elicited by the niggun. That happened to me with "Haben Yakir Li," and "Ani Maamin."
Yitzchok:
You've done many performances and written many songs for many causes and organizations over the years. Is there a specific song or concert that stands out?
Abie:
I would have to say that composing "Who Am I" for HASC stands out for me. It connected me with that amazing organization and was the first time I performed on stage in a meaningful way.
Yitzchok:
Does it take a particular inspiration or desire for you to sit down and write something? Or can you do so at any time?
Abie:
That's a great question. I think that when I was younger, I was drawn to the piano by the innate power of music, even without an outside stimulus. Today, things are a little different — I mostly need some form of inspiration to gravitate toward composing something.
Yitzchok:
You took a long break before putting out the very well-received Aish 3 recently. What would it take for you to work on putting out more material?
Abie:
Actually, I'm hard at work now on a fifth Journeys album. The last one was released 17 years ago. I hope the audience will feel that it was worth the wait. We're shooting for the end of 2021.
Yitzchok:
If you could go back and release the original albums you worked on years ago again, but with a higher budget, would you do anything differently?
Abie:
Of course, when I listen to the older albums, I think that there are aspects that could have been done better. I sometimes wish for better quality of singing, and different harmonies. I find particular lyrics here and there that could have been sharper, musical accompaniment that could have been more interesting or mixed better. But that's part and parcel of making an album — or for that matter, writing a book or painting a picture. Once it's done and released, it can never be taken back.
Yitzchok:
Are there any albums or songs that you find yourself more connected to, either because of the circumstances, times, or inspiration you had when the material was composed, or where you personally were when they were produced.
Abie:  
As with everything in life, "lefum tzara agra – as is the suffering, so is the reward." The Journeys albums required a lot of work on the themes and lyrics, as well as the music, and as such, they hold a special place in my heart. Because the albums are in English, they also reached and uplifted many Jews unfamiliar with the Hebrew language and traditional Jewish music.
Yitzchok:
Does it still mean a lot to you when you're at a simchah, event, or davening in shul, and hear one of your songs being sung? Or have you gotten used to it?
Abie:
It remains a wonderful feeling and I'm always thankful to HaKadosh Baruch Hu for that gift.
(Originally featured in Mishpacha, Issue 878)
Oops! We could not locate your form.
>