| Be My Guest |
Rabbi Armo Kuessous Invites Yaakov Shwekey
| September 14, 2021
"Different moments call for different songs. I like to live in the moment and sing whatever my heart calls for in that moment"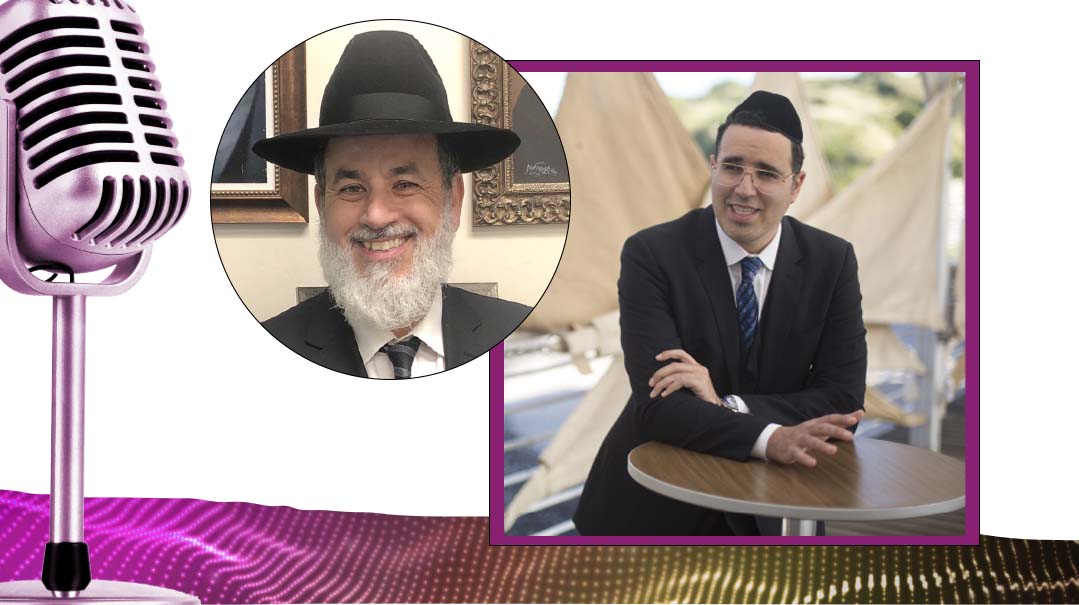 RABBI ARMO KUESSOUS, Menahel Boys Elementary Division of Yeshivat Shaare Torah and head counselor of Camp Romimu, invites YAAKOV SHWEKEY to his succah
Why?
My relationship with Yaakov Shwekey spans 30 years. We met in Camp Romimu, and as a teenager he was an outstanding staff member there working with special children. Baruch Hashem, we never lost our connection. I admire his great career as well as the incredible work that he and his wife do at the Special Children's Center in Lakewood.
Rabbi Kuessous:
Yaakov, we go way back to 30 years in Camp Romimu. As a teenager you would often get on the stage and perform. Did you ever think then that perhaps you would one day actually become the king of Jewish music?
Yaakov:
I live in the moment, both then and now, and I enjoyed those camp days tremendously. I was enjoying singing in the moment and not calculating the future. I always wanted to be in music, but didn't know how it would happen. We embark on a journey, and Hashem does the rest.
Rabbi Kuessous:
Other than HaKadosh Baruch Hu obviously, is there one person out there that you can truly attribute your musical success to?
Yaakov:
Other than HaKadosh Baruch Hu? But He is everything... Still, if you mean human input, it's hard to name a single person. There are so many factors involved, the compositions, the timing, etc. But I would say there are two people who were most crucial to my music. The first is Yochi Briskman, who was my producer for many years. In the beginning, we decided to try something new, to produce an album with each song in a different style — until then, albums usually had ten tracks with similar music styles and sounds. Yochi was on board to do that, as was Yossi Green and arranger Moshe Laufer. The second person is Yitzy Waldner, my current producer and composer. Working hand in hand with those two has shaped my music from the very first album.
Rabbi Kuessous:
Was there anything specific in your life that inspired you to go for it all the way?
Yaakov:
I was very fortunate to have incredible rebbeim whose advice I listened to. Rav Ben Tzion Shafier was my 12th-grade rebbi, and he guided me. He'd say, "You don't have the right to ignore the gift that G-d gave you. You have to use it. But don't take it for granted. Remind yourself every day that the voice is not yours, you have a responsibility."
I started out with that perspective, and with my rebbeim's strong encouragement that I go forward, I have never stopped asking my questions to daas Torah and following their guidance. When you're in the public eye, everybody questions everything you do, and sometimes they judge you without even knowing you. But I was fortunate to have rebbeim who guided me and made it a lot easier to be grounded and focused on the right things.
Rabbi Kuessous:
You live in Deal, New Jersey, and my dear brother Rav Moshe a "h adored you. What impact, if any, did he have on your career?
Yaakov:
Armo, he was your brother, but he was a gadol to all who knew him. He lived around the corner from us — a mechanech with the kind of presence where he could just walk into a room and look at you and you wanted to be a better person. "Cry No More" was written after he passed away.
Rav Moshe always viewed my career as the opportunity to create a kiddush Hashem. He would tell me, "Do you have any idea what you can do for Am Yisrael with your voice?" When I returned from concerts in Israel that drew large crowds, he would beam. My son Moshe is named after him. His presence was a reminder that we can all aspire to be a beacon of light and ambassador for good in the public eye.
Rabbi Kuessous:
Back in those days in Romimu, you worked with special children. Is it a coincidence that you married a very special person who does incredible work with Hashem's special children?
Yaakov:
I'm getting choked up just thinking of those memories. I was zocheh to be part of the Minzer boys' summer — really it was them who did me the biggest favor. No one who was there can forget the kedushah of those boys. I tell my children about them — they needed help even to simply adjust to a more comfortable position in bed, but they smiled through such pain-filled lives, and they always wanted to put on their tefillin on time. I remember taking them by car on a trip to Disney World — we gave them the trip of their lives, but they gave us the trip of a lifetime too.
My wife has changed the world for Hashem's special children, and I consider myself so fortunate to be a part of her journey — in the Next World I'll be hanging on to her coattails, in the zechut of the Center, with its group homes and Shabbat homes, and everything which my wife does to create a beautiful life for these special children. My new song, "Fighter," is inspired by their reality.
Rabbi Kuessous:
What is your all-time favorite piece to sing and perform?
Yaakov:
Different moments call for different songs. I like to live in the moment and sing whatever my heart calls for in that moment. I'm just back from Paris, where I sang "Racheim," and then "Mimkomcha." Every song is a piece of my heart.
Rabbi Kuessous:
Who is your daas Torah regarding your music?
Yaakov:
I don't like to mention names, but one with whom I was zocheh to a close relationship was Chacham Ovadiah Yosef. I asked him questions, I sat there and sang for him — you don't realize what you have until you lose it and are bereft.
Rabbi Kuessous:
If there is one thing related to your career that you could change, what would it be?
Yaakov:
I don't think I would want to change anything. Throughout my career, I've always gone where my heart leads me and have tried not to pay attention to outside pressures. When my Libi Bamizrach album came out, people thought that it wasn't a great idea commercially, but I didn't care, because my heart led me to Sephardic and Israeli music. Now everyone is putting out Israeli style.
My experience has been that if the music comes from your heart and you feel whole with it, it will be taken to heart by others. One day when I was walking home from shul with my son, and asked him if he knew who Shlomo Carlebach was or what Dveykus albums were, and he didn't, I was inspired to work on Those Were the Days. And I'm so happy that others are producing nostalgia albums too. The transmission of the classic music won't happen on its own — we need to transmit it. Now, my son sings with me those songs of yesteryear.
(Originally featured in Mishpacha, Issue 878)
Oops! We could not locate your form.
>