| Be My Guest |
Yaakov Brown Invites Rabbi Baruch Chait
| September 14, 2021
"His songs have a wide spectrum of listeners, spanning decades of music while still sounding fresh and current"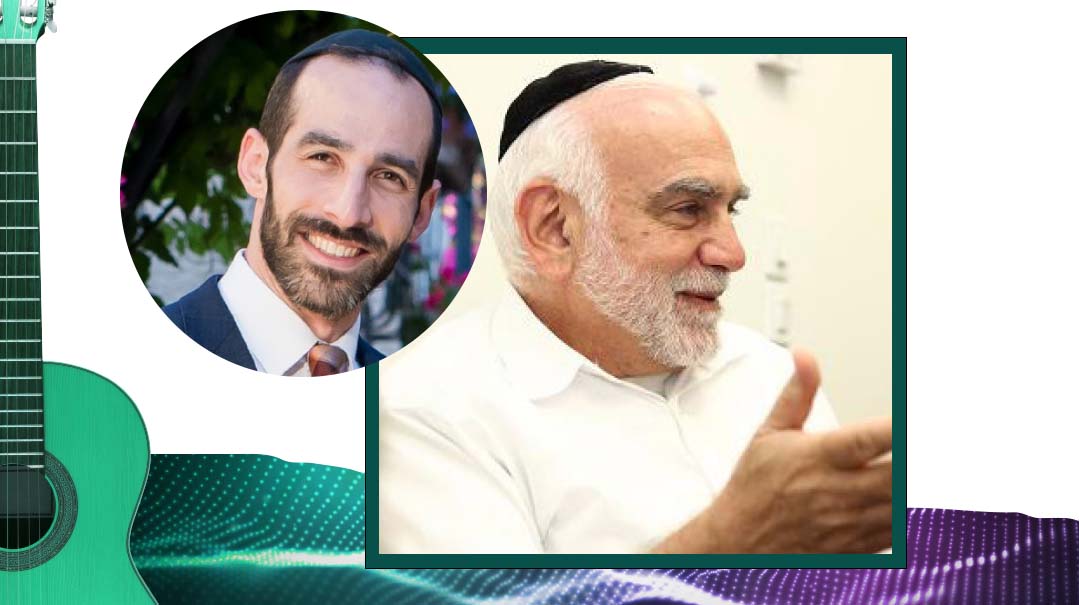 YAAKOV BROWN, a music enthusiast living in Jerusalem and creator of the Jewish Musical Notes chat, invites RABBI BARUCH CHAIT to his succah
Why?
Having Rabbi Baruch Chait — such a profoundly-connected talmid chacham and baal menagen — join us in our humble succah would be an honor and a delight. His music and musical style — kumzitz meets mainstream — is universally embraced. His songs have a wide spectrum of listeners, spanning decades of music while still sounding fresh and current. The slow songs make you sway, the fast songs make you clap and sing along. On a personal level, I grew up on The Rabbis' Sons records. From the group concept of The Rabbis' Sons over half a century ago the broadening of horizons with the Eastern influence of Kol Salonika and further, I could write a list of reasons why I think Rabbi Baruch Chait is one of the most iconic personalities in Jewish music.
Yaakov:
When did you know that you could compose melodies? Was it a sudden realization or did you always know that you could?
Rabbi Chait:
When I was 16 or 17, inspired by Shlomo Carlebach, I remember having the tune of "Rabbos Machshavos" in my head. I didn't know if it was original, or if I'd heard it somewhere. I sang it to someone I trusted, and he said, "I never heard that before," so I knew I must have composed it. A friend of mine added the words
Yaakov:
What was your very first composition?
Rabbi Chait:
I think "Rabbos Machshavos" was the first one of any consequence. But "Mi Ha'ish" became known first, because it was released on the first Pirchei record. For "Mi Ha'ish," the high part of the song came to me first, which was unusual. Again, I wasn't sure if I had composed it or heard it someplace, but a friend told me it was original.
Yaakov:
You probably hear your own songs played and sung all the time. Yet, possibly more than any other long-time successful songwriter, a lot of people aren't even aware that you composed them. Does it bother you, or are you more or less ok with the widespread ignorance?
Rabbi Chait:
Not that long ago, someone recorded "Kol Haolam Kulo Gesher Tzar Meod" and listed it on the jacket as a "folk song." My immediate response was "Wait, this is a mistake!" I had composed it after the Yom Kippur War, but then I realized that if it's already viewed as a folk song, something that's been around forever and is part of Jewish culture, that's a great kavod. Another time, a certain clarinet player here in Israel did a Carlebach album and he included my "Min Hameitzar."
Yaakov:
Is there a pasuk you wish you had a composition for?
Rabbi Chait:
When I go through Tehillim, I often find a pasuk that hasn't yet been used, and that has a certain freshness. One of the last songs we recorded was to the words "Vesein sachar tov lechol habotchim," which I don't think had a melody before.
Yaakov:
The Rabbis' Sons pushed the envelope in a lot of ways back in the late 1960s. Were you readily accepted or did you meet with resistance? What did the "rabbis" have to say about what their sons were doing?
Rabbi Chait:
What was new at the time wasn't so much the niggunim but the arrangements. The '60s style of using only guitars gave the songs a folk sound, which some felt wasn't so appropriate. Others, though, said we had hit the nail on the head and this was just what their kids needed.
I once met someone who told me that back then in 1967, he was a kid being raised in a strict Satmar household. He was about to throw out his chassidish clothing and leave the community, but our album, which he kept hidden under his bed, kept him going.
Our fathers, I think, were very excited. My own father a"h felt that music had a significant contribution to make.
The record was supposed to be called "Songs of Chofetz Chaim Yeshiva," as it was really a fundraising project for the yeshivah, where most of us were learning, although I was learning in Montreal at the time. When Rosh Yeshivah Rav Henoch Leibowitz heard the music, he said he would rather the record be called something else, so we changed it and went for something with a bit more of a ring.
Yaakov:
Is there a current singer/songwriter that has you paying attention?
Rabbi Chait:
I'm an old timer — I focus more on the niggun than the singer. Back in the day, the song promoted the singer, while today, the singer promotes the song. I have a close friendship with Avraham Fried, and I have a special relationship with Mordechai Ben David. I like the genuine inspiration and niggunim.
Yaakov:
You've worked with and developed close friendships with many great talents over the years. Who were the special ones?
Rabbi Chait:
I had a warm relationship with Reb Bentzion Shenker and many others, too. Although our musical styles were different, we had a lot in common.
Yaakov:
Do you have any musical plans for the future?
Rabbi Chait:
I was delighted when Doni Gross, whose productions are full of quality and meaning, contacted me about re-recording some of my classic songs. He is putting out the collection pretty soon, im yirtzeh Hashem.
(Originally featured in Mishpacha, Issue 878)
Oops! We could not locate your form.
>