| Yardsticks |
Yardsticks: Chapter 39 | March 4, 2020
I took the dress and turned it inside out. The seams were perfect, neatly serged. Professional
Yelena
T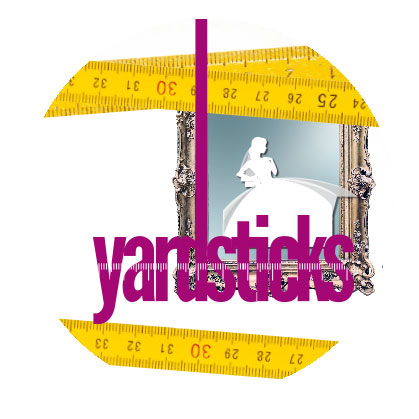 here was a sewing machine on the table. And a serger. And on the side, on an open ironing board, a steamer.
I took a step closer, inspecting the sewing machine's model. Bernina 770, the real thing, and brand new.
This wasn't Moriz's cheap Singer. We had professional-grade sewing equipment in our house, in my sewing room.
"H-how did these get here?" I sputtered. "Whose are these?"
Anzel grinned. "Yours. Ours."

"Shto?"
His eyes twinkled, and he started guffawing. "Good models, da?"
"D-da. How did these get here?"
"I bought them."
What? "B-but… how? These are expensive!"
He shrugged. "I've been saving up. For a long time. And Benish helped. He paid a part of the cost. From his catering job."
I gaped.
"He didn't tell you, eh?" Anzel chuckled. "He's been helping a chef, a few hours a day."
I stood in my spot, frozen. Benish — a job. Anzel — saving.
Before I could process what was happening, Anzel motioned me over. "So? Do you want to see my work?"
"Your work?"
He burst out laughing. Then he pulled a dress out of a bag. Navy blue wool, box pleats, stand-up collar, raglan sleeves.
"Whose dress is this?"
"Nobody's," he said. "Unless someone wants to buy it. I took Alex's sewing course. This was our final assignment. Like it?"
Alex! But that was… a real course, for expert dressmakers. Yocheved had sent Freya to Alex, to bring her skills to a professional level.
I took the dress and turned it inside out. The seams were perfect, neatly serged. Professional.
"Anzel… you took a course? When?"
"Evenings. I was out a lot at night the last few months, remember?"
"You mean... all those road trips... you were sewing?"
"Da." He beamed. "I wanted to surprise you. You know, the way I used to, when the boys were babies…."
Those days…. Sunday afternoons in the park, Anzel treating everyone to soft ice cream. And my pearl necklace that Anzel had saved up for, for our fourth wedding anniversary. I still had it somewhere; I hadn't worn it in years.
I glanced at the dress in my hand. A professional garment, and I had no idea, all along.
"Wait, Yelena," Anzel said.
Was there another surprise in store?
But Anzel pointed at his watch, puzzled. "Why are you home?"
(Excerpted from Family First, Issue 683)
Oops! We could not locate your form.
>