| Yardsticks |
Yardsticks: Chapter 38 | February 26, 2020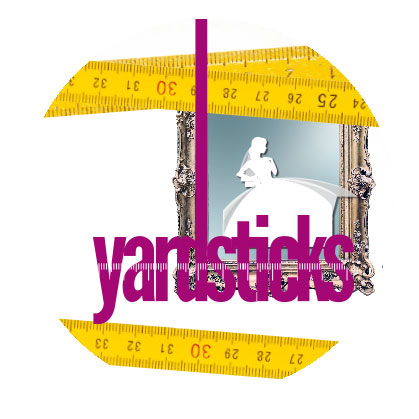 It took me a second to absorb that. Mommy — I had a new son. This was all so strange
Mina
"Find me one man who eats kani salad."
Hindy rolled her eyes. "Come on, Ma, this is a sheva brachos couple. Nish-nosh salad? Shnertzy!"
"It's a yeshivah bochur we're talking about, and the sister with whom you fought over the phone last week. Can't we just serve them a lunch they'll actually like?"
We ended up making both salads, plus garlic-butter spinach pasta, tuna wraps (to another round of eye rolls), Oreo cheesecake, and iced capp. At the last minute, right before the brand new Engel couple walked through the door, Hindy went to pieces about the (very pretty, please!) paper goods, promised she'd wash all the dishes, and set out my milchig china.
"Hiiii!" Shevy sang as she dropped her Chanel bag onto the couch.
"Oh, my, who are you?" I cried.

My daughter had turned into a lady overnight. She was wearing that gorgeous gray-and-black sweater we'd picked up in Saks Off 5th, gray wool shoes… and a stunning sheitel.
Okay, let's not get all teary now.
Behind her, Gavriel held up a huge garment bag — Shevy's gown. "Where does this go, Mommy?"
It took me a second to absorb that. Mommy — I had a new son. This was all so strange.
I directed him to the basement, and Shevy faithfully followed us down the stairs. "Oh, my, Ma," she babbled. "We stopped into the grocery on our way, I wanted to get some fruit to make a smoothie, and my goodness, frozen strawberries cost a fortune."
I burst out laughing. "Suddenly, huh?"
"No, seriously, food prices are insane. We spent $25 on nothing."
Welcome to the world, sweetie.
But as we hung her gown on a rack in the basement, an idea occurred to me.
"I'm thinking, Shevy," I said, "if you're interested in earning some petty cash — you know, to splurge on strawberries once in a while — maybe come work for me here with these consignment gowns? I'd talk to the takanos board to get you on payroll. It's getting busier lately, and I could really use an extra hand around.
"Maybe in the afternoon, after teaching? Or at night for an hour or two? It doesn't have to be every day."
Shevy glanced at Gavriel. "What do you think?"
I swallowed a grin; this was too adorable.
Gavriel shrugged. "Up to you. Think you'll have the time, with all your college work?"
"Listen," I said quickly, "why don't you guys go home and discuss it? No pressure, let me know what you decide."
Shevy twisted the hanger of her gown forward and stood back to admire the gown. "Isn't it amazing how this gown worked out, Ma?" she asked. "Total Hashgachah. And people went wild over it. I can't tell you how many compliments I got last night."
(Excerpted from Family First, Issue 682)
Oops! We could not locate your form.
>