| A Gift Passed Along |
Unspoken Promise | April 5, 2020
The Dushinsky chassidus has come to be an integral part of the fabric of the Old Yishuv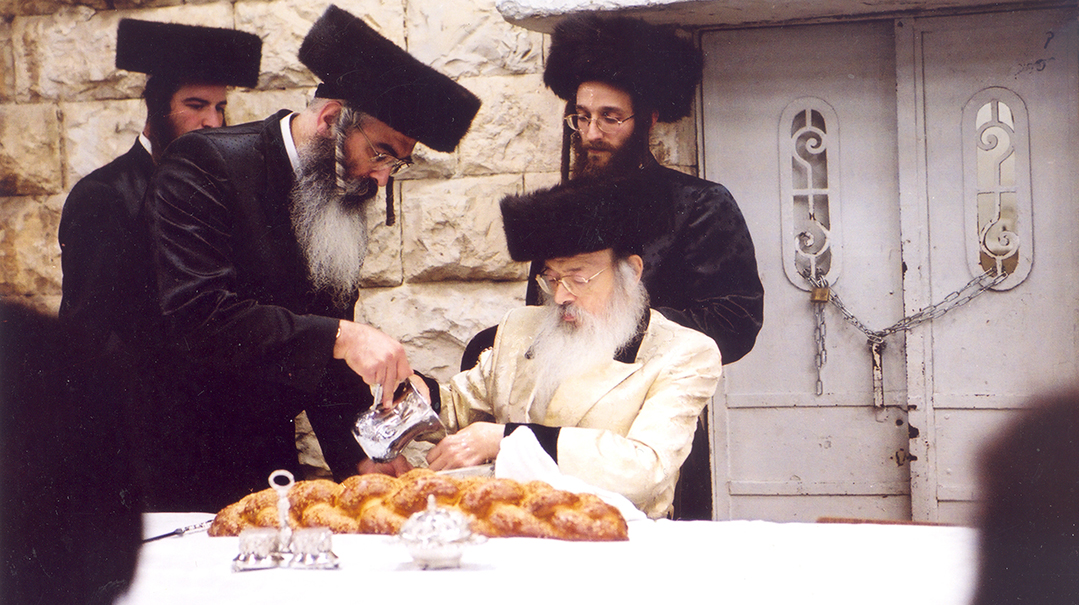 Photo: Mattis Goldberg
I've taken thousands of photos of gedolim over the years, and I don't think I've captured a single photo like this.
Most of the time, when someone washes a chassidish rebbe's hands, it's his gabbai. Here, it's a child – Rav Yosef Tzvi Dushinsky, the current Dushinsky Rebbe, washing his father's hands with deference, with reverence, with love.
The previous Dushinsky Rebbe, Rav Yisroel Moshe, was an only child born later in his father's life. He spent his childhood years in Chust, Hungary, but inherited a deep attachment to the Holy Land from his father, who took him on a trip to Eretz Yisrael when he was just ten years old. The family later moved to Jerusalem, where his father built a yeshivah on Rechov Shmuel Hanavi that eventually spawned a chassidus.
The Dushinsky chassidus has come to be an integral part of the fabric of the Old Yishuv, with its leadership role in the Badatz, the characteristic gold-striped caftans, and unbending view of the medinah – but interestingly enough, it was originally based on the minhagim of the Chasam Sofer. Today's rebbe, Rav Yosef Tzvi, is named for his grandfather, who was a talmid of the Shevet Sofer.
I used to visit the Dushinsky court often and drink in the unusual mix of Hungarian fire and fealty to Jerusalem. One Succos morning, I observed the previous Rebbe presiding over a tish in the succah outside his Shmuel Hanavi headquarters. He was very elderly and weak – he'd been blessed by Rav Yosef Chaim Sonnenfeld with arichus yamim nearly a century before, during that childhood visit to Jerusalem – but still regal and composed.
As his son leaned over to pour the water over his hands, I saw in that simple act not just allegiance and respect, but a promise to perpetuate the chain.
(Originally featured in A Gift Passed Along, Special Supplement: Pesach 5780)
Oops! We could not locate your form.
>