| Jewish Geography |
Trial and Error: Crowdfunding Support for the "Chevron Shooter"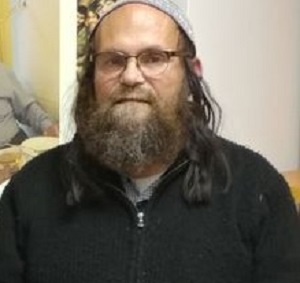 | July 20, 2016
Reporter and radio personality Sharon Gal smiles with satisfaction as he follows the numbers on his computer screen — the donations for his initiative are still rolling in. Between interviews the former MK (he served in Yisrael Beiteinu's list for just six months before returning to the broadcasting studio) has also become the public relations agent for the family of Elor Azaria currently on trial in military court in Jaffa on manslaughter charges for killing an already neutralized Arab terrorist who minutes before had stabbed a soldier.
"Elor's trial has created tremendous repercussions" says Gal "because the public feels like it can no longer be quiet. The fundraising project is really an expression of protest against how the extremely strict ethical standards of the IDF can also cause the country to abandon its fighters. Placing Azaria on trial for manslaughter conveys weakness to Israel's enemies and weakens the IDF's deterrence. In my opinion the public is fed up and that's why Elor and his parents have captured hearts in this storm."
Gal founded a nonprofit organization for the defense of IDF soldiers facing such legal battles and even organized a support rally in Tel Aviv's Rabin Square but although he seemed to have public opinion on his side the funds weren't coming in — until he decided to launch a crowd-funding initiative.
Gal was actually caught off guard by the unexpected overflow response. He's already 180000 shekels (about $45000) over the 400000 shekel target needed for Azaria's defense. All excess monies are being put away in a fund for other soldiers who may one day find themselves in the same legal predicament.
On Purim day this year two terrorists from Chevron — Abed al-Fattah Yusri al-Sharif and Ramzi Aziz al-Kasrawi Tamimi — charged an IDF post with knives in their hands stabbing a soldier. Both the injured soldier and his commander fired at the terrorists and managed to neutralize them: One died on the spot and the other was severely wounded but not yet dead.

Another force arrived on the scene among them military paramedic Sergeant Elor Azaria who treated the wounded but then used his personal weapon to fire at the head of Sharif who was lying on the road dying but not dead and killed him.
Medics had not yet approached Sharif to treat him out of fear that he was wearing an explosives belt although it was soon discovered that there was no such belt on the terrorist's body.
The shooting might never have been publicized if not for the presence of a photographer from the left-wing group B'tzelem. The photographer didn't waste any time handing the clip over to the media which hurried to air it. Many on the left demanded the soldier's immediate arrest and prosecution while some on the right considered him a hero who liquidated a terrorist murderer. Much of the public was somewhere in the middle.
Elor Azaria's action generated an immediate wave of reactions — both Defense Minister Moshe Yaalon and Prime Minister Binyamin Netanyahu promptly condemned the shooting and IDF Chief of Staff Gadi Eizenkott said that "this is not the IDF culture." Current defense minister Avigdor Lieberman — who was then in the opposition — countered the initial condemnations saying that "the circumstances will be examined by the relevant IDF entities. But what is already clear now is that that the wave of criticism toward the soldier is hypocritical and wrong and it is better to have a soldier who makes a mistake and remains alive than a soldier who hesitates and then gets killed by a terrorist."
Elor Azaria was arrested a few hours later and an investigation was launched on charges of murder. The charges were eventually downgraded to manslaughter and Azaria was transferred from incarceration at a military prison to being confined to the base at the Nachshonim military camp.
"It should never have become a trial for manslaughter" his lawyer Eyal Besserglick tells Mishpacha. "This entire incident should have concluded with disciplinary action within the IDF on charges of lack of discretion that's all. The remand judges also realized that this was not a regular case and transferred him from prison to relatively looser confinement on an army base.
"Even in Elor's eyes he is not a hero and has not tried to make himself one" Besserglick continues assailing the incriminating testimonies of his commanders Company Commander Naaman and Regiment Commander Lt. Col. Shapiro. They claim Azaria stated that the terrorist stabbed his friend and must die.
"Elor claims he might have said something similar and that his words were taken out of context. He said that the terrorist moved and he thought maybe he had an explosives belt on him and he needed to die. He says the fragments of his sentences were taken by his commanders and strung together into a sentence."
The trial is estimated to last another two months enough time for Sharon Gal to rally public opinion to Azaria's side.
"I sent my son to the army and he did what he was obligated to do" Elor's father Herzl Azaria told Mishpacha. "Now they're telling him 'You made a bad judgment? Deal with it yourself.' We want our son back home. He's our youngest child and he's not a criminal."
Time will tell if Elor will be returning home anytime soon.
Oops! We could not locate your form.
>