| Oneg Shabbos |
The Rebbe's L'Chaim | August 23, 2017
All Zechariah wanted was to help out his widowed mother. How did this diligent, hardworking boy wind up with a noose around his neck?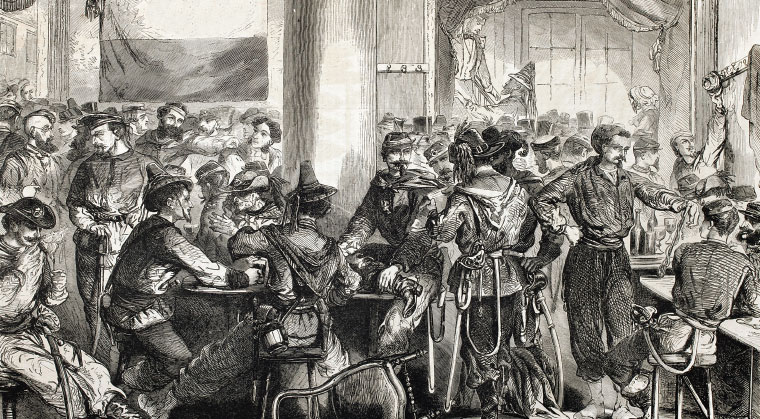 I n a small village between Kitov and Kossov lived a Jewish family who despite their poverty were a happy contented lot.
Although they sufficed with very little — subsisting on bread and root vegetables, and fish and meat only on Shabbos and Yom Tov, they were instilled with simple emunah by their father, Zanvil Stein. Zanvil was not particularly learned, but whatever he had learned from his parents — also simple villagers — he conveyed to his children: some passages of tefillah, parshas hashavua, a bit of halachah relating to the yearly cycle, and pure faith in the Creator and His servants, the tzaddikim of the generation.
Zanvil eked out a living by managing a small tavern. He spent most of his time and energy involved in drinks and those who imbibed them. Each morning, he thanked Hashem for granting him the day before, which had ended in health and peace and enough money to sustain his family and purchase more drinks to continue maintaining his business.
Because money was so tight, every purchase for Zanvil, from a sack of potatoes to a few kilos of grain, became a series of endless calculations — was it absolutely necessary? And if so, where could  he buy it for less money? It wasn't stinginess on Zanvil's part, but rather an effort to stretch every kopeck to be able to provide for his family.
There was only one thing that Zanvil absolutely refused to scrimp and quibble over: the wages of the melamed to whose home his oldest son Zechariah walked every morning. Zanvil well remembered his own childhood, and how his father had done the same for him. He had paid the melamed his wages on time, even when he had to borrow money to do so, or scrimp on his own food. Although the village melamed was not one of the geonim of the generation, and any Jewish bochur from the big city could probably outdo him in Mishnah and halachah, it was enough that he filled the children's heads with yiras Shamayim and emunah and a bit of Torah as well. The main thing was that they would grow up to be good Jews and remember that there was a barrier between them and the gentiles of the land, and that that barrier was infinitely high, reaching up to the World to Come.
Yet all too soon, those days of tranquility came to an end. In the neighboring village, a young gentile had opened a sophisticated whiskey distillery and undercut his competition. While the farmers guzzled their drinks at Zanvil the Jew's tavern, those longtime clients heard about the new watering hole, and soon they were gone. No one expressed any gratitude for the fine way Zanvil treated them over the years, nor did they remember the sales on credit, or even the reluctant erasure of debts. They all ran to the new tavern and left Zanvil's till empty and bereft.
The hapless Jew could not withstand the mountain of debts that suddenly piled up in the empty tavern. He tried to find other sources of income, but nothing succeeded. After two years of this struggle, he fell ill with grief — and never recovered.
The widow and her children were devastated — and struggling. She tried to both raise her children and find a way to support them, but could not manage both. The children wandered around the village with little structure or discipline — except for Zechariah, the oldest. He was his mother's solace: He continued to learn Torah, and everyone marveled at his sterling middos, which were reminiscent of the honesty and patience of his late father.
Eventually the widow realized it no longer made sense for her to continue living in the village. She had to move to the big city, where her children could attend normal schools, and where perhaps she could also find work that was both easier and more profitable. Plus, she would ask the city's parnassim and scholars to keep a watchful eye on her orphans.
Except for Zechariah. She didn't take him with, but instead entrusted him to her own elderly father. It would be a win-win situation: Zechariah would make things easier for his aged grandfather, and at the same time, he would absorb some of the elder Jew's yiras Shamayim. He was a pious man who had maintained very strict observance throughout his life.
But that arrangement too, came to an end. One day, the widow arrived to visit her son, and there were tears on her cheeks. She still had not found a source of income and the expenses kept mounting with no respite in sight. She had no choice; she had come to ask Zechariah to help. The day before, she had visited a nearby village where there was a successful tavern. Zechariah would become the apprentice of the Jewish owner. He would earn wages and would also be provided with his physical needs, such as room and board. Whatever money he earned would be sent to his widowed mother to help support his siblings. He would step into his father's shoes and bear the responsibility as the oldest son.
And Zechariah, good-natured that he was, agreed. What else could he do?
She took his hand and led him to the village, to the tavern of Moshe der Stolyer (Moshe the Carpenter), thus called for his earlier profession as a successful carpenter — until he lost his warehouse and furniture in a bad deal. It was also a name that expressed Moshe's hope to one day again be able to earn a living as a carpenter at some point in the future.
Moshe welcomed Zechariah kindly and described what he would be obligated to do as a worker, and what he would receive as a member of the household. It all looked fine to Zechariah and his mother and she left, trying to conceal her tears from her son.
Zechariah, for his part, did not disappoint. From morning to night he worked hard, serving customers with dedication and diligence. Each night, he got a few hours of sleep to recharge his energies, but the work was physically exhausting, as he had to traverse the stairs to the cellar, where the drinks were stored, dozens of times a day. If he wasn't quick, the gentile patron waiting for his whiskey would lose his patience and bang furiously on the table, or even slap the serving boy when he did return.
So Zechariah learned to be fast on his feet. He stepped over the drunken people lying on the floor, and pushed away those who stood teetering in his way. And at the end of each month, Zechariah took the money he received and sent it to his mother, a happy feeling filling his heart. He was an emissary from Hashem to sustain a widow and orphans, his own immediate family.
One morning, the sky was clouded over, and for Zechariah, that meant bad news. Clouds bring rain and rain would drive the hundreds of patrons in the market inside the tavern for shelter. Masses of customers meant endless work, but what could he do? Still exhausted from the day before, he took a deep breath and got ready for the onslaught.
As dark as the day was outside, it was even darker in the cellar. Even on a sunny summer day, just a few dim beams of light penetrated the cellar; now there was no light whatsoever. He felt his way with a pitcher of whiskey in his hand, but something at his feet made him trip and fall. The pitcher fell and broke, whiskey splattering all over.
He tried to get up and felt that he was touching someone. There was someone else in this cellar besides him, lying on the ground.
"Who are you?" he shouted in fear. But the only answer was the sound of his own voice echoing off the walls.
Zechariah dashed up the stairs and came back down with the owner. Moshe held a candle in his hand and moved with the light toward the barrels, when he saw it:
"It's a body… and I think I recognize the man — it's Grigory! He's one of our regular customers and one of the dignitaries of the town. Someone decided to shorten his life, and for some reason, thought it was a good idea to throw him here among the barrels of whiskey he liked so much."
Together, the two went back up to the tavern, and Moshe sent one of the gentile workers to fetch the police. The officers removed the body and the family of the victim conducted a funeral worthy of his stature.
The next day, police officers appeared at the tavern and ordered a generous serving of whiskey before beginning their investigation into the murder. They didn't have to research much, because in their opinion, the matter was clear. The only one who had visited the cellar that day was Zechariah. As such, they reasoned, he was obviously the murderer and would be judged with the full brunt of the law for the heinous act he had committed.
Everyone was horrified, not only the Jews of the village and neighboring towns. Even the gentiles expressed their regret. Who didn't know Zechariah, the Jewish servant boy? Who hadn't benefited from his kindness and dedication? He'd never done anything bad to anyone and certainly was not the murderer.
But despite all the claims to the boy's upstanding character, the police refused to budge. Zechariah was imprisoned and everyone waited for the trial.
Zechariah's mother, meanwhile, made her way to the village of Kossov. She reached the home of Rav Chaim Hager of Kossov (known as the Toras Chaim for the sefer he wrote; his son Menachem Mendel became the first Rebbe of Vizhnitz), who was known to have mystical powers and had recently been involved in another tavern "miracle": A wealthy Jew had made a deal with the local landowners that he would take over the operations of all their taverns — and that meant bringing in his own people and getting rid of the current Jewish innkeepers, ruining their parnassah.
This rich Jew was going to make an even greater profit when he was able to buy liquor at a rock-bottom price. But when that whiskey was poured into the customers' glasses, it was crawling with insects! The Jew realized that the former innkeepers had gone to the Rebbe and this was obviously the work of his holy hand, and so he agreed to reinstate them. The Rebbe, however, had another condition: That he sell his entire infested whiskey stock to these innkeepers for mere pennies. What choice did he have, and anyway, what was he going to do with a load of infested liquor? After the rich Jew left, the reinstated innkeepers turned to the Rebbe in confusion.
"What are we supposed to do with insect-ridden whiskey?" they asked.
"Don't worry," the Rebbe smiled. "Sell the whiskey at the normal price. Who even heard of insect-ridden whiskey?"
Indeed, not a bug was ever found in any of that liquor.
But would the Rebbe be able to make another miracle and extract Zechariah from the clutches of the gallows?
The Rebbe thought a moment, raised his head and warmly assured the widow: "Not a hair will fall from Zechariah's head. He will be released healthy and safe, and good days are in store for you, with help from Above."
The widow calmed down instantly. The Kossover Rebbe was known throughout the land as a holy man and a pillar of truth whose promises all came true. Zechariah would be released and the truth would come to light.
The day of the trial arrived, and a stern-faced judge read the verdict: "Zechariah the Jew is a lowly murderer who snuffed out the life of a good-hearted farmer. Thus, he will be put to death by hanging, and his death will be a form of justice and a deterrent for others."
The Jews in the courtroom were stunned into silence. The widow, too shocked to respond, hurried back to Kossov and burst into the Rebbe's house screaming like a wounded animal. Zechariah had been sentenced to death, and the sentence was to be carried out the next week! But the Rebbe had promised that he would be released, and again, he reiterated his promise.
"Zechariah will be released," he stated, "and not only that, but the words of the pasuk 'tzaddik mitzarah nechelatz vayavo rasha tachtav — a tzaddik will be rescued from the trouble and a wicked person will come in his place,' will be fulfilled. The yeshuah is imminent and we will witness wonders."
A special proclamation was circulated in the surrounding villages for everyone to come to the town square where the sentence would be carried out and witness the murderer being put to death. The square was buzzing with hundreds of onlookers, both gentiles and Jews. The town crier read out the sentence and the hangman's noose was placed loosely around Zechariah's neck. Once again, the crier read out the words proclaimed at such events: "Anyone in the crowd who has testimony that refutes the conviction of the defendant must come forth now."
He scanned the crowd and then indicated for the hangman to tighten the noose…
And then there was a ruckus in the crowd, and a farmer dressed in shabby clothes and shaking in fear staggered to the front:
"I am the man who killed Grigory and took his money."
The eyes of the judges, policemen, town crier, and the hangman all widened in shock as they gaped at the farmer, waiting for him to continue his confession:
"I am a soldier in the king's army. I received a furlough for a few days and made my way to the tavern, where Grigory told me that he had just sold some of his cattle and he had a big wad of money in his pocket. I couldn't help myself. I waited until he got good and drunk and then I dragged him down to the cellar, where I killed him and took his money."
The judges instructed that the ropes be taken down and Zechariah be released. They arrested the soldier, who kept repeating the story as though trying to persuade every last person standing there that it was not Zechariah who was guilty, but he.
The judges demanded to know why he had decided to confess. Was he crazy and suffering from some kind of delusions?
The murderer explained, "For several nights already, I have been visited in my dreams by an old Jew demanding that I admit what I'd done. Each night his threats get worse — that not only will I be punished in This World, but my soul will never withstand the horrors of Purgatory. I was so frightened that I came to confess and beg for mercy."
Many years later, in the town of Novoselitz in the Serbian region, lived a pious Jew named Reb Zechariah Stein. He was a man infused with the pure emunah of his progenitors; who would wear Shabbos clothes all week long, and would sit with people and relate stories of the tzaddikim of earlier generations. He would also add his own story, of how he had been saved through the wondrous powers of the Kossover Rebbe.
(Originally featured in Mishpacha, Issue 674)
Oops! We could not locate your form.
>