| PlateArt |
The Gift of Giving | February 15, 2022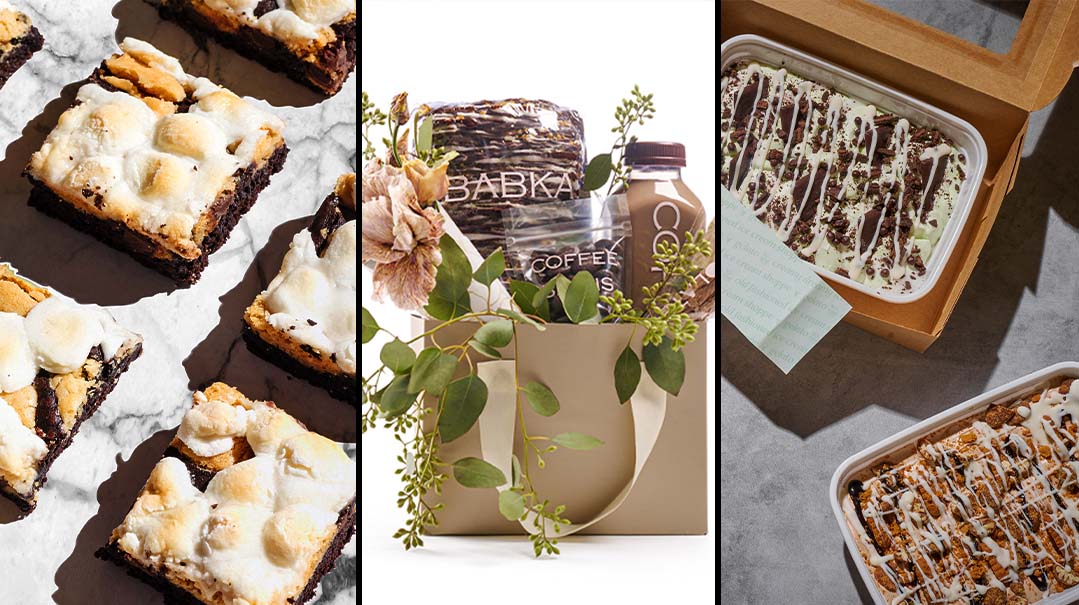 Styling by Esther Ottensoser
Photography by Hudi Greenberger
Purim is a Yom Tov everyone can connect to, as giving makes us feel good and brings joy and positive vibes. It really doesn't matter what you give — give what works for you!
But if you enjoy being creative, mishloach manos are a great opportunity to use your talents. Our little gifts of joy are an open tapestry — they can be expensive or inexpensive, cute or classy, healthy or indulgent, simple or detailed…
Give them your flavor and signature, and enjoy the giving!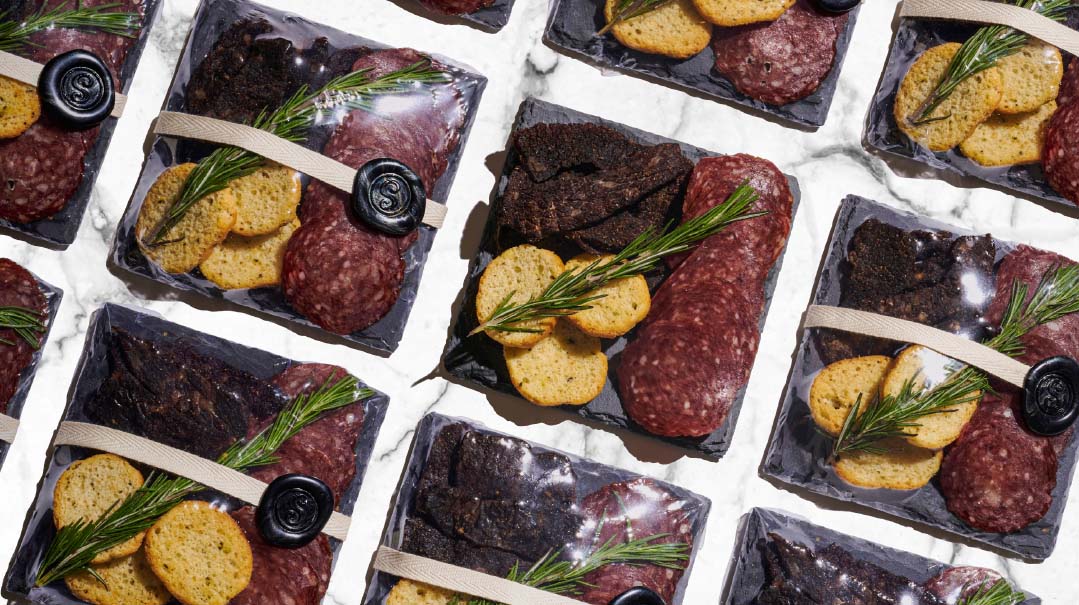 Mini Charcuterie
My brother Boruch and sister-in-law Reva are always spot on with their mishloach manos — it's neat, easy, smart, and practical. (This is only one of their claims to fame!) Last year they gave these mini charcuterie boards, which I recreated here for you!
You will need:
5-inch slate board (purchased at Webstaurant)
dried salami
beef jerky
bagel chips
sprig of rosemary
shrink wrap
ribbon
wax stamp
Arrange the salami, beef jerky, and bagel chips on the board. Top with a sprig of rosemary.
Shrink-wrap the package.
Finish off with ribbon and wax seal.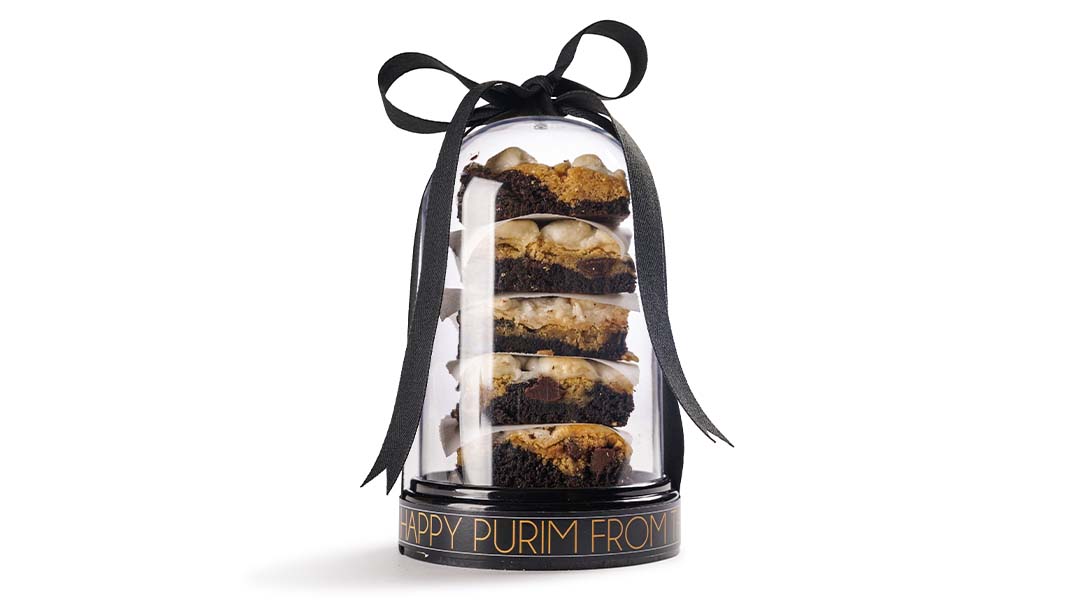 Dome Display
I found these domes at Dollar Tree, and I loved the look for displaying baked goods or any treats. You can add a mini chocolate bar as a second food item.
You will need:
cookies or cookie bars (I made S'mores Brownies; recipe to the right)
5.7x3.6-inch high cloche dome (purchased at Dollar Tree. For large quantities, I recommend ordering from their website.)
parchment paper
ribbon and labels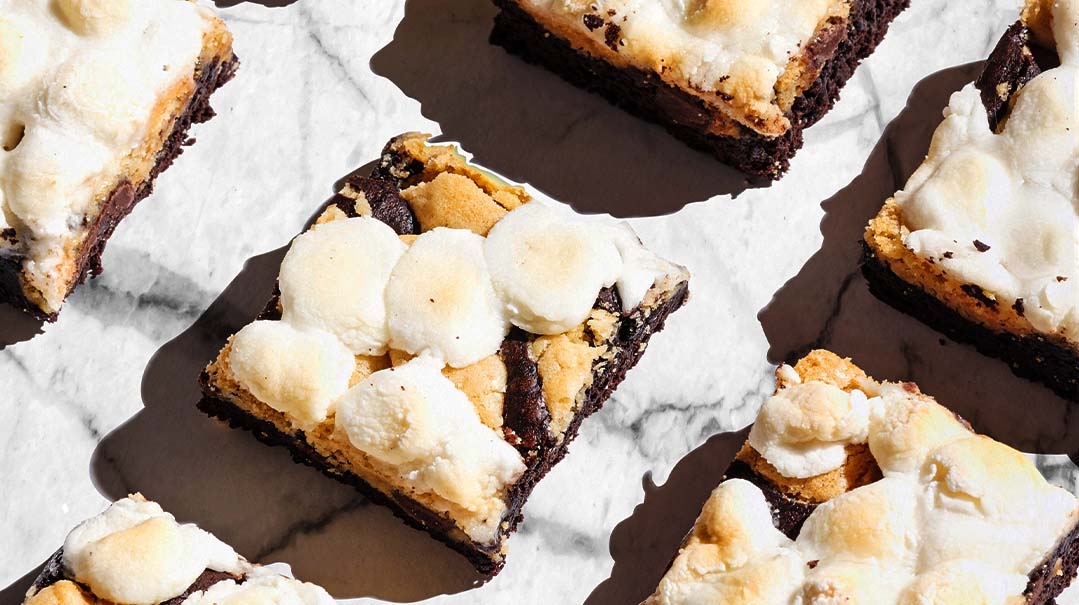 S'mores Brownies
I combined Estee Kafra's Basic Brownies recipe and Chanie Nayman's Not Just For Kids Chocolate Chip Cookie recipe, both featured on Kosher.com.
½–¾ bag mini marshmallows
Chocolate Chip Cookie Dough
1½ cups canola oil
¾ cup brown sugar
¾ cup sugar
1 tsp vanilla extract
2 eggs, beaten
2¼ cups flour
1 tsp baking soda
¼ tsp salt
2 cups Shufra Chocolate Chips
Brownies
1½ cups flour
2 cups sugar
4 eggs
¾ cup oil
¾ cup cocoa powder
2½ tsp baking powder
1 tsp vanilla extract
Make the chocolate chip cookie batter: Using an electric mixer, beat together oil, sugars, and vanilla until creamy. Add eggs and mix well. Combine flour, baking soda, and salt and gradually add to the mixing bowl. Stir in chocolate chips.
Set cookie dough aside and prepare brownie batter: Mix all ingredients together well.
Preheat oven to 350°F (175°C). Line a disposable cookie sheet with parchment paper.
Pour brownie batter into the pan. Crumble 1.5 cups of the cookie dough over the brownie mix. Bake the brownies for 25 minutes.
Remove from oven and top with mini marshmallows. Bake an additional 10 minutes or until the marshmallows are light brown. Allow to cool.
Cut brownies into squares. Cut small parchment squares and place between the brownies when filling the dome. Tie ribbon around the dome and add the label to the bottom.
Note: I used 1.5 cups of the cookie dough batter recipe for each recipe of brownies. The cookie dough recipe yields approximately 4 cups of cookie batter. Use whatever you have leftover to make chocolate chip cookies!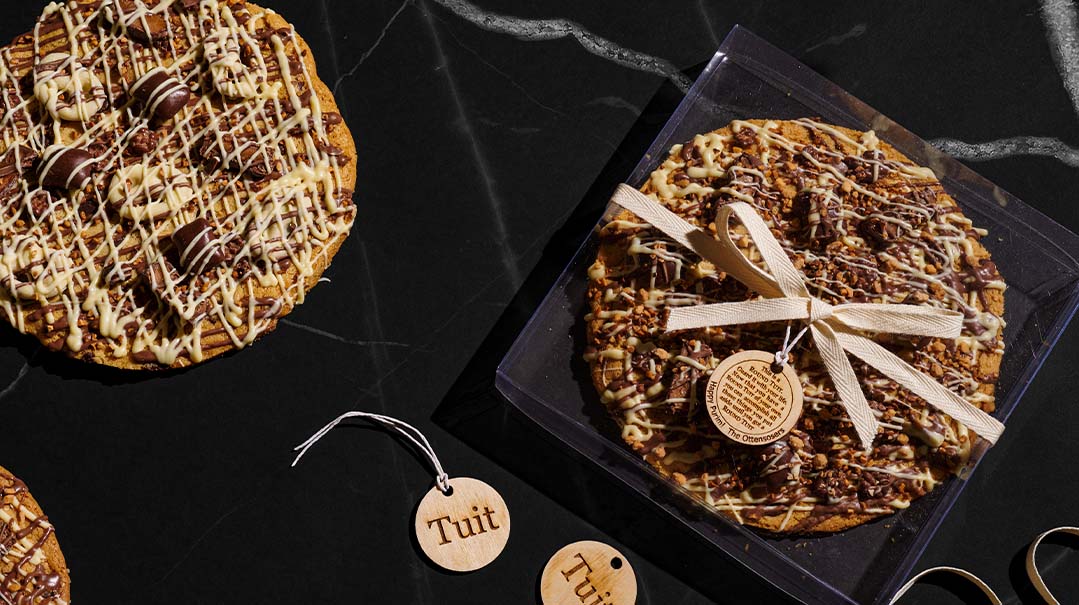 A Round Tuit
"I'll do it when I get around to it!" is a saying we hear often. Your mishloach manos recipients will procrastinate no more when they receive their very own "round tuit."
Here, I made a round jumbo chocolate chip cookie loaded with fun toppings. You can add any round packaged items to go with the theme. Whichever direction you choose, enjoy whenever you get a round tuit!
You will need:
8x8x1¼-inch clear plastic box
(I purchased mine at Center of Town, Lakewood)
jumbo cookie (directions below)
any small round food item to add to the box (for example, chocolate coins)
ribbon
"round tuit" tag (I purchased these on Etsy. The size pictured here is 1.75 inches, with a hole added. You can personalize them to your needs.)
To make the jumbo cookie: Make your favorite chocolate chip cookie recipe (I used Chanie Nayman's Not Just for Kids Chocolate Chip Cookie recipe from Kosher.com).
Take 1 cup of cookie dough and spread it out to approximately 5.5–6 inches. It will spread while baking to approximately 8 inches in diameter. Test one first before baking the whole batch, as each oven bakes differently. Adjust size if necessary. (Each recipe makes four jumbo cookies.)
Right after baking, top with toppings of your choice, such as Klik balls, Milk Munch, drizzled chocolate, chocolate-covered pretzels, chopped nuts, etc. Press into cookies while still warm.
Place the baked jumbo cookie in the clear plastic box. Add any other round item of your choice.
Tie with ribbon and affix label.
Tip: I used Ego dark and white dairy chocolate bars for drizzling. It's inexpensive and melts beautifully. You can melt in a double boiler or microwave. If you're melting it in the microwave, melt in very short increments. I like to remove it from the microwave when it's just about melted and then mix it well to complete the melting process. You can also melt the chocolate in a ziplock freezer bag.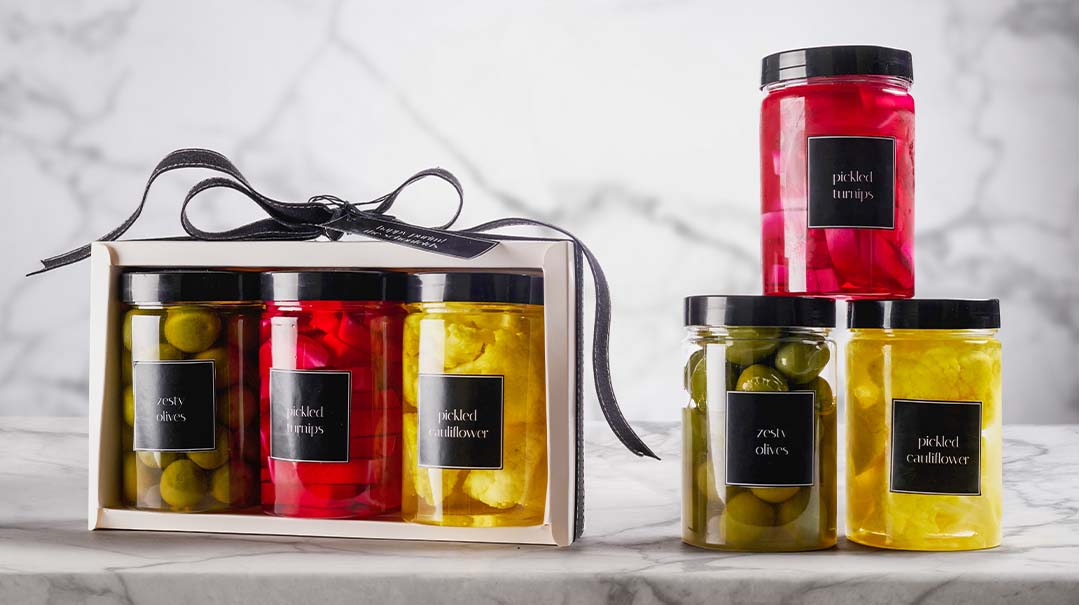 Pickled to Perfection
This mishloach manos is so pretty and healthy, and it can even be prepared in advance. Your savory-loving friends and neighbors will thank you! I made the pickled turnips and cauliflower and bought the olives.
You will need:
3 8-oz clear plastic storage favor jars (available from Amazon)
zesty olives
pickled turnips and cauliflower (recipes on the right)
7.4x4x2-inch macaron box (available from Amazon)
ribbon
tag and labels
Fill jars with olives, pickled turnips, and pickled cauliflower. Arrange inside your box. Attach ribbon and labels.
Pickled Turnips
1 beet, cut up
2 large turnips, cut into pieces
2 cloves garlic
⅔ cup vinegar
2½ Tbsp table salt
3 cups boiling water
Combine the ingredients in a large container and let sit until pickled (about two days). Once pickled, transfer to smaller containers.
Pickled Cauliflower
1 container fresh cauliflower, cut into florets
turmeric, for color
2 cloves garlic
⅔ cup vinegar
2½ Tbsp table salt
3 cups boiling water
Combine the ingredients in a large container and let sit until pickled (about two days). Once pickled, transfer to smaller containers.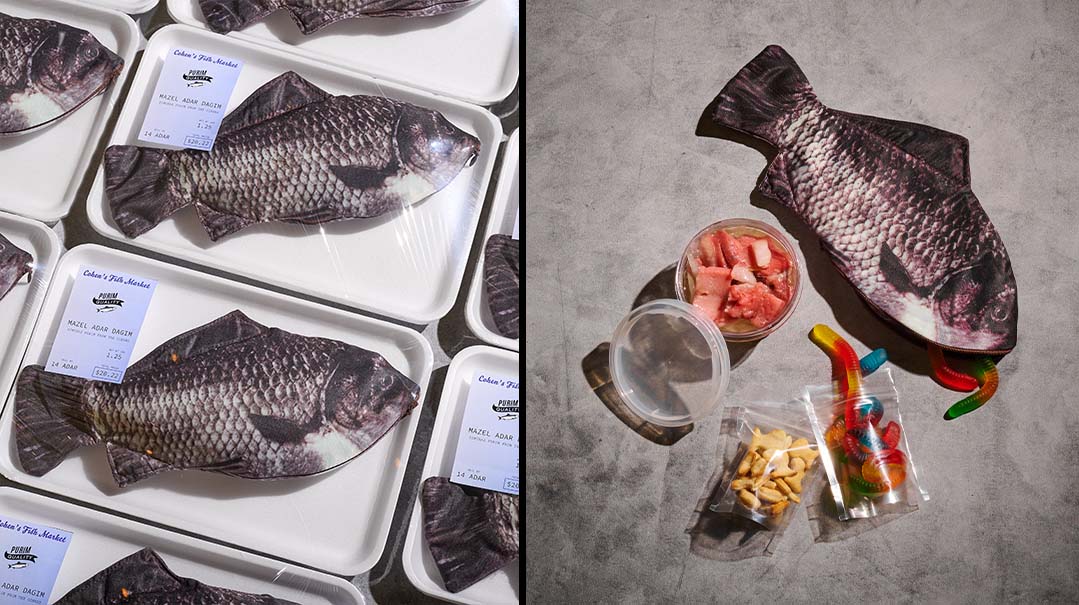 Catch of the Day!
"Reel in" some Purim fun! Don't worry, this isn't as fishy as it looks! Fill a fish-designed pencil case with some fish-themed items. I used herring, but you can "scale" back and use a tuna pouch instead. Your friends will be hooked. After all, mazal Adar dagim!
You will need:
fish-shaped pencil case (available from AliExpress — order soon so it arrives in time)
gummy worms in a mini standing pouch (available from ClearBags.com)
fish crackers in a mini standing pouch
small container of herring (make sure it's a leak-proof container!)
Styrofoam trays
plastic wrap
label
Place your gummy worms, fish crackers, and herring in the pencil case.
Arrange the pencil case on the Styrofoam tray and wrap in plastic wrap. Affix your label.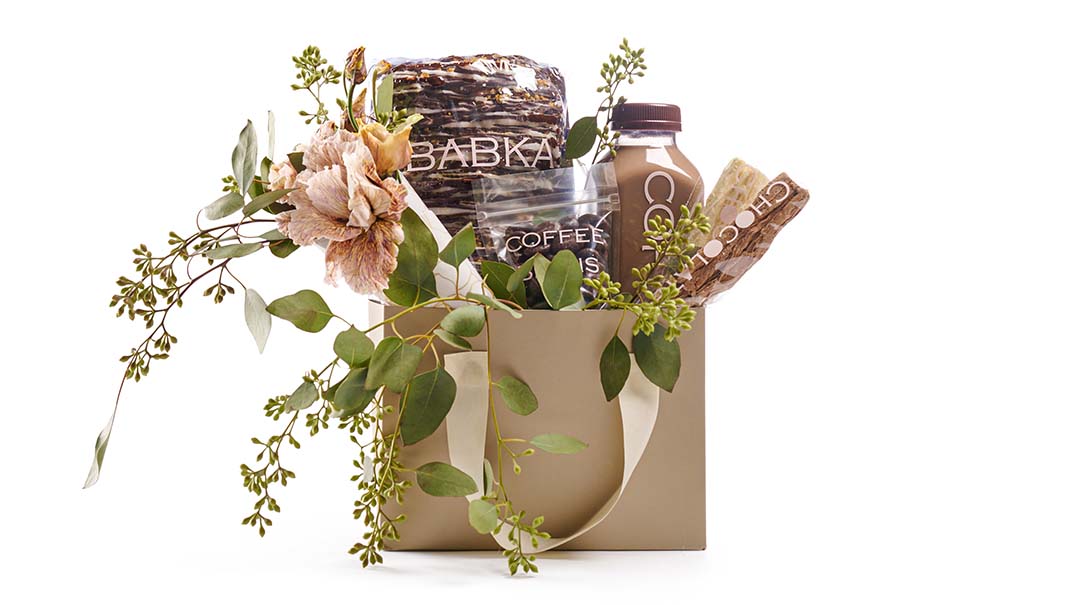 Babka and Blossoms
Shabbos morning breakfast, anyone? Pamper someone special with this sweet array of delectable treats.
You will need:
basket box (available from Nashville Wraps. I used champagne color, size small)
ribbon to make bag handles
basket filler
babka (I wrapped in shrink wrap)
bottle of iced coffee (I used Pride of the Farm)
chocolate logs in cellophane bags
chocolate coffee beans in a mini stand-up pouch
labels or letters cut out from a Cricut
flowers wrapped in scrapbook paper (you can put them into plastic flower tubes first)
Glue ribbon to either side of the box to resemble handles.
Stuff the bottom of the box with filler.
Attach labels or letters to your packaged food items and arrange inside the box, along with the flowers.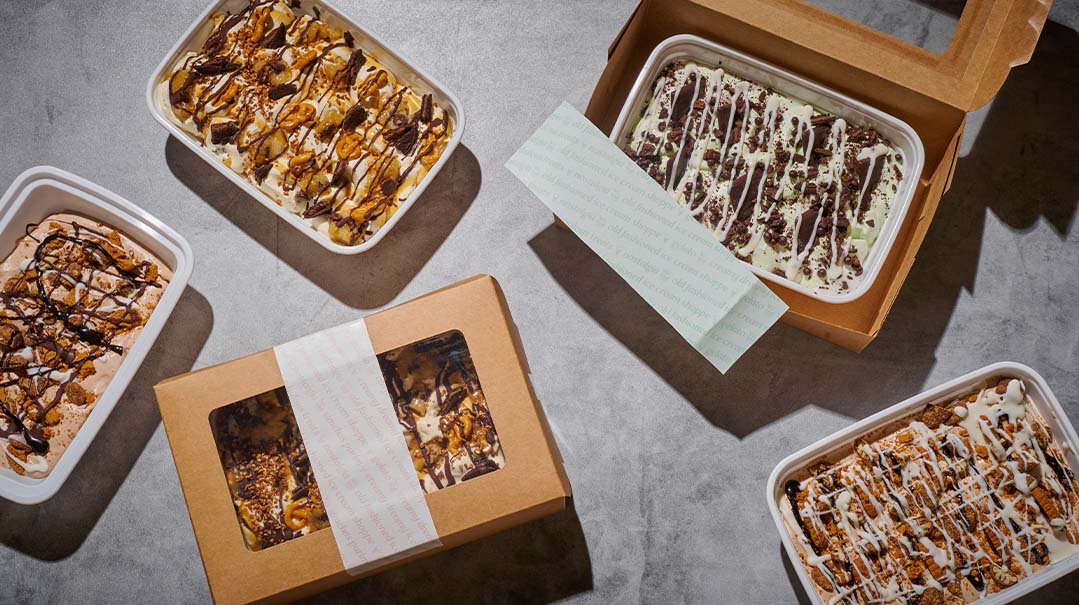 Top That Ice Cream
If you're looking to send a mishloach manos to your friend in Florida, this one is probably not the best choice! It will, however, be very well received by friends who live close by. Send any flavor ice cream, and of course add lots of toppings… It's guaranteed to be the coolest mishloach manos your friends will receive.
Working on a project together with my friend Yael from We Are Miller feels more like fun than like work. Yael is an expert at building brands, and her creativity is off the charts. Yael surprised me with this ice cream label one day after I had a casual conversation with her about some of the mishloach manos ideas featured here.
You will need:
6x8-inch microwaveable container
homemade or store-bought ice cream
ice cream toppings of your choice (see ideas to the right)
9.4x6.3x3-inch brown box with window (available from Amazon)
"ice cream shop" band
Vanilla Ice Cream Toppings
mini pretzels
cookie dough
chocolate Oreo thins
drizzled caramel sauce
candied chopped almonds
drizzled melted chocolate
Mint Ice Cream Toppings
chocolate mint thins
crushed Oreos
mini Baker's Choice chocolate balls
white chocolate drizzle
Lotus Ice Cream Toppings
Lotus cookies
Lotus pecans (available from The Nuttery)
chocolate syrup
drizzled melted chocolate
Transfer the ice cream to the microwave container. (I used homemade ice cream, because it is softer, and squeezed it into the container using a ziplock bag, snipped at the corner.) Top with toppings of your choice.
Place inside the box and affix the band.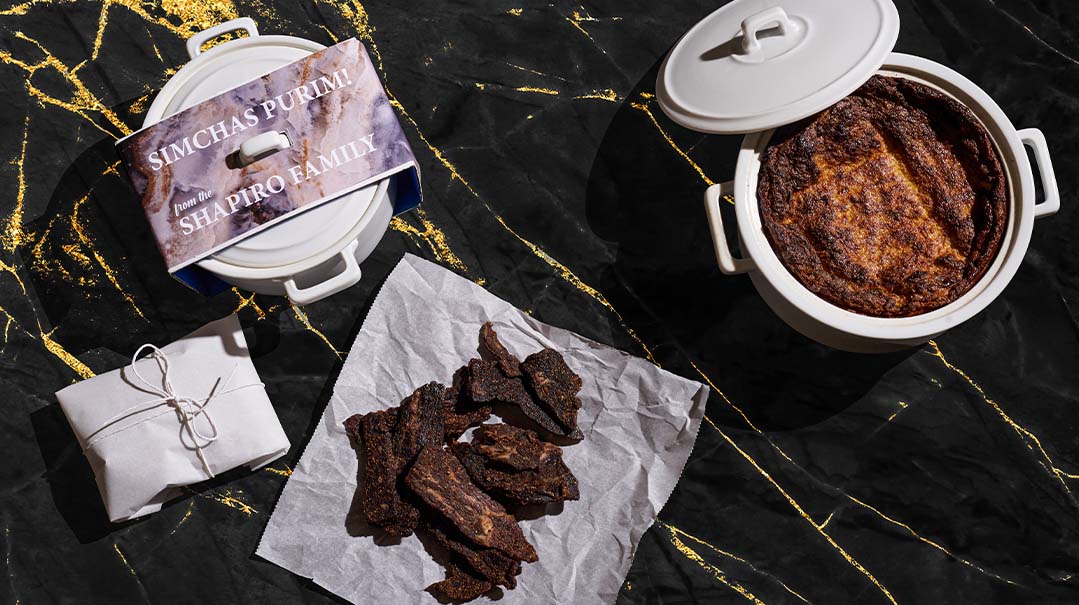 Potato Kugel Plus
Upgrade the look of this all-time favorite classic with a convenient oven-to-table dish. For a second food item, I added a small package of beef jerky.
You will need:
potato kugel baked in an oven-to-table dish, along with the cardboard band that the dish comes in (I purchased 6½-inch dishes at Amazing Savings)
beef jerky packed in parchment paper (try to keep it as flat as possible)
label
Carefully open and remove the cardboard band that the dish comes in. Turn it inside out so the plain white cardboard side is visible.
Stick the beef jerky package inside, then tape it back up.
Place the custom wrapper around the band and tape it on the bottom.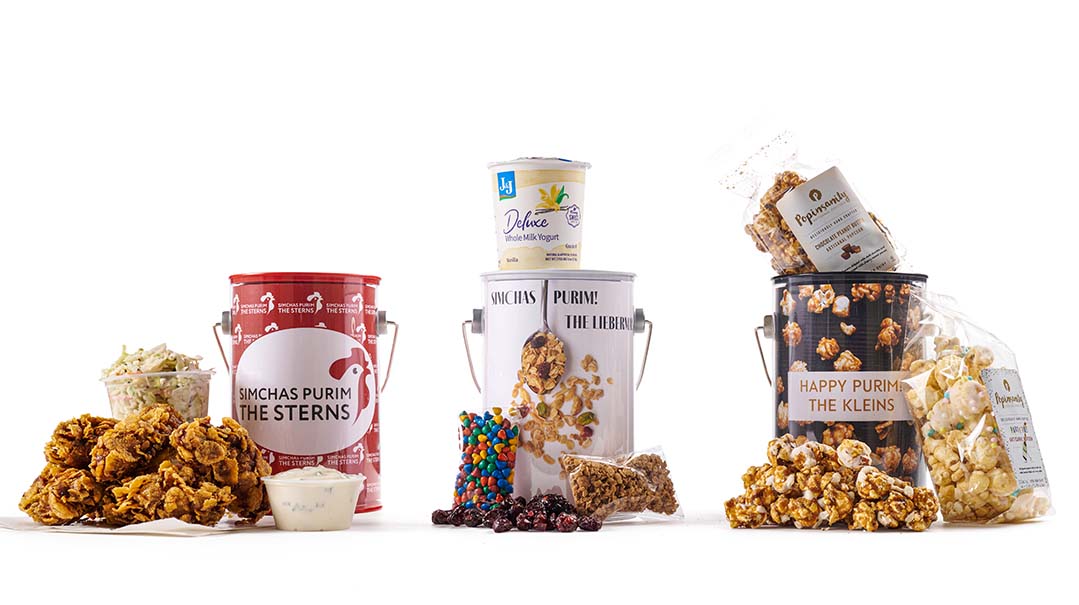 The No-Fail Pail
I love the versatility of using a pail for packaging. I used pails here to create three entirely different themes. The ideas are endless! You can design a wrapper yourself, use a professional graphic artist, or simply line the pail with pretty scrapbooking paper.
You will need:
pail (available from Oriental Trading, Amazon, Paper Mart, etc. I purchased these colored ones at Amazing Savings)
paper to line the can
For the chicken:
5–6 pieces fried chicken
small containers of dips and coleslaw
For the yogurts:
For the popcorn:
2 mini bags of popcorn (I used Popinsanity)
Line the can with paper and fill with your desired mishloach manos.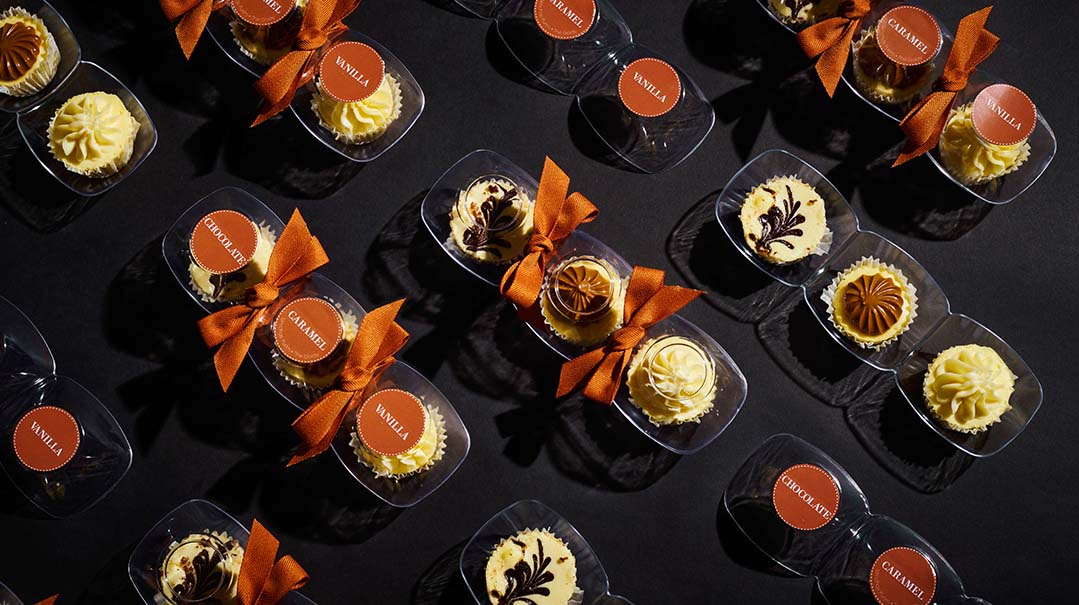 Triple the Yum!
Use mini sectional trays to create this sweet and adorable packaging. I filled the trays with mini cheesecakes, purchased at Gourmet Glatt. You can use this packaging idea in so many different ways — fill with candy, chocolates, nuts, cupcakes, or whatever strikes your fancy!
You will need:
2 MiniWare three-section trays per package
food items of your choice
ribbon
round labels
Place your food items into a three-section tray. Top with a second tray and secure with ribbon. Attach labels to the top.
(Originally featured in Family Table, Issue 781)
Oops! We could not locate your form.
>