| True Account |
The Comeback Kid
| April 1, 2020
Everything I know about Judaism, I learned in prison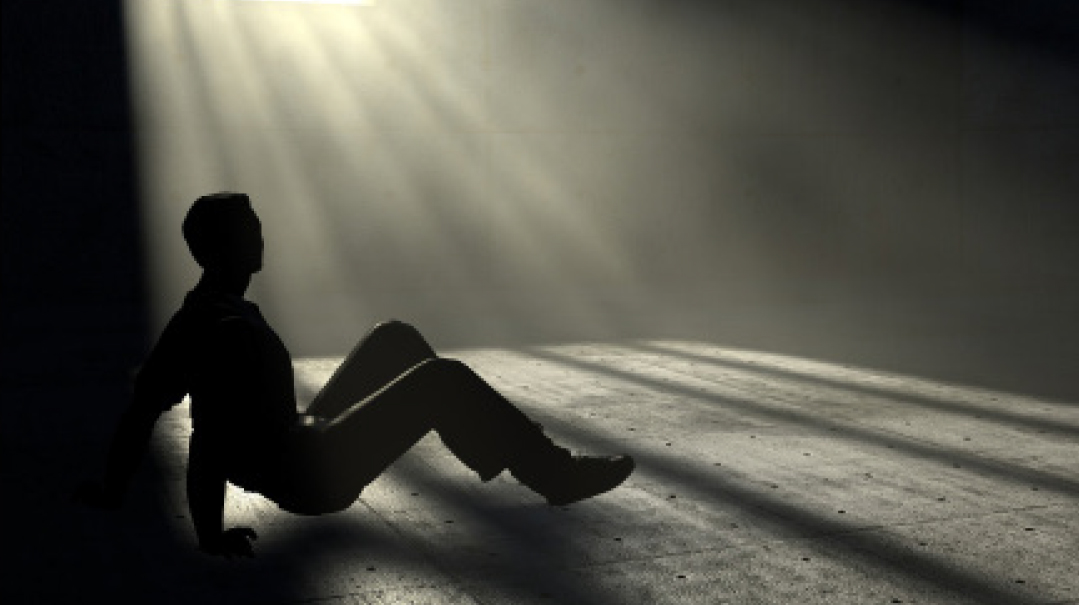 I remember sitting in my room, 13 years old, listening to my parents argue. They were fighting about my bar mitzvah again.
We lived in Las Vegas and we weren't at all religious, but my dad was Israeli-born, very spiritual, and a firm believer in Hashem. He thought a bar mitzvah was important; my mom didn't want to push me. She knew the last thing I wanted was a bar mitzvah.
This time the argument wasn't even about whether or not I would have a bar mitzvah. It was about why it was even a question.
The door flew open and my dad appeared. "Shawn," he demanded, "You want a bar mitzvah, right?"
"I guess," I stammered.
The fact that I didn't care hurt him deeply. "What do you mean, 'I guess'?" he retorted. "It's very important that you have a bar mitzvah! We're Jewish!"
I knew I was Jewish, but I wasn't proud of it. I saw the Jewish kids around, and I was embarrassed to be associated with them.
With the help of a Chabad rabbi nearby, I had a quick bar mitzvah ceremony one morning. Then I went to school, as if nothing had happened. Because to me, nothing had.
*****
My life was about sports —football in particular. In eighth grade I played on a little league football team. Everyone knew me and noticed me. We never lost a game.
The coach of one of the opposing teams was Randall Cunningham. He was six feet five inches, a tall, athletic African American with a pleasant smile. He had played professional football. "You're good, Balva," he told me once. He knew I was Jewish. I remember the smirk on his face as he said, "You're the Chosen One."
I started training with him that summer. He pushed me very hard, preparing me for what it would take to go pro. I worked harder than I ever had in my life, and it was exhilarating.
When it was time to choose a high school, my one criteria was that it be the school that would give me the best chance to become a professional football player. Turned out, that school was Bishop Gorman High School, a Catholic private school. My dad refused to consider such a thing, and he and mom argued bitterly about it. But I wanted to go there because I wanted to go pro, and so that's where I went.
At Bishop Gorman, I had to wear a uniform. The uniform was printed with a cross, and I also had to attend church services and a class on Catholicism every week. By a miracle, which I certainly didn't appreciate at the time, none of this influenced me. I still felt my Jewish identity strongly — although it was a source of anguish, not pride.
That inner anguish eventually led me on a path of self-destruction. But even that was orchestrated by Hashem to bring me back to my true identity.
*****
After one year in Bishop Gorman, I switched to Faith Lutheran High School. Again, I chose it because it would give me a chance to play football professionally. Here too, I wore a uniform with a cross, went to services, and attended classes on Christianity. Here too, I felt different.
In my junior year, everything changed: At a party, I drank for the first time. Pretty quickly, I became addicted — first to alcohol, then to drugs. Where my life had once been all about football, now it was all about my next fix.
Both my mom and my coaches knew I was using. "Shawn," the head coach warned me, "you know we do random drug testing. If you get caught, you're off the team."
I ignored the warning. "There's nothing to worry about," I told him.
In my senior year I was caught drinking and was suspended from playing for two games. When my suspension was up, I decided to quit drinking and drugs forever. I would throw all my energy and effort into football. I felt great about the decision. I was practicing hard and didn't even miss the high I got from using. I really believed it was all behind me.
For some inexplicable reason, it occurred to me to pray. "G-d," I said, "please let me have a good season, and I'll stay away from drugs." For two weeks I kept my commitment, and I played unbelievably well. My stats soared, and if I kept this up, I'd definitely have had the opportunity to go pro.
But one Thursday, the day before a big game, I smoked marijuana. No big deal, I thought. They wouldn't do drug tests on a Friday.
But they did. And they selected me.
That night I had the worst game of the season. All I could think about was the drug test earlier that day. If I came up positive, I'd be kicked off the team.
I had a special relationship with my coach, and he saw that something was wrong. "Balva," he said sternly, "are you using?"
I could barely muster a reply. "I got tested today," I said. He knew what that meant.
A couple days later I was called to the dean's office. He didn't mince words. "You failed the drug test, Balva," he said. "This is your second suspension."
I swallowed hard as he looked directly at me. "Your football career here is over."
*****
My downward spiral spawned a spiritual awakening in my mother. She started attending Friday night services, lighting Shabbos candles, and serving a Friday night dinner. She always invited me to participate, but I always told her I was busy. I was busy — doing things she didn't want me to be doing with people she didn't want me to be spending time with.
"Just sit with us while I light the candles," she'd beg me. And then, unable to restrain herself, she'd add, "I'm worried about you! If you keep hanging around with that crowd, you're going to end up in serious trouble."
I didn't want to hear it. "Don't worry," I told her impatiently, "just light the candles already, I need to go."
She handed me a kippah, I put it on begrudgingly. "Are we done yet?"
My mother would sigh. "You can go," she'd say. But she wasn't done fighting. After I left, she sat by the candles for a long time, pouring out her heart to Hashem. How much power is there in a loving mother sitting by the Shabbos candles and praying for her lost son?
My own choices deteriorated. When I graduated high school, I didn't get a job, stopped playing football, kept doing drugs. I started to steal to support my habit, got some tattoos, carried a gun at all times, turned into a real criminal. I was arrested for driving under the influence, which should have been a wake-up call, but I was totally out of control.
My mother was desperate. "I can't take this anymore," she told me. "You're high all the time, I see the friends you're hanging out with. I feel like I lost my son."
"Don't worry so much, Mom!"
"I am worried!" She stared at me, breathing heavily. "You continue like this, you're going to end up dead or in jail!"
But nothing she said made any difference to me.
*****
On August 25, 2015, I was arrested for armed robbery. I was taken to the Las Vegas county jail, booked, and processed. I was devastated. Jail was horrible. It was dirty and filled with actual criminals (I didn't think I was a "real" criminal). I didn't feel like I belonged there.
When I finally detoxed after a few days in jail, I felt that sense of being "different" again. I remembered that I was a Jew. I started to pray to Hashem to get me out of this nightmare. When my mom and dad came to visit me, I could barely hold back my tears. "Get me out of here," I begged.
"Shawn," my mom said, "we're working hard for you out here. Be patient. Stay strong. Whatever happens, I picture you living a beautiful Jewish life when this is all over."
Inexplicably, I believed her. It was like her words went straight into my soul, to a place deeper than my worry and fear.
My parents suggested that I sign up for kosher meals. A rabbi who worked at the prison came to my unit and asked me questions to verify that I was Jewish. The next day, I started to eat kosher. Everybody else's food trays were brown and mine was red. At first, I was afraid to be different from everyone else, but to my surprise, no one bothered me. In fact, the guys in the unit nicknamed me "Kosher." I realized that if you stay true to yourself with confidence, you are given respect.
After two weeks in jail, the judge agreed to let me out on bail, something very unusual for an armed-robbery charge. While my release was being processed, I walked past a tough-looking, Latino individual with tattoos all over his face and body.
"You goin' home?" he said.
I told him I was.
"G-d bless you," he said.
To me, it was a message. I left that day with a newfound belief in Hashem.
During the five months I spent in a federal jail in Las Vegas, I spent a lot of time thinking. I was determined to change and live a better life. When I pictured what a normal, drug-free life would look like, the picture included Judaism. I think that was because my dad had drilled into me that I was a Jew.
So as strange as it sounds, it was there in jail that I first developed an interest in Judaism.
I wasn't eating kosher or observing Shabbos, but I wanted to know a little bit more of what it meant to be a Jew. I started receiving the Aleph Prison Liberator magazines. In the magazines, it talked about the prayers we needed to say on the holidays and on food. It talked about the Torah and had commentary on it. There was a lot of interesting content in the magazines. The only problem was, I had no idea what it was talking about. I read about saying Shema in the morning and night, but I had no idea what that meant.
Before each fast day, there was a note about what time the fast started and ended. Finally, I thought, something I can do. That's how it happened that the first mitzvah I started to keep was… fasting.
But I really had no idea what I was doing. At the end of Yom Kippur, I broke my fast on pork and cheese. This white guy with a swastika tattooed on the back of his head came up to me and said, "I don't understand you Jews, you fast and pray, and then eat non-kosher. You're a hypocrite!"
I just laughed and continued eating. But I took it to heart — I needed to make real change. I just had no idea yet what that change entailed.
*****
I was sentenced to eight years and one day in prison. At 21 years old, I would be going to Victorville Prison in California, a very tough and dangerous prison. No place for a Jew.
On my first Saturday morning in Victorville, I was called to the chapel for Shabbos services. When I opened the door, I saw an African-American man wrapped in a tallis and humbly praying.
I introduced myself — "Shabbat shalom, I'm Shawn."
"My name is Adir," he said.
I could see that Adir wasn't really happy to meet me. In prison, most people who show up at the chapel aren't sincere — they're just there for the grape juice and food.
"I've been in prison 22 years," Adir informed me. "I was given a 56-year sentence when I was 18 years old. I've been practicing Judaism for the past 14 years."
I was speechless. Fifty-six years!
"Time goes by very slowly here," Adir said. "The food is terrible, too. Speak to the chaplain to get set up with kosher meals. Do you have tefillin?"
I stared at Adir — the tall, sad, black man draped in a tallis. "I don't have tefillin," I said.
"Okay," Adir replied. "You can use mine."
Adir means mighty. It was a fitting name. He even had it tattooed under his eye (to hide a gang tattoo, I later discovered). He wasn't halachically Jewish, but there was nothing he desired more than a kosher conversion. Adir reminded me of the gangster rappers I had been obsessed with as a teenager, but he put on tefillin, ate kosher, and kept Shabbos. Adir was able to accomplish what the Chabad rabbi of my bar mitzvah could not. I looked up to Adir, I thought he was cool. By extension, for the first time in my life, Judaism seemed cool to me. I felt reassured, like I could be a good Jew while still being "me."
Adir taught me the alef-bais. There in Victorville prison, he gave me the foundation for everything.
*****
In Victorville, I was allowed visitors. The visiting room was large and dim, and tension roiled across the room. The inmates wore mean looks, and it was better to look ahead than make eye contact. The cops there were strict, ready to pounce and punish you for any rule you might be breaking. Chairs were set up in rows, with an officer's desk in the center. There were no windows.
But over in the corner, I spotted a light. A bright smile, arms wide, waiting to give me a hug. My mom! The hug from a mother to her son in prison can crush you. (Luckily, I work out.) When my mom was there, I could talk and relax. None of my surroundings mattered.
My mom was proud of my interest in Judaism. "You know, Shawn," she said, "you should ask to be transferred to Otisville, in New York." Otisville had a full-time rabbi as the head chaplain and a minyan every day. "There's this guy there by the name of Rabbi Rubashkin," she told me. "He'll take you under his wing and teach you how to be a proper Jew."
As crazy as it sounds, I didn't want to transfer. I was comfortable in Victorville. I knew what to expect. Otisville was far away. It was cold in New York. Even though I was in prison, I was facing the same conflict as every Jew — to grow and develop, you need to leave your comfort zone.
Victorville was a dangerous prison. In the end, that tipped the scales for me. I told my mom that we should try to get me transferred. Every day, during Shacharis, Minchah, and Maariv, I prayed with great kavanah that Hashem should send me to Otisville so that I could learn how to live like a Jew.
My intent was pure and Hashem answered my prayers. A few weeks later, I was transferred to Otisville.
*****
When I met Rabbi Rubashkin, I was starstruck. The aura that radiated around him made you forget you were in prison. He had an amazing smile that made you feel good. He brought me to his room and I put on tefillin and said Shema. A cell is small and depressing, but I felt the spirituality in his room, which was full of seforim and pictures of his rebbe. I felt at home.
Everyone was drawn to Rabbi Rubashkin and wanted to be around him. "We can be released at any moment," he would say, and he would argue with anyone who denied it. He taught me that it's always about Hashem — whatever is happening in the news, whatever is happening in prison, Hashem is in control and things are the way they are because Hashem wants them that way.
In Otisville, I started to wear a yarmulke and tzitzis at all times. I ate only kosher and kept Shabbos. I learned more about the proper way to pray. But what I really wanted was to learn Torah. I considered asking Rabbi Rubashkin to teach me… but he was so busy. He was always writing on the computer and constantly praying or learning. I decided not to ask.
But then Rabbi Rubashkin said to me, "We live in the same unit, we should learn something together." I was ecstatic.
We started to learn Chumash with Rashi and Rambam. "Let your learning come on its own," he counseled me. "Don't push too much. It will come naturally."
I learned with Rabbi Rubashkin every day for three months until President Trump commuted his sentence. Rabbi Rubashkin taught me Torah, and he taught me how to conduct myself as a Jew. I'll always remember his constant, unwavering assertion that at any moment, we could be freed.
At any moment, our personal salvation can come. At any moment, Mashiach can arrive.
When I look at where I came from, I feel an enormous sense of gratitude. Hashem saved me from the Catholics and the drug addicts, the confusion and the disappointments, and gifted me with the understanding that Torah is life. He sent my dad, who instilled within me my Jewish identity, and my mom, who never stopped supporting me and praying for me. He sent me signs of His presence at every step, and people to guide me. I'm far from perfect. But now I know what the goal is.
Here in prison, I learned the Rashi in Beshalach (15:17) where Rashi explains that in the future, Hashem will have supreme sovereignty. It's not that Hashem doesn't have sovereignty always — it's just that the world is largely unaware of it.
I'm still in prison, but now I live with that awareness. And together with all of Klal Yisrael, I await the day when Hashem will reign sovereign over the entire world.
(Originally featured in Mishpacha, Issue 805)
Oops! We could not locate your form.
>