| Real Life |
Team Twin Swims the Kinneret | June 13, 2018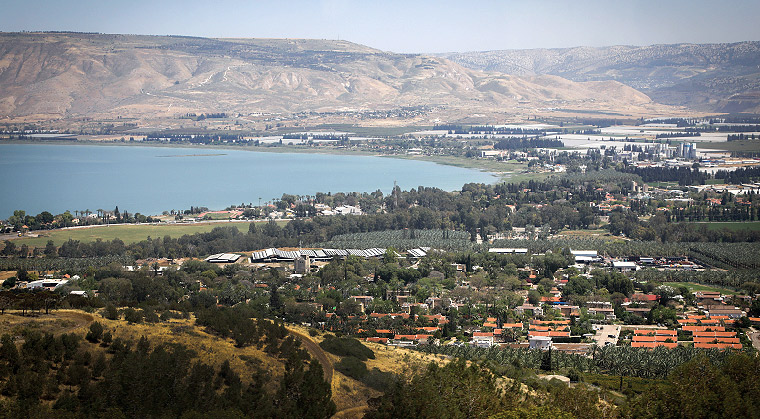 T
here are two kinds of swimmers in your typical swimming pool: lappers and yappers.
Lappers are serious swimmers, moving quickly through the lane, stroke by stroke, occasionally glancing at the pool clock to check their speed. Crawl, butterfly, freestyle, they switch strokes often, leaving a slight ripple and admiring onlookers in their wake.
And then there are the yappers. Swim a length, stop to talk to a friend and admire the beautiful weather. Another length, stop to discuss what to cook for Shabbos. Another length, another conversation….
For many years, we twins were counted among the yappers. Current events, recipes, philosophical discussions deeper than the pool's deep end, conversations about fashions slightly more shallow…. We came for the swimming, but mostly we talked.
Yappers.

Until recently when somehow, against all our expectations, we morphed into lappers. More: We became lappers with a goal — to swim across Eretz Yisrael's beautiful Kinneret.
In today's share-everything-you-do-with-the-whole-world atmosphere, no challenge is complete unless you've posted your adventures so others can come along for the virtual ride. Writing up our experiences on a blog — a word minted two decades ago, short for "web log" — didn't fit into our schedules or worldview.
Instead, we coined a new term and a new concept: We'd share our "slog" — a "swimming log" — with our Family First friends, not the whole "blogosphere." It seemed a particularly appropriate word; Merriam-Webster defines "slog" as a verb meaning to plod (one's way) perseveringly, especially against difficulty.
So who are we sloggers? Readers know us as two-thirds of the SisterSchmooze column. Our families and friends know us as a pair of identical twin grandmothers who last participated together in a sports event decades ago during camp color war. (It was a three-legged race. We lost.)
Join Team Twin as we slog our way on a chlorinated journey to the 9th Annual Sadna Women's Swim-a-Thon, a swimming challenge created for frum women to raise money for a special-needs community.
We'll be swimming in crowded lap lanes as we practice in our local pools, readying ourselves for the stunning aqua waters of the Kinneret. And we'll be swimming through other things as well. Our self-image. Our doubts. Our self-talk, telling us this isn't who we are or what we can do.
We'll be slogging through our fears and our hopes, our failures — and our splashing successes.
Beginnings
The journey starts in the muddy waters of the Latorica, a river flowing through the Carpathian Mountains. Part of its 188 kilometer route took it through the thriving city of Munkacs, where our mother a"h and her family lived before the Shoah.
It was in the Latorica that Mommy first learned to swim. The pious women of Munkacs would find a private spot and bathe in the river. Mommy learned her breast stroke there, and she learned, also, to savor the rhythm of the river's green-brown waters.
Two decades later, in a new continent and a new life, Mommy and Daddy brought us, their little American children, to the exhilarating waters of the Atlantic Ocean.  (Excerpted from Family First, Issue 596)
Oops! We could not locate your form.
>