| True Account |
Salvation | July 27, 2021
There were injured and dead all around us. How is it that we just walked away?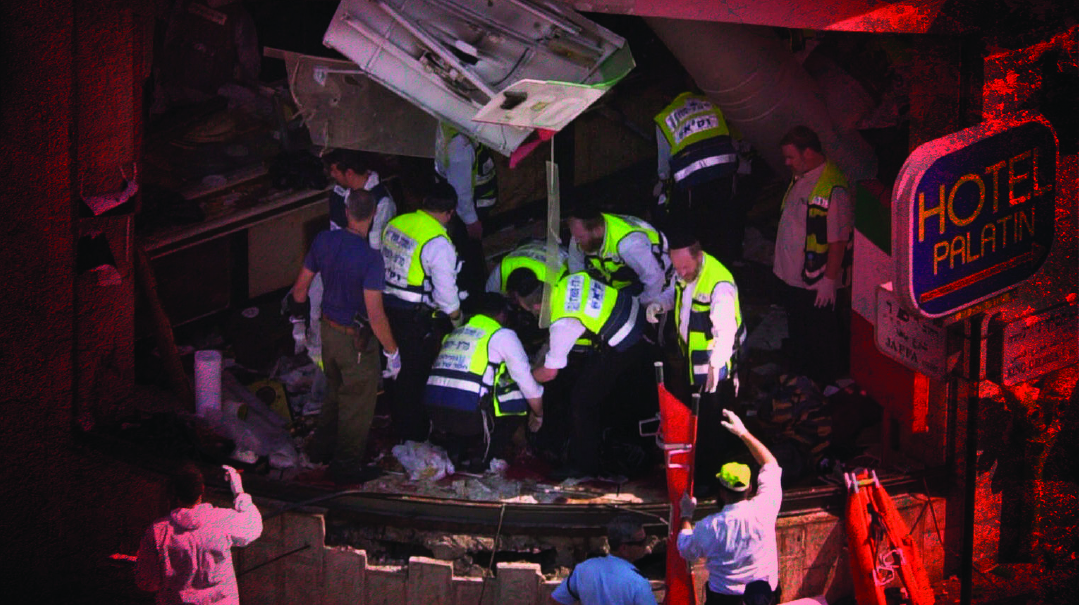 As a born and bred Baltimorean, I deeply appreciated the fact that my chassan, too, grew up in my hometown. It made connecting that much easier, not to mention the logistics of dates, the vort, and shopping. But my father, who lives in Eretz Yisrael with his second wife, was feeling a bit left out. "Tsiona, why don't you and Yaakov come visit? There's nothing like exploring Eretz Yisrael with the person you plan to spend your life with, and we'll make you another l'chayim here."
He was quite persuasive, plus it was a paid trip to Eretz Yisrael. How could we say no?
And so, after receiving instructions from our rav — not to spend too much time alone together and that Yaakov should keep a steady morning seder — we were off. We arrived Tuesday evening, slept off the jetlag, and spent Wednesday catching up with friends and family. Yaakov made sure to stick to his seder, my father enthusiastically approved of my choice in chassanim, and it seemed to me that life couldn't get better. By the time Thursday rolled around, we were overdue for a trip to the Kosel Hamaaravi.
Yaakov headed off to learn, I went to meet a friend by the Bell Tower on Rechov Yaffo, and we made up to meet afterward at the corner of King George and Yaffo to catch a bus to the Old City.
It was the summer of 2001, and the Second Intifada was in full swing, but we were too high on life to tap into the fear. As I hugged my friend goodbye after our coffee date, I remarked, "I know they say it's a war zone here, but I really don't feel it."
Yaakov was waiting for me at the corner and after inquiring about my morning, he said, as thousands of yeshivah bochurim have before him, that he would love a falafel. But since we were standing in front of a pizza store, he would practice mesirus nefesh and instead settle for some pizza. We entered Sbarro's pizzeria, ordered, and went up the back stairs to the dimly lit eating area. It was around 1:30 pm. I went downstairs to give the teenage boy behind the counter a shekel to use the restroom, went back upstairs to do so, and then sat down again with Yaakov. A man came to our table to ask for tzedakah, we handed him a few shekels and continued murmuring in that excited, comfortable way of chassan and kallah.
And then we were thrown forward in our seats with a tremendous, ear-splitting BOOM.
My first coherent thought afterward was, "I must be dead." After several seconds in which I realized I was, in fact, alive, I looked around frantically for Yaakov. He was sitting there, dazed, so I screeched, "Get under the table and say Tehillim!"
(We later discovered that we had both fervently said the same perek at that terrifying moment: Kuf Chaf Alef, "Me'ayin yavo ezri? From where shall my salvation come?" It would become a theme in our lives.)
When there were no further booms, we crawled out and stood up. There were several other customers in that back room, all shaken and unsteadily rising to their feet. One sabra stood on a chair and shouted for everyone to remain calm. We then moved together toward where the stairs had been, but they were half blown away. We helped each other drop down to the ground below, trying to get a footing; the floor was littered with giant boards and broken glass. We understood, in the back of our dazed minds, that under those boards lay the victims who didn't get out, but we stepped on them anyway because we needed to get out of there, and fast. Later, when I saw the smiling faces in the newspaper of those killed, I remembered seeing them in line in front of me, ordering pizza, laughing, living.
Shrapnel and debris were flung across our path, but we pushed our way across what used to be the restaurant until we were out in the fresh air. The Jerusalem sun hurt our eyes and the smell… until now, twenty years later, that smell is seared into my memory.
Not sure what one does after walking out of a terrorist bomb site alive, we stood around until it occurred to me that a smart terrorist might decide to detonate a second bomb in order to maim all the first responders, so I told Yaakov we had to get out of there right away. We stumbled our way up Rechov Strauss, past Bikur Cholim Hospital, and then flagged down a cab.
"We were in the bomb," we told him robotically, like two zombies.
"Me too, I was right there," he tsked back.
"Oh. No, we were actually in the bomb," we said, still in a daze.
"Mah pitom!! Are you alright? Where can I take you?"
We asked him if we could use his cellphone, as ours were no longer working. I called my father. "Abba, we're okay, but we were right there inside Sbarro when the bomb went off." By now all of Jerusalem had heard about what had occurred. "We don't know what to do, should we go to the Kotel or come home?"
My father, obviously stunned, said we should just come to his house so he could take care of us.
We gave the cab driver his address and drove in numb silence. Then his cellphone rang; it was my father and he was crying. "Tsiona, were you actually in the bomb?"
"Yes, Abba, that's what I told you."
My father was choking. "I didn't understand!"
The explosion that his daughter and future son-in-law had walked out of virtually unscathed had killed 15 people and wounded 130. Seven of those fifteen were children, along with one expecting woman. Witnesses described seeing babies fly through windows and bodies lying on the ground. Seven Palestinian terrorists were involved in the attack, including Izz Al-Din Shuheil al-Masri, who carried out the bombing, and Ahlam Tamimi, who scouted out the target. Al-Masri walked into the restaurant shortly before 2 p.m., concealing the explosives in a guitar case. A few minutes later, he blew himself up, sending explosives packed with nails and bolts into the bodies of men, women and children eating lunch on a summer vacation day in Jerusalem.
Both Hamas and the Islamic Jihad claimed responsibility for the horrific attack.
We arrived at my father's apartment, got ourselves cleaned up, and once we were calmer, someone suggested we go to Terem's Urgent Care.
Terem cleared us, assured us that the ringing in our ears did not foretell permanent damage and would eventually stop, and once again we headed for my father's apartment.
Yaakov's shoes were covered in something red; the rav later told us we needed to bury whatever it was.
Again and again we reviewed the Hashgachah that led to our being in the back when the bomb went off; I could've been giving the man a shekel for the restroom at the time of the explosion, we could've met five minutes later and still been in line ordering, and of course, the tezedakah we had given the man just moments before surely had been a zechus.
There was also the fact that the pizzeria's owner had decided to install extra structural pillars just weeks before the bombing. Otherwise, the death toll would have been significantly higher, and we might have been part of it.
We spent the next day sitting on the couch listening to the radio. Every station provided coverage of the previous day's horrific events. And we sat there, eyes glazed over, listening to the facts as if they had happened to someone else, someone far away. We were dissociated from it all. Still, I refused to leave the apartment for the next day or two until my father forced me outside, out of concern for my emotional wellbeing. "Israelis get up, they move on," he said grimly.
"But I'm not Israeli," I said weakly. I went out anyway. I rode the bus, but closed my eyes when it bounced down Yaffo Street.
We remained in Eretz Yisrael for as long as we had planned and then returned to the United States to our distraught mothers. "See. We really are alive," we said to them in the airport.
We underwent trauma therapy, we comforted each other, we cried. We grew closer than most engaged couples; our experience bonded us in a special way.
A few months later, we once again found ourselves huddled around radios and workplace televisions as we watched, open mouthed in horror, as an airplane crashed into the Twin Towers. I felt distinct deja vu, but I also felt numb, as if the deja vu was misplaced, and someone else had been in Israel, crouched under a table as terrorists blew up a pizza parlor.
Enrolling in social work school had always been the plan, but now I knew I needed to use those resources to help me get to the core of dealing with my own lingering trauma.
We planned our chasunah, healed as best we could, and in true Israeli fashion, we moved on.
Rabbi Dovid Orlofsky met with us and told us, "Hashem must have great plans for you as a couple."
And that was the greatest comfort of all.
Now, twenty years after the horrific bombing that took the lives of fifteen beautiful neshamos, I'm still looking back. And still, nothing stands out as, "Oh, that must be the reason we survived that day" except, maybe, all of it? Twenty years of seudos hodaah, twenty years of praising G-d's name, of thanking Him, of trying to emulate Him in the home Yaakov and I have built together.
Every year we tell the story over at the seudas hodaah we were given a psak to make annually. Every year we try to show a different angle, tell a different part. Sometimes we ask for donations to the foundations created in the victims' memories, one year we divided Sefer Tehillim among the seudah participants, another year we sent money to the family of Chana Nachenberg, who was 31 and the mother of a baby girl when she was critically injured in the attack. She remains in a vegetative state until today.
And every year, our one goal is to make it abundantly clear from where our salvation came.
A little while ago, I took my daughter to Eretz Yisrael to celebrate her bas mitzvah. I planned an itinerary flush with both spiritual and touristy destinations — the big, beautiful Neeman bakery that now stands on the corner of Yaffo and King George was both. "This is it," I told her. "Right here is where Abba and I were saved.'' We bought drinks and we stood there together, overwhelmed with gratitude, reviewing once again the incredible Hashgachah that had led us away from death.
Baruch Atah Hashem… she'asah li neis bamakom hazeh.
(Originally featured in Mishpacha, Issue 871)
Oops! We could not locate your form.
>