| Recipes |
Sweet-and-Sour Glazed Eggplant Rollups
| September 12, 2023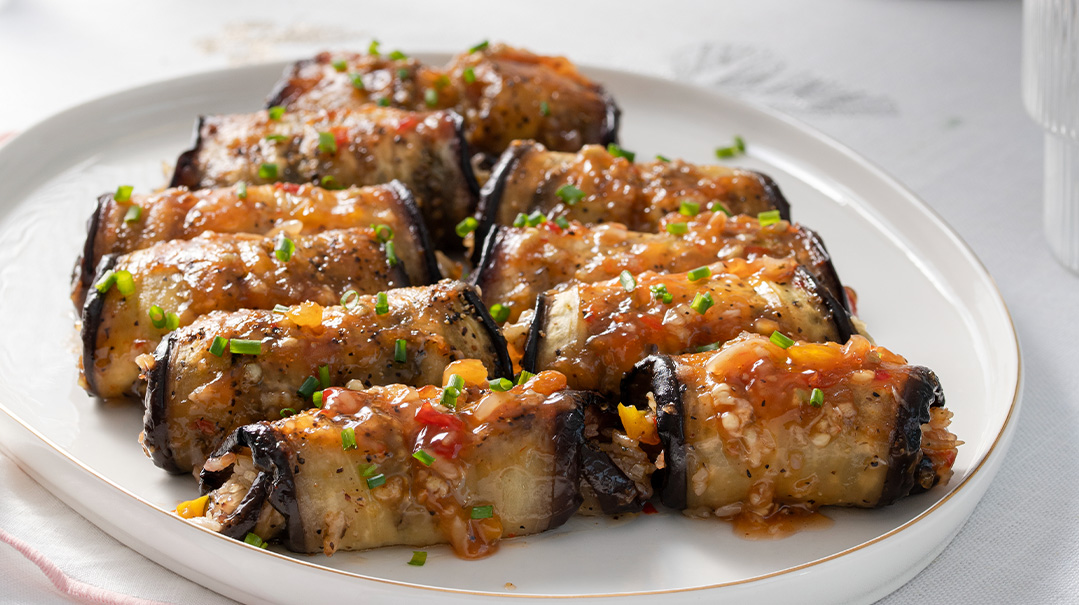 Styling and Photography by Devorah Applegrad
Food Prep by Leah Hamaoui
This elegant side dish can potentially be two dishes if you take the extra rice and serve it at a different meal. Trust me — no one except you and I will know it made a previous appearance.
YIELDS 12 EGGPLANT ROLLUPS
1 eggplant, washed
kosher salt (for sprinkling and seasoning)
1 cup basmati rice
2 cups water
1 packet Lipton ranch seasoning and soup mix (if unavailable, use 1½–2 Tbsp mushroom soup mix + 1½–2 Tbsp onion soup mix, or 3 Tbsp onion soup mix)
2 Tbsp olive oil, plus more for spraying
1 red onion, diced
1 yellow pepper, diced
1 red pepper, diced
pepper, to taste
Sweet-and-Sour Glaze
½ cup duck sauce
6 cloves garlic, crushed
1 tsp ground ginger
¼ cup sweet chili sauce
2 Tbsp rice vinegar
2 Tbsp ketchup
Trim top and bottom of the eggplant. Cut into ¼-inch (0.6-cm) slices lengthwise.
Place eggplant slices into a colander (I used two). Sprinkle the slices with kosher salt. Allow to sit and sweat (this removes the bitter taste).
Meanwhile, in a 2-quart pot, bring the rice, water, and seasoning packet to a boil. Lower heat and simmer for 15 minutes. Remove from heat and fluff after 5 minutes.
In a small pot, heat 2 Tbsp olive oil over medium heat. Add in the diced red onion and sauté for 10 minutes. Add diced peppers; season with kosher salt and pepper. Sauté for an additional 3 minutes. Remove from heat and mix sautéed vegetables into the rice. Set aside.
Preheat oven to 400°F (200°C). Set the oven rack in the center of the oven.
Line a baking sheet with Palisades Parchment Paper and spray with cooking spray. Wipe each slice of eggplant dry with a paper towel, then lay them on the parchment paper. Generously spray each piece of eggplant with olive oil and sprinkle with kosher salt and pepper.
Bake for 10 minutes. Turn over and bake for an additional 5 minutes. (Alternatively, you can heat a grill pan on medium-high heat and grill each slice for 2 minutes per side.) Allow eggplant slices to cool slightly.
In a small bowl, place glaze ingredients. Whisk until combined.
When eggplant is cool enough to handle, place one tablespoon of rice mixture at the bottom of an eggplant slice. Roll it up tightly and place it seam side down in a 9x13-inch (23x33-cm) baking pan. Repeat with all remaining eggplant slices.
Reduce oven temperature to 350°F (175°C).
Pour glaze over the eggplant rollups. Bake for 20–30 minutes. Serve warm.
(Originally featured in Family Table, Issue 860)
Oops! We could not locate your form.
>