| Recipes |
Sunny Lemon Cake
| July 20, 2021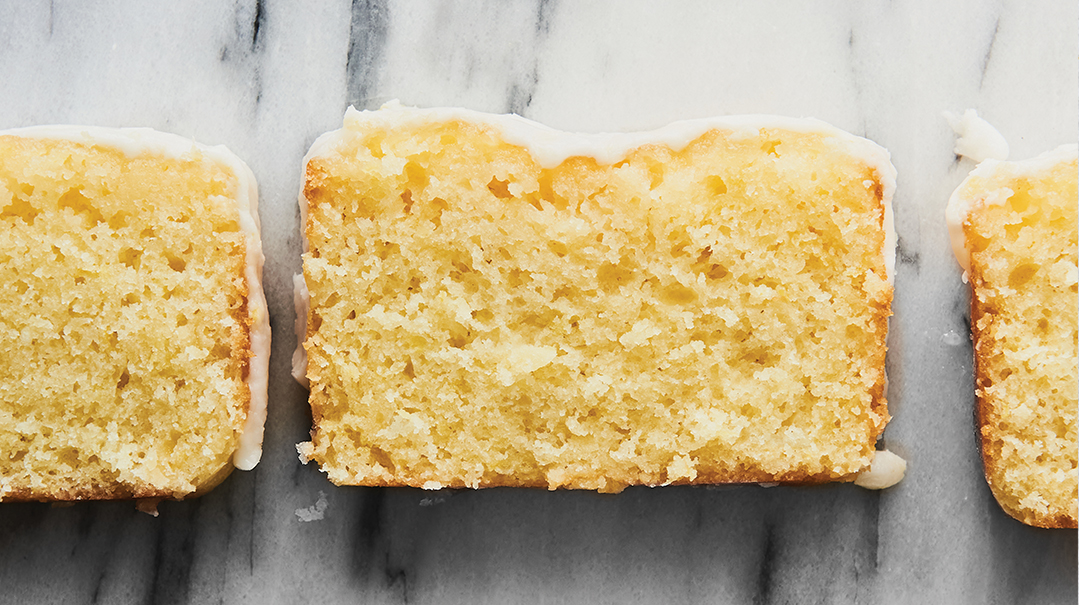 Recipes and photography from Good Food, by Sina Mizrahi
Courtesy of ArtScroll/Mesorah Publications
I love everything lemons offer — their mouth-puckering, muted acidity makes everything brighter. In this cake, the lemon flavor pokes through vividly: tart and sweet at the same time. There are three components here: the cake batter, the syrup, and the glaze. They are all essential, you can skip none. Whether it's cold or warm, this loaf offers sunshine in every bite. And that's basically happiness.
MAKES 1 LOAF CAKE
Cake
1 cup (200 g) sugar
2 Tbsp lemon zest (from 2 lemons)
½ cup oil
2 large eggs
2 Tbsp lemon juice
⅓ cup water
1½ cups (188 g) sifted all-purpose flour
1 tsp (5 g) baking powder
¼ tsp (1.2 g) baking soda
¼ tsp salt
Syrup
2 Tbsp (25 g) sugar
⅓ cup lemon juice
Glaze
1 cup powdered sugar
1 Tbsp lemon juice
½ tsp lemon zest
pinch sea salt
Adjust oven rack to the middle; heat oven to 350°F. Line a 9x5-inch loaf pan with parchment paper, allowing the paper to hang off the sides. Clip the paper down so it won't budge.
Prepare the cake: In a large bowl, rub sugar with zest to release the oils and flavor. Stir in oil; add eggs one at a time, mixing until thoroughly combined. Add lemon juice and water; mix well. Add flour, baking powder, baking soda, and salt; using a rubber spatula, fold in just until no flour streaks remain. Do not overmix.
Pour batter into prepared pan; tap the pan on the counter a few times to release any air bubbles. Bake for 40–45 minutes, or until a toothpick inserted in the middle comes out clean.
Prepare the syrup. Combine sugar and juice in a saucepan; cook over low heat until sugar dissolves. When the cake is ready, let it cool slightly. Use a toothpick to poke a few holes in the cake; brush on the syrup, waiting between brushstrokes for the cake to absorb the syrup. Let the cake cool completely in the pan. Lift it out with the parchment paper.
Prepare the glaze: Combine powdered sugar, juice, zest, and salt in a bowl; whisk until smooth. Pour glaze over cooled cake, allowing it to drizzle down the sides. Serve. Store cake at room temperature in an airtight container for up to 3 days or freeze for up to 1 month.
Tip: I use small binder clips to secure parchment paper to cake pans — it makes pouring in the batter mess-free, and I bake with the clips on.
Try This: Add 1 cup blueberries to the batter for a blueberry-lemon loaf.
Note: Use your favorite citrus. Meyer lemons, oranges, tangerines, and grapefruits work well in this cake.
(Originally featured in Family Table, Issue 752)
Oops! We could not locate your form.
>