| Recipes |
Summer Quinoa | August 9, 2022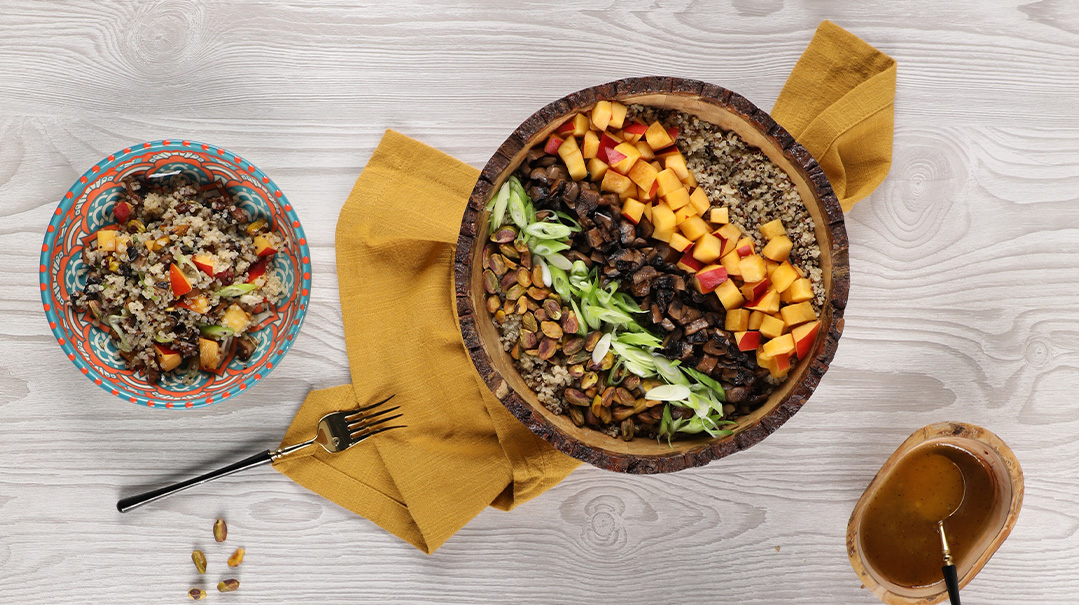 Food Prep and Styling by Chef Suzie Gornish and Chaya Surie Goldberger
Photography by Z by Zeelum
This protein-packed quinoa salad is brightened up with fresh summer nectarines and green scallions, and balanced with earthy baby bella mushrooms and pistachios. A light and gentle honey-mustard dressing tops it off.
SERVES 4
1 cup raw quinoa, prepared according to pkg directions (2 cups cooked)
12 oz (340 g) baby bella mushrooms, diced
salt and pepper, to taste
1–2 medium ripe nectarines, diced
roasted salted pistachios
1 small bunch scallions, sliced
Dressing
½ cup oil
½ cup vinegar
½ cup honey
¼–½ cup sugar
1 tsp salt
1 tsp mustard
¼ tsp pepper
Preheat oven to 425°F (220°C).
Place mushrooms on a greased baking sheet and sprinkle with salt and pepper. Bake for approximately 15 minutes.
Meanwhile, combine all dressing ingredients. Mix dressing with the quinoa. Arrange roasted mushrooms and nectarines on quinoa in rows.
Tip: Here's a simple way to make perfectly fluffy quinoa: Preheat oven to 350°F (175°C). In a 9-inch (23-cm) baking pan, place 1 cup quinoa, 2 cups water, and 1⁄4 tsp salt. Cover pan tightly with foil and bake until all the water is absorbed (approximately 45 minutes). Allow to cool.
Short On Time? I recently discovered a new salad dressing called Spring Dressing by B2 that tastes great with these salad components.
(Originally featured in Family Table, Issue 805)
Oops! We could not locate your form.
>