| Family Living |
Streamline Clean
| March 3, 2021
How to keep those favorite recipes organized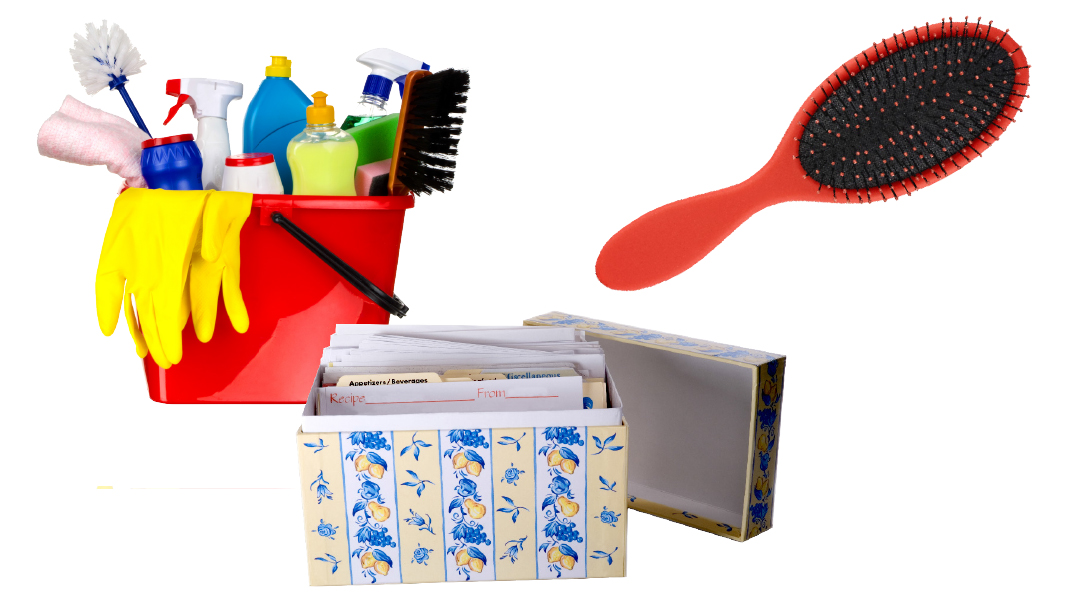 Whelp, Purim's over. And like magic, the endless shelves of cello bags and grosgrain ribbon have been replaced by cleaning supplies. Lots of cleaning supplies. I have two entire shelves of my pantry filled with the stuff, but I can never find what I actually need. So I reached out to the queen of functionality, Yael Wiesner, organizer extraordinaire. Here's what she had to say:
You use fewer than 50 percent of the cleaning supplies in your cabinet. (Statistic made up by me, based on years of organizing experience.) There are the supplies someone bought by mistake, and the almost-finished-bottles covered in sticky dust too empty to use but too full to dispose of. There are the cleaning products your last cleaning lady swore by, but your new cleaning lady doesn't like. And then there's that amazing cleaner you love, but never use because your husband hates its scent.
Trash all of the above and see what's left before you go out and spend lots of money on bins and organizers for your cleaning supplies.
And remember, you don't need to buy everything out there. Honestly, one large bottle of a quality cleaning solution is good for most areas of the home: floors, counters, sinks, bathtubs, mirrors, and glass. Add some to a spritz bottle with a little water and voilà — you have a spray! The aisles and aisles of specialized cleaning solutions for each area of your home have gotten out of control. Don't be fooled into thinking you need to buy them.
Of course, occasionally, you may need to purchase something specific — for wood floors, or to remove calcium buildup from around your faucets; you'll need some bleach and a bottle of toilet cleaner. That should leave you with five or so bottles of different cleaning solutions.
As for rags, scrub brushes, shmattehs, and the like, here, too, don't buy every product on the market. You don't need three different types of brooms and four mops. Stick to one of each that works well for you.
So where should you keep your pared-down collection?
Typical locations are under the kitchen sink, or in the main bathroom on a high shelf in a storage cabinet. One bin for rags and one bin for cleaning solutions is enough. (Don't keep a basket of wet, dirty rags hanging around. If your cleaning is concentrated in a single day, toss all the rags in the washing machine when you're finished.) Many people store cleaning supplies in the laundry room together with the detergents, but I don't know why, since they aren't used there.
It's best to have a small collection of cleaning supplies on each floor — the easier they are to reach, the more likely you'll use them. Your cleaning help may appreciate a caddy with the basic supplies to carry from room to room.
Yael Wiesner, author of "How Does SHE Manage?"(Feldheim), works as a professional organizer and interior designer around Israel. She crafts beautiful rooms that will streamline your day, maximize your space, and increase efficiency in your home.
Perfect Product
The Wet Brush Original Detangler is the only brush I use when I fix my kids' hair in the morning. For some reason, this brush elicits a lot fewer screams!
($16 for 2, Amazon)
—Chanie Nayman
Top Tip
If your cleaned glass vases have water spots and streaks, spray a little Windex on them.
Wipe dry. Spotless!
—Brina Insel
Recipe Central
We asked, you answered! How do you keep your recipe collection organized?
I generally will only clip recipes that use items I stock regularly. Our recipes are divided into three systems: First, regular repertoire recipes that are part of our monthly rotation. There aren't so many of those, so it's not divided by category.
Second system is a coupon-divider case separated by detailed category (breakfast, cookies, cake, salad, soup, milchig, fleishig, dessert, treats etc.). This has recipes that we've tried and came out good, but aren't part of our constant rotation.
Third is general categories: decorative file folders of recipes I haven't tried but seem to have potential. Those are divided broadly into three — Baked Items; Soup/Salads/Sides; and Mains. Erev Yom Tov or if we're feeling adventurous, we flip through those files and usually come up with something. Once tried, if it's a hit, the recipe goes into one of the other systems, if not, it gets discarded.
—Shifi Bloom
I find the most beautiful notebooks available. Sometimes I cut out the recipes and use Washi Tape and stickers to decorate each page. Otherwise I use different color gel pens and stickers and write everything out.
I also write down tips and techniques because everyone finds different things work for them.
Nothing goes in any of my books until it's tried.
I've always kept beautiful box files full of paper cuttings. Now that I'm at home more, it's been the perfect opportunity to go through them.
This is a great way to try the wonders of scrapbooking and journaling! For those who are wondering, yes, I'm a grown woman with three almost grown-up children. (And I've even seen my discerning 20-year-old admiring my books!)
—Michele Annis
I have a 2-pocket folder where I stick recipes I want to make. I can cut or print as many recipes as I like without cluttering up my working recipe holder.
A creative daughter-in-law, who knows I like things organized, took pictures of my grandchildren with food themes. She slid one into the cover and used the others in dividers for the usual recipe book sections. She included recipes in sheet protectors and plenty of empty sheet protectors so I could add my own recipes. I recommend at least a 2-inch binder because my 1-inch is maxed out. You can be sure I smile every time I take this out!
—Nechi Berman
I snap a picture of every recipe I want in a magazine, or take a screenshot of it if it's a recipe someone posted. I print out the pictures and put them in a photo album. So neat and easy to keep clean!
—R.B
Here's our next question: How do you keep the kids busy on Shabbos (or Yom Tov) mornings? Is there a genius toy, game, or activity that grants you blessed quiet or builds some structure into the day of rest? Let us know at familyliving@mishpacha.com.
Have a brilliant hack, quick tip, or opinion you'd like to share? Is there a product you're obsessed with? Tell us about it and we'll tell the world!
(Originally featured in Family First, Issue 733)
Oops! We could not locate your form.
>