| Calligraphy |
Stone's Throw | April 5, 2020
Around her the kids are screaming, but Dena can hear something else. The hiss of onions maybe, an angry hiss, like they're charring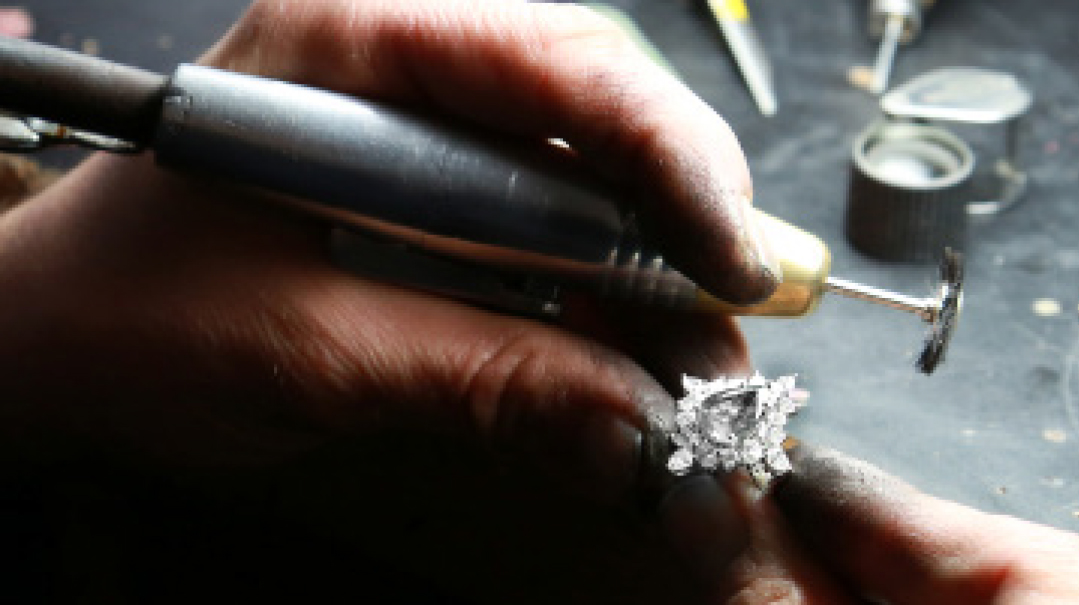 "Happy anniversary," Dena whispers to herself.
Outside, the day closes quickly on February 15, 2020: an imperceptible city sunset and then a thick night. As if the day never was.
No one had called her. No one remembered. There's nothing to remember from February 15, 2018.
Slowly, maddeningly calm, feelings held at bay as if they aren't hers, Dena walks over to a drawer she's hasn't opened in one and a half years.
She takes stock of the collection, dissects it coolly with the eye of the amateur jeweler she is. She opens her laptop and creates a chart.
| | | | |
| --- | --- | --- | --- |
| Item | Carats (total weight) | Setting | Composed of |
| Necklace | 1.80 ct | 18K Gold | 12 x 3.5mm round diamonds |
| Tennis Bracelet | 1.00 ct | 14K White Gold | 20 x 2.4mm round diamonds |
| Diamond Stud Earrings | 1.00 ct | 18K White Gold | 2 x 5.1mm diamonds |
| Halo Diamond Ring | 1.35 ct | 18K Gold | 1 x 6.1mm diamond, 14 x 2mm accent stones |
Dena closes the Excel file and scoops the jewelry into her palm. The tennis bracelet, the necklace shaped like a casual heart. Love. What love?
She sticks her finger through the outline of heart. Hollow. Nothing there. But it is beautiful. Shining, aching beauty.
She slips the ring, white fire, onto her finger again. It burns.
The Brechers haven't asked for it back.
She'd been told they would. Libby, another member of the club, had tried to prep her. It's thousands of dollars' worth. Just look at it like they're recouping their losses.
But they hadn't.
It wasn't like they needed to. They were comfortable, balabatish, if not wealthy. They liked to splurge, make a statement, and they had, on their kallah.
And then there was Naftali.
Dena straightens a pillow behind her.
Naftali. Nothing wrong — and nothing quite right.
Her hand reaches for the middle drawer. Fingers find a tool.
She could see him there, smiling vacuously. In her head she follows him as he drifts around the apartment. In the kitchen, eating everything on his plate, never wanting more, never less, never thinking to acknowledge that things took time and effort, to notice that she'd arranged the mashed potatoes in little stacks with flowers of fried onions. In the living room with a sefer, mumbling over a page, the same page whenever she'd checked.
Her fingers are agitated. She looks down. In her lap are two of the chips of the bracelet. Bright in the bedroom light, and very naked without the setting, without the other diamonds.
The flat-nosed pliers are still in her hand, innocuously, as if this were just another project with beads and wire.
She dabbles in jewelry making for fun. Keychains and necklaces that her nieces love. But she's never tinkered with these — with the real stuff.
What has she done?
Why is she taking apart the tennis bracelet?
Because it's here. Because they haven't taken it. Back then, they'd sent a message with a third party to say she could keep it. She is a woman alone in an apartment with gold and silver and — she's just counted — 49 diamonds.
Naftali the silent. Naftali the strange.
She'd been duped. They'd dazzled their wealth in her face, that gregarious sister talking so loud, she couldn't wonder about his silence, before they'd jammed that bracelet on her wrist. L'chayim.
Months later, when she could finally hear her voice again, and she couldn't deny what it was saying, she'd crawled out of the marriage.
On her black skirt, two stars shine, raw.
Happy anniversary, she thinks. Celebrating by taking apart.
*****
"Game night, I dunno… word games, maybe Boggle, whatever."
Dena stashes the jewelry away, back in the velvet boxes, clicking the clasps closed. The diamonds she'd removed — eleven from the tennis bracelet now — she puts in a small pouch.
"Listen, Dena, Shloimy mentioned this guy," Naomi says. "Rosner. A divorcé…"
"With custody of the kids and a dog, because the ex flipped out and left her dog behind."
"Not funny. Dena, you're not listening."
Scuffling on the other end. "Shhhh… No, Shuey, I said no."
"Who's not listening?"
"Gimme a break. Hey, how about you come over? The kids could use a puppet show, and I'll tell you about Chaim Rosner."
"Game night, I told you. You're really not listening. Libby and the others arranged a program for the, uh, club. Starts in half hour."
Small sigh. "Dena, give me a minute. We're talking about your life."
If she was going to rhapsodize… Dena puts the phone on speaker and chooses an outfit.
"Noooo! Shuey, what did you do?"
"What did he do?" Dena laughs.
"Not funny. I put my bracelet down a minute while I was bathing the baby, and Shuey flushed it."
"Uh-oh."
"Is right. I mean, it was that old one, you know, from graduation."
"Gosh, I remember. Don't tell me you still had it," Dena says.
"Whatever, it had to go, obviously." Naomi's onto the next thing. Does having three kids mean nothing riles you?
"So what are you going to play?" Naomi asks abruptly.
"Upwords, Bananagrams. Hey, you loved Bananagrams," Dena says.
Muffled sounds on the phone, more water? Around her the kids are screaming, but Dena can hear something else. The hiss of onions maybe, an angry hiss, like they're charring.
"I did. I haven't played in… in five years?"
She speaks with sudden pathos, and for a moment Dena is sad for her friend.
Five years, three kids, happy marriage. No Bananagrams.
"Come to the game night," Dena offers inanely.
"You have to be divorced," Naomi says.
"Ah, that little detail."
The baby makes himself vociferously heard again. Naomi throws her a quick, "Have fun," and clicks off.
Dena walks out of her apartment, camel wool coat, suede booties, flip of wig in the night's wind.
"You have to be divorced," she tells a bird.
*****
It was Bananagrams. And she lost. Still, there was buttered popcorn and chocolate, and Libby and Peri and Tamar, their little crew of eight.
"Full heads, empty fingers," Tamar once said. "That's all we have in common. But hey, who needs more?"
Dena had the wigs. But she had the ring too.
She didn't tell Tamar. Of course she didn't. She'd have to explain and it could get thick, a my-past-is-worse-than-yours match. Don't even ask what he did…
Tonight had just been about tonight. Good. Maybe she'd come more often. Bananagrams.
Naomi would've won.
She lets herself into the apartment. Poor Naomi. Doesn't even get a chance. Nebach, she only has everything I could wish for.
She hangs up the coat, opens up the second drawer. A handful of beads. She'll make Naomi a bracelet, to replace the one Shuey flushed down the toilet.
Silvery beads. Naomi wouldn't wear too much color. She patterns white, crystal, silver. People say she should sell her stuff. She's that good.
On impulse, she reaches back into the drawer, finds the pouch. Draws out three little chips.
They'd had one life, short-lived. Now they could have another.
She sets the diamond chips into the design. Out of the tennis bracelet, into the beads.
What if Shuey flushed this? What would Naomi say?
She wouldn't tell her. She'd never know. Who would imagine real diamonds in a piece of costume jewelry?
It looks perfect, sparkling jewel centers in three beaded flowers. Looking at it she feels something; a thrill, a frisson of fear, power, change.
She'd drop it off tomorrow. Do that puppet show while Naomi cooked dinner. It would be schnitzel on Tuesdays, she could snag a piece or two.
She puts the real-fake thing in a bag. There's only so many times a woman can order takeout.
*****
"Dena, what did you have for supper?"
"I ate," she murmurs, trying to finagle a parking space outside her apartment.
Her mother did this every now and again, checked in on her twenty-seven-year-old daughter. Would she ask Bracha, a couple years her junior and living in Lakewood, what she ate?
Dena's grown adept at moving the conversation on; she can chat about everyone but herself.
Tonight Mom's insistent. "I made fresh schnitzel especially for you. Fried."
Mom hates frying.
Oh, well, she'd had a few bites at Naomi's already. When it rained it poured.
"I'll be over."
It's just an excuse. They want to see her. She shouldn't keep herself away. It's just… her independence is so hard won.
She drives out of the spot, another car swooping in.
Her fingers trip over the combination lock of her old home.
She peers into the study. "Abba."
"Hello, Dena'leh, good to see you."
He's looking at something on his desk; quickly, fumblingly, he turns it over.
"What's that?" she's already asked.
"Nothing," he says, just as her mother comes in.
"We got the proofs of Michal's wedding, they came today. You look so beautiful, dear."
She hands her a picture; what Abba didn't want to do.
She does look beautiful. It's a group photo, but her eyes flit straight to herself. Up and down, that slender turquoise gown to bring out her eyes, the jeweled clip she'd made herself. She blinks. The others. Michal, queen of the evening, flanked by everyone else. Troops of nieces and nephews.
Abba sighs.
She becomes aware of her heart, something in her chest.
No, she feels nothing.
"Dinner," Ma says quickly.
He shuffles out.
They take their seats at the too-big dinette table, and Abba murmurs, "I understand."
She looks at him. She wants to shout: Maybe there's nothing to understand? Can you even consider that?
Her mother brings in the soup, the bowl steaming, just as Abba likes it.
How could he understand?
Dena sips her own soup, and near her, he glances still, as if awaiting a response.
The way he looks at her… She remembers how he stormed in that day, maybe six weeks ago, when her nieces were decorating those pretty white brooms. They'd asked her and she'd given her acquiescence, whatever, she'd leave the hall for a moment when they came out, she wasn't one to hold other people back.
"There'll be no mezinka dance for Michal," he'd said pointedly, putting every piece of tulle and feather and those five accursed brooms in a garbage bag.
There was anger, real fire, in his eyes. He was a man on a mission, big daddy bear.
Tonight, as he peers over his soup, he only looks defeated. Droopy bear.
Mom finally sits too. A spoon of silence, and another.
"So, Dena, anything doing, on the… you know… shidduch scene?" she asks finally, trying for casual.
She'd told her parents she was taking a break. Then told them she was taking care of things. But people called them too. Her mother had a name for her every now and again.
"My friend Shoshi was saying…"
"I'm busy," Dena says. "I'm looking into something, might be serious."
"Who knows?" her father says.
It's her second time eating schnitzel today, and her fifth time warding her parents off. She spears a piece and swallows without tasting. Who said she could do marriage again?
The arguments are tired. She can't go there tonight.
She reaches for the pocketbook on the seat next to her. Something to distract.
"Hey, Ma." She draws out a little pouch. "I've got something for you. I made it for your birthday. Last week, right?"
Her mother is vague about birthdays, ice cream cakes coming months later. She'd gotten maybe two cards in all the years. It used to bother Dena, now it suits her just fine.
"Let me see," Ma says. "I love your work."
She closes the clasp over her mother's neck, praying she won't notice the luster of luxury, scattered glimmers inlaid in the beadwork.
"It's beautiful," her mother breathes. "Looks almost like Swarovski."
Swarovski, ha.
"Thank you, sheifeleh."
She smiles back. That has nothing to do with being alone; Mom calls everyone sheifeleh.
"Wear it in good health," Dena says, something wilted inside of her breathing, opening. And take good care of it.
She lingers a bit, helps clear up. Looks at Mom's necklace, the way it catches the light and throws it back everywhere. Mom turns away and out of the kitchen and the orchid in Dena's heart flutters. What has she done?
She's leaving, with schnitzel packed into foil for tomorrow — Mom's orders — when she passes the study again.
"I'll take the photo," she says to her father.
Quizzical eyebrows.
"Yeah, it's my sister, my family. I wanna hang it up."
"Okay." He rummages through the pile. "Henny, which one is the good family pose?"
"I want this one." Dena points to his desk. The one he'd turned over.
He's still riffling through the pile.
Dena flips the photo on his desk over. It's a portrait, just her.
Beautiful as ever and very much alone.
*****
She is working on a spreadsheet at work. Crunching numbers. The Sisters annual shabbaton. Reich wanted figures. They'd gone through the budget, how much could be funded, how much they'd have to ask the parents to contribute.
Sisters. Siblings of illness or disability. Never mind that it was also for brothers.
She half-smiles at the computer, searches for an e-mail. The grant from the Gold Foundation. She reads the e-mail again. Hmm, they didn't want to fund consumables…
"Dena, lunchtime, hello?"
Ella is waving a paper over her head like a fan.
"Okay, okay."
"Carrot cake. I tell you it's dietetic," Ella is saying, cutting herself a slab. "Want?" she asks Miri, ever on — or off — a diet.
Dena rummages in her bag for her bagel.
She is on her own time now. She signs into her Dropbox account and finds the Excel file, Jewels.
She updates the spreadsheet, crosses out 20 chips and fills in the details, with a kind of thrill and dread that makes her heartbeat quicken.
Item
Carats (total weight)
Setting
Composed of
Amendments
Tennis Bracelet
1.00ct
14K White Gold

20

x 2.4 mm round diamonds
14 (3 Naomi – bracelet, 3 Mom – necklace)
Diamond Stud Earrings
1.00ct
18K White Gold

2

x 5.1mm diamonds
1 (1 Mom – necklace)
She saves and closes quickly, before Ella can start with her questions.
Dena goes to wash. She passes Miri's workstation on her way back to her seat — the flashy font of Simcha News on the screen.
Miri did this sometimes when she was bored. Kept tabs on simchahs. Challenged herself on how many people she knew. Not Dena's game.
Miri scrolls down, and in the millisecond before she clicks on Baby girl born to Avi and Sara Newman, Dena sees it, just a line, Engagement of Naftali Brecher to—
"To?"
A strangled one-syllable scream. Miri turns. Ella's cake falls on its side.
Dena shakes her head from side to side to side. On Miri's screen, the happy parents fawn over their new baby daughter. Dena feels sick.
Forget washing, forget bagel. She flies out of the room.
Naftali engaged. Naftali… How? What? Who? Why?
Could they have duped someone again?
Or maybe he was getting help.
Maybe she, whoever she was, was like him?
They wouldn't set the bar quite so high again, would they?
Would they?
Air, air. She's stamping her pain on the little square of grass in front of the office. A tiny front lawn and then the street and the cruel world where hopeless Naftali and the Brechers who ruined everything got to move on, while she…
She leans against the hedge. What did she want?
She's running the other way, even if Naftali…
The door flies open, a breathless Ella.
"Dena, you okay?"
She swallows, grabs a fistful of hedge — hard to pull and satisfying — and gives a tiny nod.
*****
"Listen, Dena, we need to talk, I heard about your ex—"
"My what? Libby, I know about the game night tomorrow, okay? Thanks for arranging."
"Phew, can't a girl offer her condolences without getting her nose bitten off?"
"Condolences? Dramatic tendencies, that's what you have. I'm fine, fine and dandy."
"Dena, you have to validate your pain. When your ex gets engaged, it's painful. Trust me, I know."
For a moment, the powerhouse sounds almost vulnerable.
Dena sighs and a single sob escapes her.
Libby talks. "Two days before the grand news, my father got a phone call. They wanted the loot back. I handed it over, all that jewelry in cream satin, my own flag of surrender. It didn't take two days. Two days, and he produced a ring from his magic hat. My ring. On her finger."
"Oh, Libby," is all she can say.
But Naftali's already engaged. And they haven't asked for a thing.
Why are you telling me this?
Libby couldn't know what she's been doing with the jewelry. There wasn't a reason in the world to think she knew.
"When was this?" Dena blurts instead.
She will steer clear of jewelry. Of rings traveling from finger to finger, or tennis bracelets banged back to their genesis, raw diamonds for her to play with and plunk into kiddie-beads.
On the table in front of her is the bracelet she's made for her niece Baylee.
Incriminating.
"Six years now," Libby is saying sadly. "Just about six years."
There's a kind of wonder in her voice, as if this isn't something she often considers.
"I'm here for you, Libby," Dena finds herself saying, even as it should have been the other way around.
"See you tomorrow," they say simultaneously.
Dena puts the phone down on Libby's awkward giggle.
Libby of the Boggle brilliance, Libby who made the club go round. There, every week, for everyone. Why had she never thought to ask how long?
She picks up the bracelet for Baylee, with the winking chips of the ex-tennis bracelet.
How seriously to take Libby's story?
Should she lay a package on the Brechers' doorstep, an anonymous bundle of remaining stones? For the next victim? She really had to find out her name.
She thinks of the shining possibilities. What she could do with the diamonds.
No. Never.
Already she has plans for Purim. The necklace with the looping heart would go to her loved ones. Bangles for her sisters. Bows with gemstone centers.
She puts Baylee's bracelet back in the box of diamonds.
A million suns, sparkling and radiant. She opens a drawer; her collection is almost half its original size now. But the stones, they're alive.
She picks up the biggest, the stone from the engagement ring. Even out of its halo of smaller stones, it's a whole planet of silver fire.
The ring Naftali hadn't asked her to give back.
What could it be?
And more than that… She closes the box, turns off her phone, shuts the lights, lies down and thinks, for whom?
*****
Back at Naomi's. Small place, cozy and safe; she can escape into puppet-land with little Shuey and Mali and—
"Chaim Rosner. Listen, Dena," Naomi says, coming in from the kitchen.
"I'm in the middle of a puppet show. And you shouldn't be talking about this in front of the kids."
"Hello?" Naomi makes a face.
The kids are five and three. Dena knows she's being ridiculous.
"What? I heard Daddy talking about Chaim Rosner." Shuey indicates a curly haired puppet. "Let's make him Chaim Rosner."
Hopeless.
Naomi goes to get the baby. Dena tries to immerse herself in the kids' world — puppets with felt paws and kingly clothing. She pulls one onto her hand.
"Okay, I'm Kingle. How are you?"
Shuey giggles. "I'm Chaim, I'm looking for a mommy."
Bah.
He gives her this look, sly and innocent. Dena groans.
"Naomi, what are you telling your kids?"
"Nothing," she says, installing herself in the couch to give the baby his bottle. Her arm is poised over his little mouth. The bracelet glints.
"Suits you," Dena says.
"Thank you. What stuff do you use? It's so beautiful, I've had a couple of people ask me if it's real."
The king trembles. "The truth is…" Dena finds herself saying.
The puppet starts to slip off her hand, the truth about to slip out too, when Mali trips on the puppet theater and Shuey howls and the baby starts to scream, and they all surround their mother, and Dena's thoughts are like loud, spoken words: Naftali Brecher's diamond, the real thing, is on your hand now, Naomi.
Naomi is looking at her. "The truth is I could use a break," she says suddenly. "Half an hour, me time, whatever they call it. I haven't played Bananagrams in five years." Her voice breaks a little.
"Bananagrams?" Dena repeats.
"Yes."
Naomi is massaging Mali's foot with one hand, repositioning the baby's bottle. "But I'm doing something else now. And it means I have to give up on things, but at least I'm clear about that."
Dena scrunches her forehead. What?
"What's your truth, Dena?"
The bracelet, she couldn't be asking about the bracelet.
It's riding her arm, hidden from view now.
She isn't. She's asking something else.
"The truth is," Dena gulps, "I haven't looked into anything, anyone… since the divorce."
"What?" Naomi sits up, the baby whimpers.
"That's the truth. You asked me what the truth is."
"But it's been more than a year! All those times you told me you were busy…"
"Busy, just busy, with work, whatever. Not with shidduchim. I pretended, okay?" The king abdicates, off her hand, falling to the floor.
Naomi is still looking at her, so she continues.
"I don't know. I don't know why. I'm out of it. Scared. Scarred?"
How can she explain that disappointment could be a color, a temperature? Scarlet and boiling. That even though with Naftali there had been time, experiences building slowly one on the other to form a picture, a terrible truth, there had also been just a moment. Disappointment was long and short. That it was a stab, a surge of everything, a searing moment you realized your life is over. That you couldn't open yourself up to that red-hot, split-second feeling again.
But Naomi's mouth is hanging open and in the unspoken shock, the horror of her stillness, Dena can see everything she should still hold on for.
She feels small, tinier than a puppet. "Maybe Pesach time, bein hazmanim," she says in a small voice.
"How's that going to help?"
Shuey lays his head on Naomi's knee and the baby is sleeping and Naomi looks more tired than ever, and her voice breaks again as she sweeps the one free arm about her. "I want this for you."
She puts her hand down, looks at Dena. "He's good stuff, Rosner, and you know what? He's going to go his merry way. Find someone else."
Dena closes her eyes.
"Do you ever, you know, think about you?" Naomi asks this gruffly.
She thinks she does — "Maybe too much," she counters — and yet she is cold and confused.
*****
It's Taanis Esther and everyone is rushing around, busy with costumes and baskets, and Dena sits at her table, no grape juice, no pineapple. She is not thinking, consciously not thinking about what Naomi said, realizing it's harder than thinking, and amounts to the same thing really.
All the while she is creating. Crafting twine, wielding her pliers, bow bangles for her sisters. She forms the delicate bows, considering the coloring carefully. Purple tones for Michal, blueish for Bracha, classy silver for her oldest sister Leah. The strand over the bow is where the diamonds go. They are from her heart necklace. It lies discarded, a shell of a heart, chips carefully plucked out for love.
Her sisters squeal, they fuss, they fasten the bows and wear them tight. And then they run after baby lions and monkeys and Princess Baylee. There is spilled wine, songs and spirit, and Michal and her new husband tapping off into the night.
Late Purim night she furiously updates her spreadsheet.
Item
Carats (total weight)
Setting
Composed of
Amendments
Necklace
1.80ct
18K Gold

12

x 3.5mm round diamonds
0 (4 Michal, 4 Bracha, 4 Leah – bangles)
Tennis Bracelet
1.00ct
14K White Gold

20

x 2.4 mm round diamonds
12 (3 Naomi – bracelet, 3 Mom — necklace, 2 Baylee – bracelet)
Diamond Stud Earrings
1.00ct
18K white gold

2

x 5.1mm diamonds
1 (1 Mom — necklace)
Halo Diamond Ring
1.35ct
18K gold
1 x 6.1mm diamond,

14 x 2mm accent side-stones
"What about me?"
She's back at work after Purim and Miri has a new tassel necklace she loves. She's already getting inspired for a new piece — she'd use one of the earring stones — why not for me?
Conversation flies over her head. She's looking at the necklace, how the strands dance as Miri talks. She couldn't do it for herself. It wasn't meant for her. The stones belonged in a story that was over before it began.
"Dena, can you help?" Ella calls. "We want to do something fun, not just food."
"What's wrong with food?" Miri retorts.
Dena chuckles. Typical.
Ella grits her teeth. "Listen, I'm talking about the planning meeting in advance of the shabbaton, the one where we involve the girls. It's the first time this age group is coming together. We need some kind of team-building activity, I dunno, maybe a paint night."
"Hey, I could do a jewelry-making class," Dena finds herself saying.
"Yeah?"
"Why not? I've done it before, I have the stuff."
"I love," Ella says. "Maybe I'll join too."
*****
Now, after their meeting with Mr. Reich and the committee, she is sitting with the girls, scrunchies and high ponies and hexagon glasses.
They are just girls, even if they are also Sisters. They wear little badges with their names. It's their first time here, they'll get to know each other properly on the shabbaton, but she is also aware of the import of this first stab at togetherness.
She hands out beads, beading cords, assorted clasps, large-eye beading needles.
"Watch me," she says, and she takes the pliers, twisting and turning the delicate metal. She threads the beads through, another turn, another, and produces a leaf, a petal in shades of green and blue.
Nineteen eyes on her. Admiring smiles. "Sheesh, how does she do that?"
Someone — Basya, her name tag reads — gives her a thumbs-up. Dena laughs.
The girls start on their own projects. Mostly they are making jewelry: earrings, pins, bracelets.
Heads bent over the table, choosing colors, patterns; the low, happy murmur of conversation.
A smallish girl at the edge of the table looks up at Dena. "Can I make a cat?" she asks.
Someone else snickers.
"A cat keychain, I mean." The girl is Estee and her eyes are green and earnest. "I love cats."
Her eyes are feline.
"Sure." Dena smiles. "I love originality."
She helps the others ("The thread keeps coming out," "How do I hold this together?") but she keeps going back to the girl with the cat.
She helps her prod the wire out to form whiskers. In and out, in and out, two on each side. Estee finds crystal beads for eyes and attaches them.
Dena is helping two girls with a joint project, a full-size, long necklace, when Estee calls her again. A nose. She can't find a bead the right shape for a cat's nose.
Dena scours the place for something bigger than the average bead. She finds herself invested in the tiny cat, in the girl. She closes necklaces, makes tens of petals, advises on coloring, all the while looking, looking for a nose. Finally, she sees a plain piece of cut glass, the size just about right for a nose.
"Hey, cute," the girls say when it's done.
It is. A fearless little creature in a sea of jewelry on the table.
The girls help her pack up and she closes shop, thinking absurdly that she wants it to be more than cute. She wants it to be the most perfect little cat ever.
*****
Text from Naomi: Nu?????
Dena buries her head in a pillow.
Why now? She is busy, life is full.
Sure.
Another ping. Naomi: I hate to say this, but Naftali moved on too.
She hurls the phone across the room.
Why?
She sits so still on her bed, staring at the battery that's fallen out of the phone, her eyes smarting.
She wills herself to be reasonable. Naomi, good old Naomi, is stepping where it hurts most.
This isn't about Naftali; this is about my life.
She leaves the phone on the floor. She needs to numb her mind, freeze her thoughts. Her fingers find their way to the box.
What to make?
There are a handful of jewels left and one of them is the engagement stone.
They are all over now, on Naomi's hand and her sisters', even Michal; in Ma's necklace, Baylee's bracelet. She thinks of her family. She loves them all, but it's so complicated now. Loaded. Ma and the things she left unsaid, newlywed Michal dripping sympathy. Her father who refused to let them dance the mezinka, who kept her portrait on his desk.
These jewels left, unearned, unasked, worth their little fortune.
She holds up the ring stone. She's already put a little loop in the back. For a necklace or for an earring. The room is half-dark, but the diamond catches the moonlight.
It's big, 6.1 mm, and radiant. When she looks into the depth, she cannot see the end. A pool of dreams, a frozen pool of dreams, she thinks sadly. And then the moon fades behind a cloud and even the hint of dreams disappears.
She holds the stone, unseeing, in the dark. It's worth a whole lot, she knows. She wills herself not to think about the night it was presented.
How could she give it to anyone? For all that happened, it symbolizes too much.
The moon reappears on the facets, and Dena knows two things.
She gets off the bed and puts her phone together again.
The ring stone will be a cat's nose. And she is texting Naomi.
*****
She's getting dressed. Unhurriedly, as if she doesn't care. She digs her hand in the pile and pulls out a top at random.
What is she doing?
Soon, later, she will drop the stone by at Estee's house. She's gotten her address from the office. She will go in and together they will affix the diamond onto the cat. She will tell her it's a big crystal just arrived from AliExpress. And maybe she'll feel lighter.
She looks at herself in the mirror. The light blue top brings out her eyes. Tired eyes. Pearl earrings. Nothing else, she doesn't want to dazzle. No dresses and heels for her.
A touch of makeup. Her fingers are trembling. It's enough, whatever.
She slips the stone into her pocket for later.
A final look in the mirror. A bit blah. She never looks blah. On her dressing table is a simple chain. Her resolve wavers.
If not for Chaim, then for her.
She plunges her hand into her pocket, slips the little loop of the diamond onto the chain. She hardly knows what she is doing but it's hers. It's on her.
The ring. Not a cat nose: a necklace.
Her laughter rings out in her empty apartment, like a surprise. Her old ring coming along on another chance. Preposterous. It could never be on her finger again, but maybe — she allows herself a second's dream — there would be another.
She shakes her head and looks at her reflection. A thing of beauty in its quiet daring, the stone is exquisite. It brings out her sweater, her eyes, makes them sparkle, not tired.
She feels the soft weight of diamond, landing smack on her heart, old for new… She doesn't want to think about what that means. But maybe it means nothing at all…
She walks out the door.
Ready? comes the text from Naomi.
She unlocks the door again, rushes back inside, goes to her computer and updates the spreadsheet:
Item
Carats
Setting
Parts
Amendments
Halo Diamond Ring
1.35 CT
18K gold
1 x 6.1mm diamond,

14 x 2mm chips

0 (1 Me — necklace)
Then she dashes out again, breathless and flushed and ready.
(Excerpted from Mishpacha, Issue 806)
Oops! We could not locate your form.
>