| Job Search |
So, You Want to Be a… Graphic Designer
| October 26, 2021
Graphic designers combine art and technology to communicate an idea or a brand image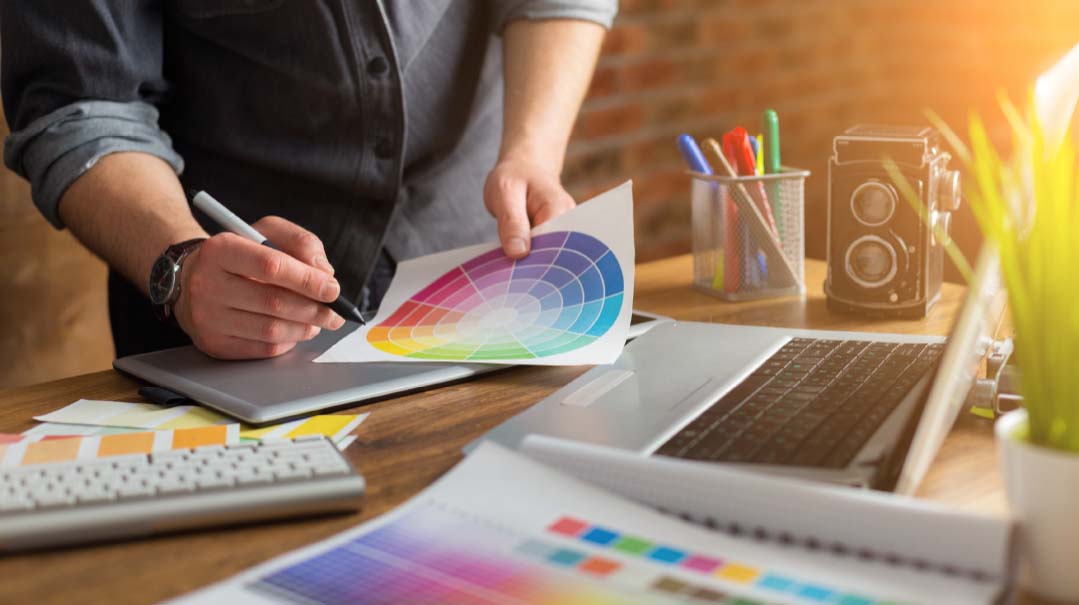 Graphic designers combine art and technology to communicate an idea or a brand image. They design visual materials, both print and digital, for media ranging from ads, brochures, and websites to magazines, book covers, product packaging, and more. A graphic designer is also a visual strategist, advising clients on the imaging they need to convey the message they want.
How much money can you make?
What type of training will it take?
And what does the job actually entail?
Read on to find out whether this is the job for you
What will I be doing all day?
What kind of schooling do I need?
No official degree is required for basic entry-level positions. Some graphic designers study in a four-year college program, while others train in accelerated courses. It's also possible to learn to use the design programs themselves through online self-study classes. However, graphic design is used in a variety of industries, some of which have their own training program requirements.
Do I have the personality for it?
A good graphic designer is creative, artistic, innovative, and original. A successful graphic designer also needs to be skilled with computers, a good problem-solver, and open to learning new technology. As freelancers, it is also essential that they have good business and time management skills.
What can I expect to make?
Entry salaries for employees start at around $50,000 and typically go up to about $150,000.
Beginning freelancers earn $25-$35/hour and with experience can go up to $100/hour or even $200/hour for specialties.
What kinds of settings could I work in?
The graphic design field is very broad, and allows for a wide range of job possibilities. Some of these include:
Visual image developer — creates visual content for branding, marketing, advertising campaigns, or other visual media. Most often works as a solo freelancer, although can also work as part of a company's team.
Creative director — manages a company's or organization's creative team that produces its visual content.
Brand identity developer — specializes in developing logos and imaging to create and support a brand identity.
Web designer — creates imaging and layout for web pages. Increasingly, web-specializing graphic designers are also offering web development services.
TALES FROM THE TRENCHES
Three graphic designers DESCRIBE THE HIGHLIGHTS AND THE CHALLENGES
RIVKAH LEWIS
Beitar, Israel
Graphic Design Freelancer
Graduated from: Maalot Yerushalayim/Thomas Edison State College
Years in Field: 16
My Typical Day at Work
A typical day starts with checking my emails, reviewing unfinished tasks from the previous day, and making a prioritized to-do list for the day. I'm usually working on numerous projects at once. Depending on my project needs for the day, I might work on the same thing for hours straight, or I might spend five minutes correcting one file and sending it off for approval and then move on to the next task.
As a freelancer, my responsibilities range from onboarding clients, design research, client communication, hand sketching, computer designing, communication with copywriters or junior designers that I've hired for a project, invoicing, follow-ups, and much more.
I work until three, take a break in the afternoon to be with my kids, and then finish up in the evening. Because 95 percent of my clientele is in America, I use evening hours for real-time communication with them.
How I Chose the Profession
I chose graphic design because it was something I knew I was good at — I'd dabbled in design even when I was young, creating posters for my high school and other similar projects. It's incredible to work in a job you enjoy, and be able to help support your family through it.
I attended Maalot's graphic design program (run by Mrs. Renee HaLevy). Back when I went to school, we learned Quark Xpress and Freehand, which no one uses anymore. I taught myself InDesign by reading the manual and took a lynda.com course to learn Illustrator.
How I Chose My Specialty
I'm primarily a print designer: logos, brochures, ads, etc. While I've designed websites, print design comes much more naturally to me. I also do a lot of work in book design and typesetting.
What I Love Most about the Field
The variety! At any given moment, I could be working on a fundraising package for a shul, a brochure for a NPO, a logo for a startup, and typesetting a novel. (Well, not literally at the same exact moment…)
Most Challenging about the Field
It's hard to design something that you feel is both beautiful and effective and to have it nixed by a client. It's also hard when people go AWOL mid-project and suddenly come back to tell you they need it immediately. At this stage of my career, I've built a strong contract that protects my rights and process and spells everything out clearly for the client before we begin, so that they know what to expect.
I'll Never Forget When
After communicating only through email and phone calls for close to a decade in pre-Covid days, I finally met a longtime client over Zoom. She was shocked because I was totally different from how she'd imagined me!
It's been an honor to work with organizations that impact people's lives — like kiruv and medical referral organizations, schools and yeshivos. I designed the cover for the translation of Rav Ezra Batzri's sefer about the laws pertaining to marriage and divorce. After nixing some sketches that were too marriage oriented, I had an idea to feature a kesubah on the cover. I reached out to a cousin who at the time worked for Kestenbaum's Auction house in New York and they kindly provided me with a beautiful, old kesubah.
Years ago, when I still took on smaller projects, a father once contacted me about editing his daughter's picture for her shidduch résumé. I turned that one down! But I did say yes to removing a girl's braces for her yearbook picture.
Something I Wish People Knew about Graphic Design
It's not just about making things look pretty. There are rules that must be followed (and broken!) in order to create effective designs.
How I Found My Clients as a New Freelancer
When I first started in the field, I scoured sites like Janglo and Luach. (I'm sure there are many more sites that have started since then.) I replied to every job offer I saw. I made sure that everyone I worked with was very happy, and baruch Hashem, people recommended my work to their friends. As an example, I worked with someone in New Jersey, who recommended me to a friend in Detroit, who sent me to a colleague in Denver, who recommended me to an organization in Los Angeles!
I think when you freelance, you really see Yad Hashem in terms of what jobs you get, what jobs you don't, and who you work with. While I was doing this to make money, I was also super focused on building a portfolio with real work (as opposed to student work), so I did take on projects that didn't pay amazingly.
I also pursued companies I wanted to work with. I was interested in working on books, so I contacted a certain publisher. They expressed initial interest, but didn't send me any work. I checked in with them every month or so and after an entire year, they sent me my first book. Since then, baruch Hashem, I've designed and typeset dozens of covers and books.
My Advice for People Starting Out
Designers nowadays have such an advantage over what I had when I started! There are loads of resources available today, such as Pinterest, freelance support forums, and more. Take advantage of them!
Start off cheap and slow and raise your prices as you become more experienced. I always make sure that my clients are happy, and I over-deliver, since my business runs on a word-of-mouth basis and happy clients refer their friends. Use a contract with your clients; introducing one earlier on in my career would have saved me some heartache.
MALKIE SCHOLNICK
Brooklyn, NY
Graphic Designer and Founder, the Bold Edge Design School
Training: Design classes, FIT; and business classes, Adelphi University
Years in Field: 21
My Typical Day at Work
I currently run a school for aspiring designers. My days are spent coming up with strategy and design concepts for marketing materials such as advertisements, brochures, product sheets, emails, and designing and updating the website; mentoring new designers, creating design training materials, and researching, designing, and writing my weekly newsletter, The Edge, which is a combination of articles, design trends, and videos about the latest in design marketing and business. I also produce a podcast, Power Your Edge, where I interview frum creatives to inspire the frum creative world.
How I Chose the Profession
I've always been creative and an original thinker. I can visualize a solution in my head and then execute it. (Fun fact: I'm an expert suitcase packer, since I can see the objects and know exactly where they'll best fit — a great skill that carries over into design!)
I initially took a short series of classes that focused primarily on design software. Later, I took some design classes at FIT and intensive classes in marketing and business at Adelphi, both to help me develop my own business and to help my clients with their design and marketing.
How I Chose My Specialty
I worked intensively within the packaging industry for some time. I fell into it through a recommendation from a dear friend — it's always good to have friends who believe in your capabilities more than you do! Designing packaging is very different from ads and branding, since there's also a construction aspect. You need to make sure that everything will be printed correctly once the package is constructed (since the layout is done flat), that the package can fold properly and the opening is accurately indicated.
Later in my career, this same friend pushed me into education. I never thought I'd be a teacher when I graduated high school, but Hashem had His plan, and here I am, over a decade later, having trained over 1,500 students in my own design school, baruch Hashem. My school's specialty is offering flexible, pre-recorded classes with support, which is perfect for the population of students that would like to minimize Internet use. We also offer live classes.
What I Love Most about the Field
I love starting with a blank screen and building up the design into something complete. It's like music that slowly builds up into a crescendo.
What I Find Most Challenging about the Field
Sometimes I just can't think of that big idea I need. That's when I step away from the computer, take a walk, or switch to another project. Later, I'll come back to it with a fresh mind.
The Difference Between Print Design and Web Design
Print design is much more permanent; web design, on the other hand, can be changed very easily (if you have the skills) and can therefore be more fluid. For example, I can add or adjust my Bold Edge website according to current marketing strategies, course launches, new initiatives, etc.
I'll Never Forget When
I remember creating mockups of packaging design. We used a spray-on adhesive to create mock-up samples for the client. The door had glue an inch thick!
Something I Wish People Knew about Graphic Design
To really do well in the field, it's not enough to be creative. You also need an equal amount of ambition and grit to be successful.
My Advice for People Starting Out
Take on as many different kinds of jobs as possible, even for low or no pay. This will give you exposure to different types of design, and afterwards you can decide where to specialize. It will also help you build up your network of clients.
Ask questions and learn as much as possible from those with more experience — both about the design and the business aspects.
NACHMAN SIEGEL
Towns
UX Design Creative Lead at a large electronic retailer
Years in Field: 20
My Typical Day at Work
As the creative lead specializing in user experience (UX), my responsibilities include creating a visual identity and a user interface (UI) design vision. Creating a visual identity means determining the overall look — font, colors, and imagery that best communicate the company's brand — and then applying this to all printed and online company material. I also coordinate with the designers of the website and mobile applications to make sure that the interactive components of our website and mobile apps (UI) have that same visual identity, so that the design and styling are consistent throughout the entire customer experience.
As creative lead, I'm also responsible for coordinating visual branding with various teams and vendors, and providing visual feedback and guidance for junior designers.
How I Chose the Profession
I always liked drawing and creating. I grew up in Israel, and while in high school, I did the comics and article illustrations for a local publication. I then went for an interview at Feldheim to illustrate books, but they told me that they were moving into computer-based graphics rather than pen and ink designs (this was in the late '90s). They said, "We like your work, so go learn graphic design and then come back."
Classes were expensive (pre-Internet), so I started apprenticing and learning from books. I also took a design course at a vocational school for graphic design in Be'er Sheva. My design teacher ended up hiring me as a graphic editor for the southern branch of the Maariv newspaper.
So I took Feldheim's advice, but I never ended up going back to work for them, because by that time, the Internet had transformed the design industry, and there were many Internet-based jobs to be had.
How I Chose My Specialty
Baruch Hashem, I gained experience over the years in various industries, providing me with specialty training and experience in UX design, print design, and product design. In my current job, I do all three. User experience design, also known as user-centric-design, is a specialty within digital design, and involves making sure something both looks good and also works well for the user. I really enjoy problem-solving and helping others, which is why I've been involved in UX for over ten years. My company's website has won quite a few awards for our user experience, such as our checkout experience.
Print design requires a very different skill set from digital design. Whereas in digital design you see the results directly on the screen, print requires knowledge of various materials and how they'll interact with the colors when printed.
What I Love Most about the Field
I love being able to create what I imagine, and help others through my design. It's particularly gratifying to find something I created in various locations.
What I Find Most Challenging about the Field
Dealing with non-design-related work, such as billing and administrative work (I run my own consulting business on the side). Writing up design specifications for a web developer is also a tedious but necessary part of my work. In addition, you have to constantly learn and stay on top of the latest design programs.
At times, it can be difficult having to be creative on-demand. That's where the siyata d'Shmaya element comes in; I'll look around and suddenly be inspired by something I see.
I'll Never Forget When
The first job I got in the US, in 2001, was with a collectibles company serving coin and stamp collectors. The company offered some really rare and valuable items — such as solid gold and pre-colonial coins and black penny stamps.
I was able to actually hold them in my hand and learn all about them when I photographed them for the catalog and website. It was a special experience!
Something I Wish People Knew about Graphic Design
It's a really versatile industry. You can take graphic design skills in so many different directions.
Also, don't be surprised if you see your designs copied by others, especially if your work is published online. User experience design is not considered intellectual property that can be patented, and many designers will imitate others' work — even very large companies.
When mobile first developed, most companies didn't know how to transfer their desktop experience to mobile websites. I worked hard on this for my company's mobile website — and then started seeing other companies using the same UX design I'd created! On the upside, if a well-known company likes your design enough to want to copy it, you must be doing something right.
My Advice for People Starting Out
Find a creative job you enjoy. Have the humility to learn and be inspired by other designers.
(Originally featured in Mishpacha, Issue 883)
Oops! We could not locate your form.
>