| Recipes |
Slow-cooked Stew with Bourbon | October 10, 2019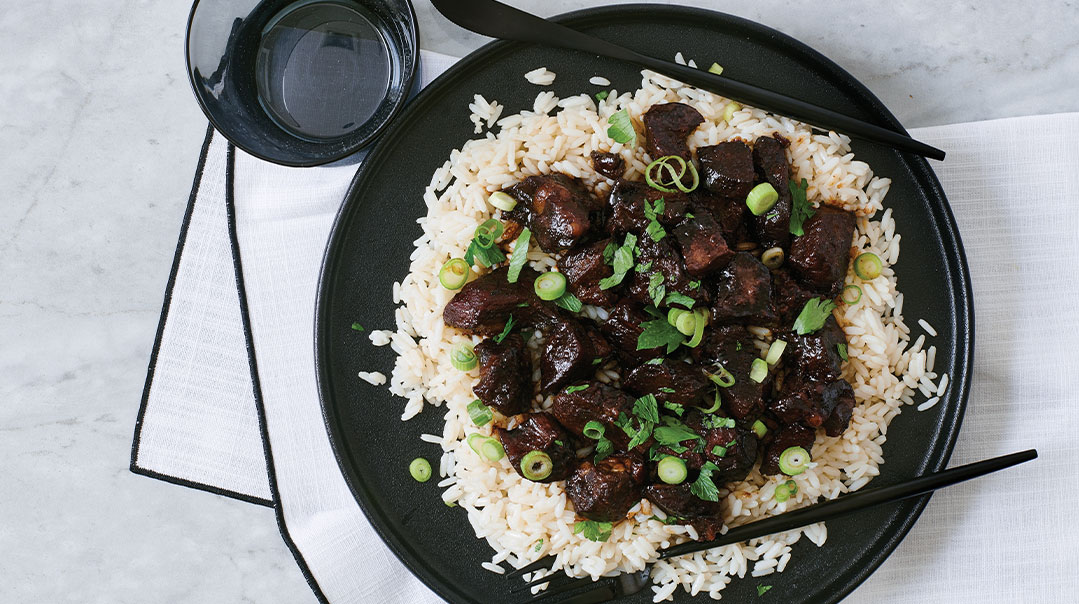 Food And Prop Styling By Renee Muller Photography By Cayla Zoharan And Moshe Wulliger
Slow-cooked Stew with Bourbon 
This recipe yields soft and tender meat, slow-cooked and perfect for preparing in advance of a long day out. Paired with a simple side dish, it's a great treat for the whole family. 
SERVES 8 
2–3 lbs stew meat, cubed
chopped fresh parsley and chopped scallions, for garnish
MARINADE
½ cup soy sauce
⅓ cup bourbon
⅓ cup brown sugar
2 Tbsp Dijon mustard
2 tsp Lieber's hot sauce
½ tsp ground ginger
½ cup chicken broth
Preheat oven to 325°F (160°C). Combine all ingredients for the marinade and place in a ziplock bag. Add the beef cubes and marinate for one hour. Pour into a baking dish and cover tightly. Bake for 2–3 hours, checking to make sure that it doesn't dry out during cooking time. Immediately before serving, sprinkle with chopped parsley and scallions. Serve with rice or orzo.
Tip: When slow cooking meats ahead of time for Chol Hamoed dinners, I usually underbake the dish by about an hour, then freeze it. The day I'm serving it, I stick it straight into the oven frozen, well wrapped, and let it defrost and bake for about 6–8 hours at 325°F (160°C). Just make sure there's enough gravy so it doesn't dry out.

(Originally featured in FamilyTable, Issue 663)
Oops! We could not locate your form.
>