| Calligraphy |
Shelter | October 10, 2019
When Honey is done, she closes the succah door securely behind her. Everything is just as it always was. Everything is perfect. Now the boys can arrive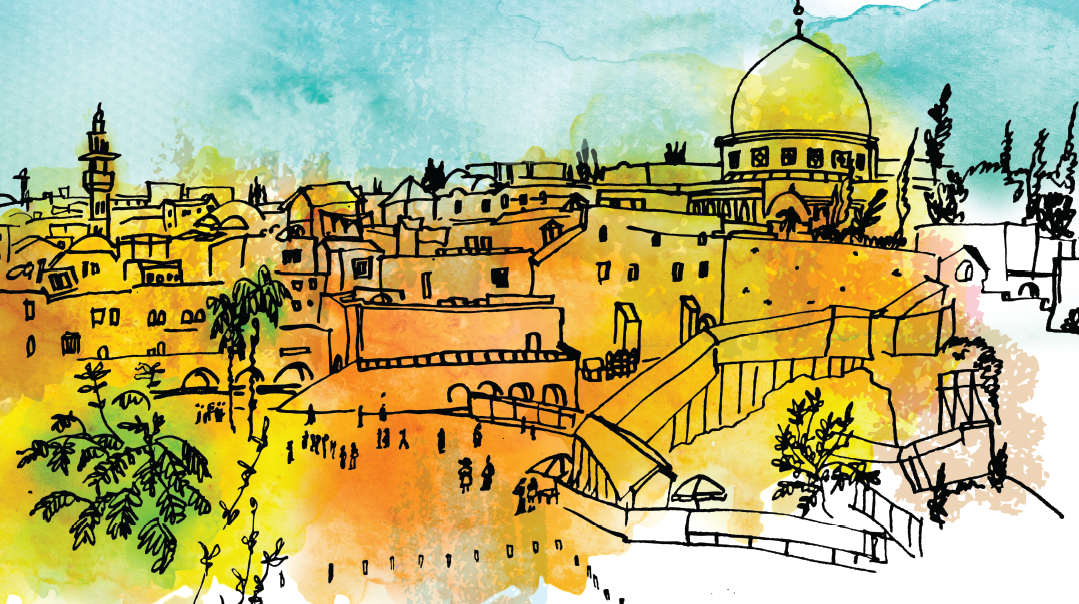 As soon as Sol has the succah in place, near the rhododendron bushes at the end of the garden, Honey lugs out her paints.
"It's still there, you know," Sol informs her.
"It always needs touching up," she returns.
He shrugs, that staid and solid husband of hers, and says, "Have it your way. Don't stay up too late!"
Then he puts on the kettle and offers her a cup of tea, and she says, "That's all right, thank you," and her feet fly down into the little wooden shelter.

Just as she thought: The pinks have faded over decades of touch and wear and drippy droplets of rain slipping through spaces between sechach. Last year, she'd retouched the golden-yellow tones of the sunrays over the mural of Jerusalem. This year she starts with the pastel-toned houses, dream homes, all arched doorways and domed roofs.
Her paintbrush flicks deftly over her handiwork.
The boys will be home tomorrow.
She steps back, eyeing the mural critically. Light slants through the roof and scatters sunshine unevenly across her paintwork. She reaches for the brush again.
The twins are coming. Finally.
About time, she thinks to herself, as she dabs yellow ochre onto the ends of sun-drenched palm fronds. Six months, nearly. She still can't believe she let her little boys leave home for so long.
Sol can laugh all he likes at the way she marked off days on the calendar, week after week, until the red-letter date is circled over and over, but it's her motherly right.
The succah has to be all ready, she decides. She'll do it herself, decorate it just as they've always done. The mural across the length of one wall makes the job easier.
Sol brought down the box of old pictures already. A few photographs she'd taken years ago, enlarged on canvas by the studio she's worked at for the past two decades. Another painting, some paper chains the boys brought home from school in another lifetime.
She digs further. The pictures, they must be here somewhere.
Of course, they're the very last things she pulls out. Two drawings, as close to identical as the twins themselves. She'd drawn them, one for David, one for Aaron, when they were five or six.
A lifelike portrait of Mickey Mouse shaking lulav and esrog beams up at her from each page. She remembers how excited they had been at her artwork, how the two of them had sat for the better part of an hour painstakingly shading in the black-and-white drawing, so intent on making the pictures "match" that the process took double as long.
They belong right in the middle of the wall opposite her painting, between the two windows.
When Honey is done, she closes the succah door securely behind her. Everything is just as it always was. Everything is perfect. Now the boys can arrive.
(Excerpted from Calligraphy, Issue 781)
>