| TableScapes |
Shavuos in Peach
| April 27, 2021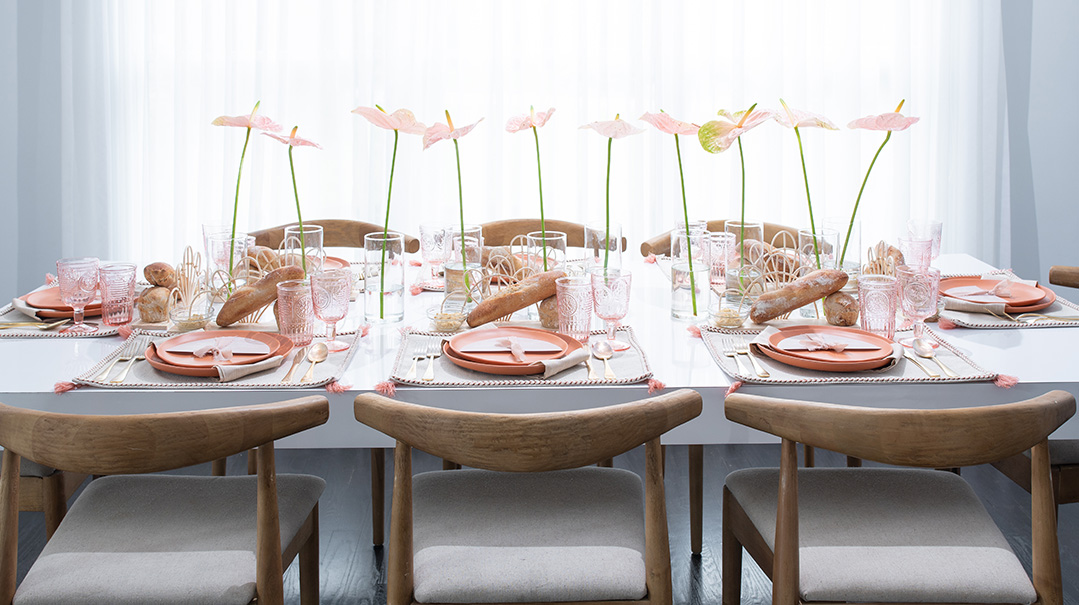 Text and styling by Shevy Shanik
Photography by Hudi Greenberger
This palette just couldn't be any prettier or more perfect for a Shavuos table. Peach just encapsulates spring, creating a vibrant and cheerful look after a long gray winter.
Effortless Elegance
Exude an effortless elegance with a minimal floral runner, fresh peach florals, and simple terra-cotta color plating. For a touch of character, place an unexpectedly shaped menu card at each setting.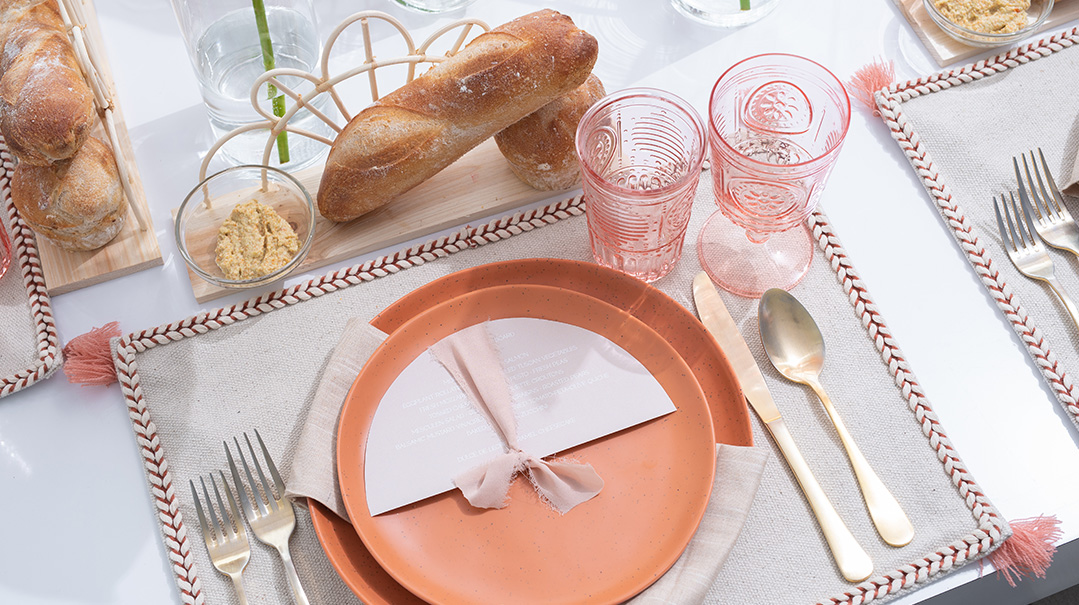 Blush and Peach
Peach is a quintessential spring color, and we love how cheerful it looks when paired with a soft blush accent. This citrusy color combo is quite versatile, and it can be as whimsical or as elegant as you want.
These peach single-stem anthurium arrangements are utterly sophisticated, with a minimalistic feel. Because anthuriums aren't the most conventional choice of flowers, they're just so chic. When clustered, their stems create a centerpiece that will catch everyone's attention.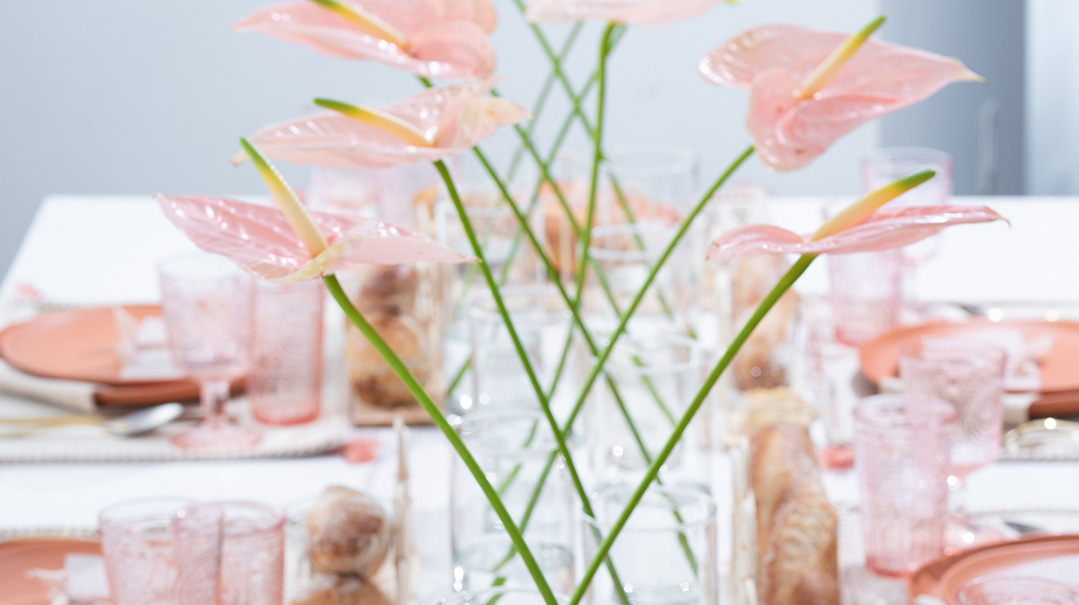 Simple Florals
Shavuos is all about flowers. I wanted the floral feature here to be simple yet elaborate, practical yet unique, and most of all exquisite yet attainable.
My number-one no-fail rule when purchasing or arranging flowers is go monochromatic. One thing I don't like about grocery store flowers is that many are sold in mixed bouquets. I prefer to decorate with flowers that are all one color and type. Find one flower in the color you like and fill the vase or container with them.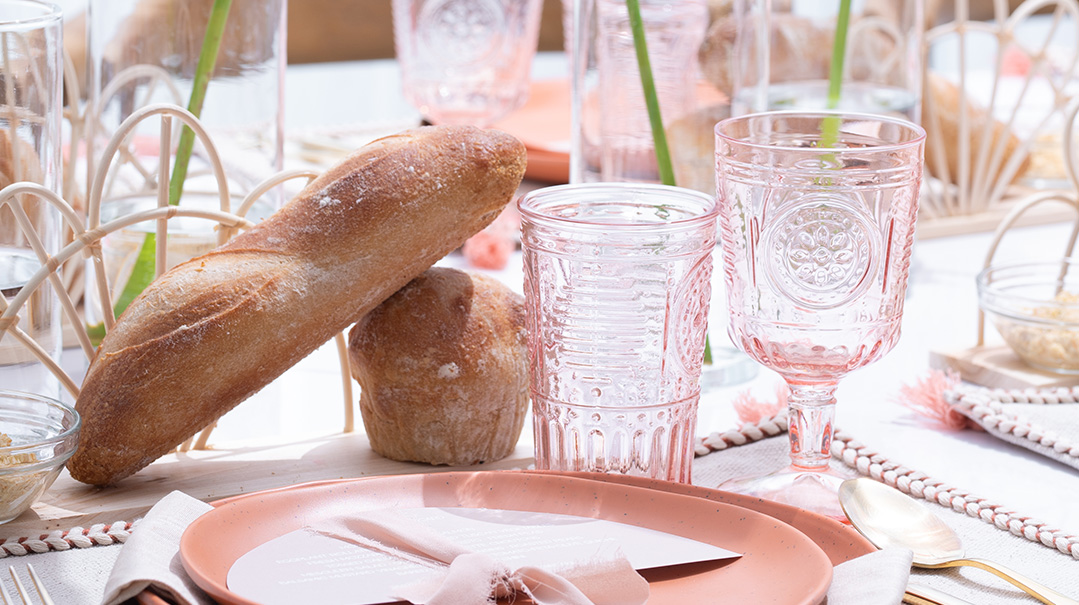 Sourdough Breads and Olive Dip
We're jumping on the sourdough bandwagon. With no added sweeteners or oils and lots of benefits for your gut, the sourdough hype is real. Each place setting was set with two sourdough rolls, and paired with the best olive dip ever!
Here's my olive dip recipe: For optimum results, use Spanish olives stuffed with pimientos (I use Kirkland). Strain the olives and rinse in water to reduce the saltiness. Pour into a food processor fitted with the S blade. Add mayonnaise (lite is fine) and 5 cloves garlic. Blend until it reaches the desired consistency. Add more mayonnaise if desired.
Menu Card Creativity
I love this semicircle shape of the menu cards — it adds a creative element while piquing everyone's interest!
Links to the Tableware featured here:
Plates and placemats available from Hobby Lobby
Stemware available from Amazon
Tumblers available from Amazon
Wooden shelf used as tray for breads available from Target
Credits
Sourdough rolls: Gelbstein's Bakery, 415 Clifton Ave., Lakewood, NJ, 732-363-3636, orders@gelbsteinsbakery.com
Table and chairs: Seats Rentals of Lakewood, www.seatsrentals.com, 732-200-1710
Ruth Fischl Event Rental, www.ruthfischleventrental.com, 212-273-9710
Menu cards: Paperie Press, orders@ppressny.com
(Originally featured in Family Table, Issue 740)
Oops! We could not locate your form.
>